Kenny Soetomo wins the WA Suntory Cup state final to join the Cocktail Connoisseurs at the national final in Sydney later this year!
Winner:  Kenny Soetomo
Cocktail: St Bruno Biscotti
ADVERTISEMENT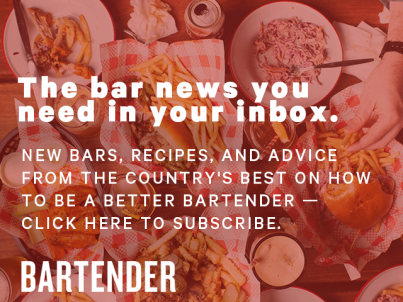 &nbsp
Venue: Lot 20, Perth
2nd Place: Tom Kearney
Cocktail: First of the Isle
Venue: The Mechanics Institute, Perth
3rd Place: Ben Greenham   
Cocktail:  43rd Lady    
Venue:  Enrique's School for bullfighting, Perth
In its 27th year, and returning bigger than previous years; 2014 has shown great support from 633 competition entries from Club Suntory members nationwide. The long-running Suntory Cup cocktail competition kicked off its national state final tour in WA on Monday 21st July at Universal bar, Perth. With a changed format this year, the stage was set with what turned out to be an epic night at Perth host venue Universal Bar, with local Club Suntory members turning up in their droves to cheer on the 5 bartending contenders, all vying for their chance to compete at the national final in Sydney later this year.
On the day, finalists were put through their paces with a series of technical challenges before they had the opportunity to flaunt their bartending chops in their final presentation of their signature creation. The finalists each had to partake in a knowledge test and blind tasting, all which weighted toward their final score which would inevitably reveal the state winner.
As well as the Club Suntory ambassadors, Industry judges were in attendance to keep a close eye on the action, assessing each bartender on their cocktail demonstration of their Suntory Cup cocktail entry in front of the invited guests. All while the rather awesome Universal bar staff pumped out  delicious Suntory cocktails for thirsty punters, including Disaronno sours,  Russian Mules, Midori Bursts, Espresso Martini's, Cointreau fizzes, and AppleZu's.
Guests were treated to some wild entertainment to match the creepy circus theme, (pun intended) with belly dancers and their  gigantic 'pet' python allowing CS members many photo opportunities, not forgetting the suave yet cheeky magician who's tricks  could put David Copperfield to shame.  Local DJ Benjamin Sebastian pumped quality dance floor beats, bringing home the night with a smashing set.
After conferring in secret, the judges returned to announce to the packed house that Kenny Soetomo from  Lot 20 as the WA Suntory Cup state final winner with his 'St Bruno's Biscotti'  scoring for himself not only a shot at the top prize but bragging rights and an a selection of spirits from the Suntory Portfolio. Returning State finalist from last year Tom Kearney, from The Mechanics Institute, placed a very close second with and Ben Greenham from Enrique's School for Bullfighting was awarded 3rd place, both Tom and Ben scored themselves selections from the extensive Suntory portfolio.
To get to this point, competitors were tasked back in April with creating an original cocktail using a minimum of 45mls from Suntory's ever-diverse portfolio and submitting it online at www.clubsuntory.com. Judges then blind tasted the 633 individual entries, assessing the appearance, taste and aroma, without knowledge of the entrant's name or place of work, making for a truly level playing field where the best-tasting drinks are those chosen.
State finalists have been chosen from VIC, WA, QLD, SA and NSW to contest the national final consumer event in Sydney, Cocktail Connoisseur, and a chance to win the top prize of the ultimate bartender's fantasy trip to Japan visiting cocktail bars and distilleries with $1000 spending money!
Stay tuned for more updates as all the state finals action unfolds over the coming weeks. In the meantime, want to try the winning cocktail 'St Bruno Biscotti' by Perth's Kenny Soetomo for yourself?
Glass:              Champagne Flute
Garnish:          Orange zest slithers with zester
Method:          Dry Shake, Wet Shake and Strain
Ingredients:     30 ml Yellow Chartreuse
15ml Disaronno
15ml Vanilla Gomme
40ml Lemon Juice
2 Dash Dandelion & Burdock Bitters 
The full complement of competitors for the WA Suntory Cup 2014:
Finalist                                    
Tom Kearney – The Mechanics Institute
Matt Bodycote – The Classroom
Ben Greenham –  Enrique's School for bullfighting
Sebastian Terkildsen – The Classroom
Kenny Soetomo – Lot 20
For more information, please visit: Club Suntory, www.clubsuntory.com.au