By Sam Bygrave
Photography by Rob Palmer
Presented by Michael Chen, Zeta Bar, Sydney
In association with Patrón Tequila
You know, it may come as some surprise to bartenders, but the wider drinking public still has a few hang-ups about tequila. Of course, as the purveyor of fine quality drinks and banter that you are, you're probably well-acquainted with the spirit. You know well its promise of fruity, cooked agave flavour and its peppery and vegetal notes on the nose; you know your valley tequilas from those of Los Altos, and you're probably rather fond of its brother from another agave mother, mezcal.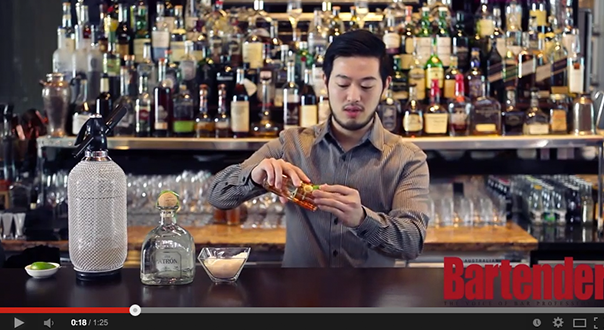 Click above to watch the video on how to make the Paloma
But the reason, we suspect, that punters are still coming around to tequila is simply because they're doing it wrong. It's the last thing they drink after a big night out, slamming back shots in a last-dash swill to achieve some sort of drunken nirvana. And we know how that goes the next day (for bartenders, too, are no strangers to this age-old ritual).
ADVERTISEMENT
&nbsp
In Mexico it's not the drunken shot that rules, nor is it even the Margarita. In cantinas and comidas — anywhere you can get a bite and a beer for that matter — you'll find them ordering the Paloma.
With good reason, too. It's hot in Mexico. During the summer it's light until 9pm. And you need a drink that is long and refreshing to calm the heat from the food you eat.
In Mexico the drink is made with Squirt, a popular, nominally grapefruit-based soda (there's just five percent of grapefruit juice in the final product). But don't let the strictures of authenticity hold you back from experimentation with this drink. You can mix up your own grapefruit soda or switch in a top quality bottle mixer, and get a delicious, tangy drink.
Perhaps the simplest way of drinking tequila is to sip it  — don't shoot it — neat. Just as the Paloma is everywhere, you'll also be able to ask for a little Sangrita to go with your tequila.
The Paloma

60ml Patrón Silver Tequila
120ml grapefruit soda
Flaky sea salt and lime to garnish.

Rim the glass with sea salt then add ice, Patrón Silver and grapefruit soda. Garnish with a lime wedge.
Notes on ingredients
The initial fresh agave and citrus notes of Patrón Silver develop into a vegetal, white pepper finish that works incredibly well to enhance the flavour of the grapefruit. Refreshingly tart, a little bitter and just a touch of sweetness, this is the perfect taste of summer in a glass!
The fruitiness in the tequila comes from the unique combination of methods used to extract the fresh mosto from the cooked pinas. The time honoured, traditional method of the tahona wheel is used along with a more modern steel press to extract the juices. They are then fermented separately in open pine tanks to further evolve the full flavours of Patrón Tequila.
All production takes place at the Hacienda Patrón in the Highlands of Jalisco under the watchful eye of Master Distiller, Francisco Alcaraz. With over 40 years in the industry he is regarded as one of the best Tequila producers and prides himself on the quality, 100% Blue Weber Agave Tequila that Patrón produce.
Notes courtesy of Patrón Tequila