Ollie Margan wins the SA Suntory Cup state final to join the Cocktail Connoisseurs at the national final in Sydney later this year! 
Winner:  Ollie Margan
Cocktail: Playa Blanca
Venue: Maybe Mae
2nd Place: Michael Barendregt
Cocktail: Kazan ( Fire Mountain)
Venue:  Next Table
3rd Place: Jack Miller
Cocktail:  The Man from Mantua
Venue:  SkyCity Casino
ADVERTISEMENT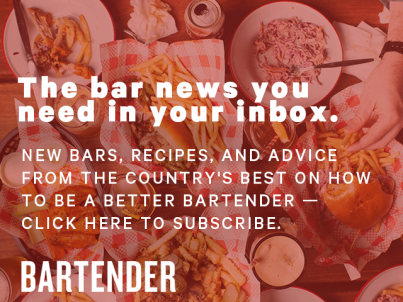 &nbsp
In its 27th year, and returning bigger than previous years; 2014 has shown great support from 633 competition entries from Club Suntory members nationwide. The long-running Suntory Cup cocktail competition had its second stated final held in South Australia on Monday 4th August at Rocket Bar, Adelaide. With a changed format this year, the stage was set with what turned out to be an epic night at Adelaide host venue Rocket Bar, with local Club Suntory members turning up in their droves to cheer on the 4 bartending contenders, all vying for their chance to compete at the national final 'Cocktail Connoisseur' in Sydney later this year.
On the day, finalists were put through their paces with a series of technical challenges before they had the opportunity to flaunt their bartending chops in their final presentation of their signature creation. The finalists each had to partake in a knowledge test and blind tasting, all which weighted toward their final score which would inevitably reveal the state winner.
Judges were in attendance to keep a close eye on the action, assessing each bartender on their cocktail demonstration of their Suntory Cup cocktail entry in front of the invited guests. All while the rather awesome Rocket Bar staff pumped out  delicious Suntory cocktails for thirsty punters, including Disaronno sours, Russian Mules, Midori Bursts, Little Drippa Mount Gay Espresso Martini's, Cointreau fizzes, and AppleZu's.
After conferring in secret, the judges returned to announce to the packed house that Ollie Margan from Maybe Mae as the SA Suntory Cup state final winner with his '''Playa Blanca'', scoring for himself not only a shot at the top prize but bragging rights and an a selection of spirits from the Suntory Portfolio. In a close second was state finalist Michael Barendregt, from  Next Table, with Jack Miller  from SkyCity casino  being awarded 3rd place, and James Powers as Runner up with his 'Twisted Tropical Smash'.  Michael, Jack and James scored themselves selections from the extensive Suntory portfolio.
To get to this point, competitors were tasked back in April with creating an original cocktail using a minimum of 45mls from Suntory's ever-diverse portfolio and submitting it online at www.clubsuntory.com. Judges then blind tasted the 633 individual entries, assessing the appearance, taste and aroma, without knowledge of the entrant's name or place of work, making for a truly level playing field where the best-tasting drinks are those chosen.
State finalists have been chosen from VIC, WA, QLD, SA and NSW to contest the national final consumer event in Sydney, Cocktail Connoisseur, and a chance to win the top prize of the ultimate bartender's fantasy trip to Japan visiting cocktail bars and distilleries with $1000 spending money!
Stay tuned for more updates as all the state finals action unfolds over the coming weeks. In the meantime, want to try the winning cocktail ''Playa Blanca'' by Adelaide's Ollie Margan for yourself?
Playa Blanca
Glass: Rocks Glass/ Old fashioned
Garnish: Lime wedge & toasted coconut.
Method: Shaken and double strained.
Ingredients:
45ml Sierra Reposado Tequila
15ml Mezcal Vida
30ml Coco lopez Coconut cream
30ml Fresh Lime juice
10ml sugar syrup