Lockwood
73 Rue d'Aboukir 75002 Paris
lockwoodparis.com
With three successful Sydney bars — Pocket, Button, and Stitch — with a Central Coast outpost of Pocket Bar in Terrigal, you'd think perhaps the guys behind Pocket Bar would look at another Australian city for their next venue.
Well, Pocket Group owners Chris Lehoux and Karl Schlothauer have gone a little farther afield than that. It's not Perth where they've opened their new bar, Lockwood, but Paris.
ADVERTISEMENT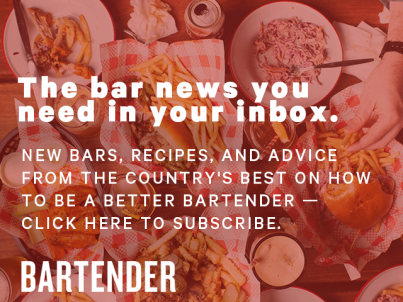 &nbsp
"The opening of a bar in Paris has been a project that Karl and myself have been thinking about for a while," said Lehoux. "I've got two brothers there working in the same industry so the opportunity was too good to let go."
Lockwood opened earlier this year, and has been well-received by the locals, said Lehoux.
"It's been a success from the opening," he said, "Parisians have been waiting for a venue like that to open in Paris. People were were travelling overseas and enjoying similar places in London, New York… but couldn't find something similar in Paris."
Lehoux describes the venue as "three identities in one," and a new concept for Paris. They open all day, serving breakfast, lunch and coffee on the ground floor.
"Then we use the same space from 6pm to 2am as an aperitvo bar," said Lehoux.
The cocktails focus on aperitif-style drinks using amari and French and Italian vermouths. "The cocktails tend to be on the bitter side," said Lehoux, "refreshing and simple. We serve the classic aperitif cocktails like the Spritz, Negroni and all variations [as well as] house creations."
To go with your aperitifs, they offer free tapas and nibbles.
The third identity for the bar can be found in the basement, which is focused on cocktails  in the setting of an old cave from the 1700's. Down there they focus on whisky, and a partnership with La Maison du Whisky ensures they get plenty of rare and limited drams to line the bar.
Lehoux tells us that he is after Australian bartenders to man the stick, as the scene in Paris is really in its infancy and talented top-notch bartenders can be thin on the ground.
"We want to build an international team, which is more in line with our crowds as 50 per cent of our clientele are foreigners, mainly from the States, Canada, Australia, England and Scandinavia," he said. "Australian bartenders are passionate, professional and at a pretty good level, yet their approach to service is relaxed and friendly."
"We're looking for bartenders and a bar manager," he said. "They don't need to speak fluent French, only a few basics is enough, but for the bar manager they will need a bit more than the basics. That could be interesting for people who to get experience overseas."
We happen to agree. If you're keen to get involved, hit up Lehoux via email at chris@pocketgroup.com.au. In the meantime, take a look inside the bar with more pictures below.