By Sam Bygrave
Photography by Rob Palmer
Presented by Rowan Vidler, The Lobo Plantation
You know what a swizzle stick is, right? It's that little rod of colourful plastic stuck into your drink on the rocks, right?
Well, yes and no. There's a tree native to the Caribbean, popularly called a swizzle stick tree. They snap these sticks off the tree, and use them to swizzle drinks.
The idea behind swizzling is to get the drinks as cold as possible. It's really in effect no different to stirring vigorously, but it does look great — particularly if you can get a hold of a genuine swizzle stick (the guys at Cocktail Kingdom Australia have got plenty of them).
ADVERTISEMENT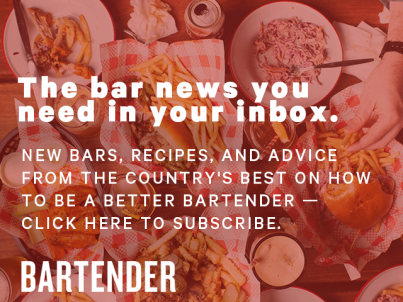 &nbsp
The Swizzle itself is a kind of potable bastard lovechild of a Rickey and a Julep. The drink probably dates from the mid-to-late 1700's, and David Wondrich thinks that it came about when ice (and rum) was thrown into a drink of molasses and water they called a Switchel.
There are many types of Swizzle — there's a Green Swizzle, which incorporates gin (or white rum) and wormwood bitters; the Barbadian Swizzle, made with genever (as it would have been back in the day); and the drinks we've presented here.
The Queen's Park Swizzle is perhaps the flagship Swizzle. Said to be created in the late 1800's at the Queen's Park Hotel in Trinidad, the drink was made with big, fragrant dark rums from Guyana, known as Demerara rums. For the recipe here we've used Pyrat Rum XO Reserve, a blend of Caribbean rums bottled in Guyana — and its big, bold character works is the kind of thing you want in this drink.
Those rums were used in the Guyanese Swizzle as well. This particular Swizzle is more rustic. If the Queen's Park Swizzle was for the wealthy guests at the hotel for which it's named, then the Guyanese variant is much more utilitarian. It discards the lime to keep it simple. Rum, sugar, ice and bitters. Make it ice cold, and go heavy on the bitters: the combination of rum and sugar needs the bitterness.
Queen's Park Swizzle
60ml Pyrat Rum XO Reserve
30ml lime juice
20ml sugar syrup
6 dashes of Peychaud's Bitters
6 mint leaves
Add lime juice, sugar syrup, mint leaves and rum to a highball.
Add crushed ice.
Using a pronged swizzle stick or barspoon, swizzle the mixture until icy cold. Top with more crushed ice, add straw and garnish with a sprig of mint. Add bitters on top.
Notes on ingredients:

• Pyrat Rum XO Reserve is big on the palate, with vanilla, cinnamon and honey characters leading to a spiced bitter orange back-palate and a long finish.
• Pyrat Rum XO Reserve is a blend of different pot still rums from seven Caribbean distilleries, and bottled in Guyana.
• Pyrat Rum XO Reserve is aged using a solera system, employing rums between eight and 40 years old.
• They use Limousin, Gascon, and American oak barrels. Gascon oak is less porous than Limousin, and imparts less sweetness.