By Sam Bygrave
Photography by Rob Palmer
In our August issue, we spoke to Reuben Mardan, an award-winning Sydney barista and coffee roaster whose cafe, Sample Coffee is one of the best in town.  We chatted about what he thinks coffee cocktails could do better — given that he knows a thing or two about the stuff.  And you know what? Mardan finds that coffee in cocktails can be a little underwhelming at times (but check the recipes below for coffee cocktails work).
"I've had people who have done a Coffee Negroni, and it's been average," Mardan said. "It's because they've just added coffee to the cocktail. It's been okay but not great."
He says the best coffee cocktail he's had has been a Cold Drip Negroni (via a recipe we procured from WA's James Connolly, by the way). "It integrated all the flavours," he said.
ADVERTISEMENT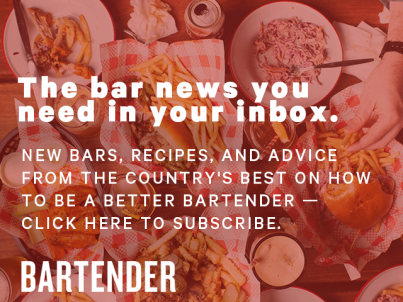 &nbsp
For your Pharmaceutical Stimulant (we could just call it an Espresso Martini), he finds that filter or pourover styles of coffee don't work, given the dilution that's going on when you make them. This is where espresso comes in.
"I think the thing about espresso is the intensity of it," he said, "so it works well in a cocktail."
Little Drippa's Lewis Kneale agrees, which is why their cold drip process has been tweaked. "Cold drip is known for bringing out the best flavours from the coffee beans," he said. "However these are often delicate and the end result can be very weak. [We] source only the highest grade beans and roast these in a particular way to give a strong, charismatic flavour."
Check out four coffee cocktails that work below.
Cold Drip Manhattan
40ml Jack Daniels Single Barrel
20ml Punt e Mes
10ml sugar syrup
15ml Little Drippa Cocktail Coffee
4 drops Bittermens Chocolate Mole Bitters
Garnish with a cherry
Adapted from a recipe by Mikey Lowe, The Wild Rover

Empire of Dreams
50ml Bacardi Superior Rum
30ml fresh pineapple
10ml apricot brandy
10ml fresh lime juice
5ml orgeat syrup
15 espresso beans
Shake and strain, garnish with a lime twist.
Recipe by Fred Siggins, Black Pearl
Ryeball
20ml Mr Black Cold Drip Coffee Liqueur
20ml High West Overproof Double Rye
10ml Campari
Bittermens Chocolate Mole bitters
Stir and strain over a ice. Garnish with lemon twist.
Recipe by Mischa Bonova, Rockpool Bar & Grill
Pharmaceutical Stimulant
40ml 666 St Ali Coffee Vodka
15ml Tia Maria
5ml sugar syrup
20ml espresso
Shake all ingredients with ice, strain into a martini glass.
Adapted from Dick Bradsell's original recipe created iin the early 1990s.

Coffee's boozy wave
Here's 5 bottlings to keep an eye out for…
Little Drippa Cocktail Coffee: Little Drippa is designed to remedy issues of consistency and preparation that bartenders face when using coffee in drinks. It has a shelf life of 13 weeks from the date of bottling, and offers a smooth and consistent taste, every time. Local Craft Spirits
666 St Ali Coffee Vodka: The result of a collaboration between 666 Pure Tasmanian Vodka and Melbourne's St Ali Coffee Roasters. "A rich, chocolaty, fruity and lingering coffee flavour that sits happily alongside 666's vodka without interfering or overpowering," they tell us. Local Craft Spirits
Mr Black Cold Drip Coffee Liqueur: Another home-grown champion, Mr Black won one of just six gold medals awarded — from a field of more than 600 — in the 2012 IWSC in London. It comes in at 25% ABV and is designed for coffee aficionados. Vanguard Luxury Brands
Tia Maria: Tia Maria has been on the scene for some time now, and it's because its blend of fine Jamaican coffee and Caribbean spices offers up aromas of roasted coffee, vanilla, and chocolate. Suntory
Illyquore Liquore di Caffe: The luxe Italian coffee — no less than 100% Arabica bean — is combined with fine spirit to offer up rich flavous of espresso, fine dark chocolate, and vanilla. It comes in at 28% ABV. Campari Australia