Nominated three years running for International Bartender of the Year at Tales of the Cocktail, Zdenek Kastanek is one of the partners at 28 Hong Kong Street. You might have heard of 28HKS: it's the little Singapore bar that picked up the title of best international cocktail bar at the Spirited Awards.
And you also may have heard of Kastanek: he spent three years in Australia working at bars like The Lincoln and The Beresford. He talked to us about his career and 28HKS.
I spent almost four years in London. It's amazing, it's definitely the most vibrant in terms of cities and in terms of cocktail culture. But after four years of running Quo Vadis, learning all I could from one of my mentors, Paul Mant, I kind of got to the same stage I got to in Australia towards the end. At that time I was 26 and I thought, ok, probably it's time to leave one more time, and try to learn a little bit more before I get a family and a mortgage and shit like that.
ADVERTISEMENT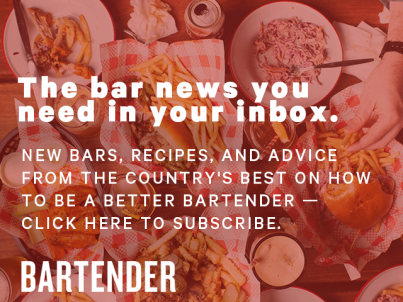 &nbsp
And that was that. For the first time in my life I said, I don't have anything planned. I gave two and half months notice to Quo Vadis because they had to find someone after me — they actually had to hire two people to do cover my old position — and just being open on the market.
Then this India project came, sponsored by Grey Goose, and we did six hour slots on technique and training, hospitality and the history of spirits. While I was doing that I got phone call from Singapore from Michael Callahan. We'd met in New Zealand for the 42Below World Cup and we kind of clicked. We were always saying since day one, one day we're going to do something together.
Then he contacted me. He said, 'This is what we're doing, 28HKS is doing pretty well but I'm on my own here and need a little help, and some fresh eyes, someone strong as me to come and help because all my kids are local kids. They're doing amazingly well but they just need another point of view.' Plus he said 'we're thinking about opening a distribution company based on consulting and training and to develop the whole scene, and as I know you, and this is what you've been doing, I thought you might be interested.'
I said, 'Great, actually I'm in India at the moment but there's Divali festival the next two days, so I have two days off.' I booked my tickets and nine hours later I landed in Singapore — no fucking around.
On Singapore 
There's so many restaurants with big names — Mario Batali and all that — opening places, so you know there's a foodie culture there. There's always a two or three year gap from when the foodie culture is there to when the drinking culture [happens], and you want to open a place that's a, somewhere I can drink, and b, to try and start the whole scene up. That was 28.
On 28 Hong Kong Street:
There's seven of us, three big partners, four little partners and an awesome dedicated team.
It's a great family, a combination of business people and people from restaurants and bars. It kind of came together very well in a way, in that we love to work with each other.
I joined them after the first year. The whole idea was to open a place that would be exactly the same as if you were drinking in San Francisco or in New York, but not shouting about it. Not opening a place and saying, 'Hey! Here we are — we are the best and we're bringing cocktails to Singapore." It was the other way round. We hired a  PR company for the first three months to keep us out of all the press, paid people to make sure we're nowhere. It's a good PR job!
We wanted to just have word of mouth and for people to understand it's not being pretentious, it is just what it is. We literally just brought a bar that we would love to be at if we were in it. We have a large collection of brown spirits, we have a beautiful selection of really rare whiskies.
We have a very big focus on food. We just sent our chef for two and a half weeks on our expenses to America, to LA, San Diego, New Orleans, Boston, New York, and his job was to eat in the top places, and he came back and did a two hour presentation. It was for him to really understand what American food is. He went to Dallas and Austin to really understand what the American BBQ is, and then he spent two months working on the new menu which we just launched, based on that expertise.
It's a really simple room: it's a 65 seater, two stations averaging over three hundred cocktails a night with two bartenders. Over 90 per cent of everything we serve is cocktails, which is very surprising — I do one vodka lime and soda a week maybe. Maybe three glasses of white wine in a night.
When 28 opened, people were sceptical — people didn't think  Singapore was ready for this. It came about, it was really successful, and it grew into what now I feel really proud of. Straight away when I joined you could sense that lots of young bartenders were coming into 28 and trying it to see what we do — coming on Mondays and Tuesdays to talk. And we're almost three years old and we really are the community builder. We're building up young managers, local kids. They're running the show, and the community sees it, and they're like — this is a local story, these kids three years ago they were in Clarke Quay and they joined 28 and now they're bar manager and restaurant manager, and all the articles are written about them.
Every last Monday of the month we do the bartenders allowance, $280 on the wood with a knife sticking it, and we invite the first ten bartenders who submit cocktails to go compete. Every last Monday of the month the whole community comes through and has fun, and the winner gets 280 bucks, a couple of bar tools, a couple bottles of booze. It's a bartenders allowance.
On being nominated for international bartender of the year:
It's amazing, a huge honour. This is my third year in a row so I'm going to be sweating through my shirt for the third time which is not the fun part, but it's a luxury worry I guess. I'm flattered, it's amazing.
There's another 2000 bartenders who deserve exactly the same, but either no-one knows about them because they're working in a small little town in Peru somewhere, or they're not interested in doing any PR or anything like that.