As told to Sam Bygrave
Mechanics Institute, located in Northbridge, outside Perth's CBD, has had a good run in its first two years. Dim Rtshiladze is one of its managers, and he's no slouch behind the bar; getting himself into the finals of a number of competitions and gaining a spot in our Bartender of the Year comp Top 20 in 2013. We asked him about Mechanics, and how he got into the world of booze.
We're like the anti-bar of Perth. We try to disassociate ourselves with the wank in bartending and people really seem to like it. [It's about] fun attitudes, the music we play, the way we go about things — we prefer people to enjoy themselves, and not to judge them on the things they're drinking, and just try to show them good experiences without pushing that cocktail culture on them.
It was hard at the start, because some people don't get you and think you're kind of arrogant. But they warmed up to us and found this place was a fun place to come drink, and not have to wear a collared shirt, or a suit, to enjoy good booze.
ADVERTISEMENT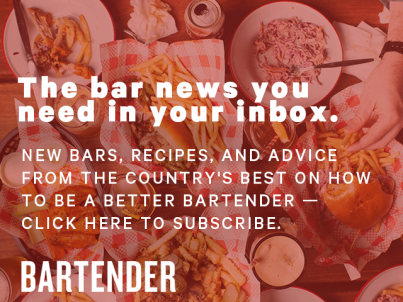 &nbsp
I seem to do all right. I haven't won anything major but seem to make a few [competition] finals. I have been enjoying them, but I've kind of reached the point where I'm a bit over them — there's a lot of work that goes into them.
I've been doing it seven years now. It all started like most people do, while you're at uni, and I just began liking serving booze more than doing uni work.
I studied architecture originally, which is pretty full on, but I was trying to work as much as I could as well and figured out I could earn more money as a bartender than an architect.
It's come into use when I've had to help design our new bars, and designing behind the bars and put together some basics, but architecture's more about being boring and sitting behind a desk.
I wasn't a member of the inner bartender scene so I didn't learn anything from any mentors — you just find it our yourself and then just ask around. It wasn't until the last four years where I met a bunch of guys from Sydney.
The trips to Sydney were the most influential for me. When I first started going over there to see my family, and going to places like Eau de Vie and Shady Pines and seeing how they did things, realising you can have a lot of fun behind the bar while still producing a good product.
I just love talking to bartenders. That's probably the thing I learnt most since I landed in Sydney. I went straight to Eau de Vie and the first guy I met was Charlie Ainsbury and just sat there and talked to him for about four hours, about booze and all that bartender stuff.
At every bar I go to I like going there by myself and meeting people behind the bar. Watching them, talking to them about this kind of stuff, sharing stories. I guess that's the biggest thing for me in how I learnt a lot, and it got me more motivated as well.
I guess passion is the main driver that you should have as a bartender. I mean, we're in the rare industry where most professionals truly love their job, so if you have the passion and the love for it, you know, it forces you to learn and you want to learn.
Some guys I see the same progression that I had. Yeah you're a young guy and at uni and you're keen to learn, but I can see that bartending is taking a priority — which is a good thing, and a bad thing. You're parents will hate you and me.
I worked all over the shop. I was working at Malt, and before then I was a duty manager at a pub, but before that I was in a fine wine shop and that's where I started learning a lot about booze. I was 18 at the time and working in a shop with thousands of wines and wicked spirits, I just didn't want to be that guy who didn't know the answer to a question.
Nobody talks about palate when they talk about spirits. Especially for someone who never drank before I started working with it — and then I had this crash course about different varieties — I guess it gives you a better understanding about the fundamentals of where stuff comes from. With spirits, people get that Scotch is made from barley but you don't really understand what barley is and how its harvested and that sort of stuff.
Probably the best thing that I learnt from my old boss, who taught me a lot, is that there's no such thing as bad booze. I remember once he gave me a six dollar bottle of wine and said to take it home and drink it. I came back the next day and he said, 'What did you think of it?' I was like, 'oh it's shit and it's cheap' and he said, 'Find something positive with it, don't be a booze wanker. All booze is good booze, find something positive.'
Since then, I've been able to appreciate everything for what it is. That was a pretty big lesson I learnt.
Billy Bob's Ruckus Juice
60-90ml of lager
30ml lime
20ml orgeat
45ml spiced rum
Top with ginger beer
Build as you would a shandy. Garnish with a slice of lime in a schooner glass.
"It was kind of a pisstake at the start — it was originally called the Handy Shandy. It started when this lady came in and ordered a shandy, and I hadn't made a shandy since I worked in a pub, so we came up with a drink that was kind of a shandy and had a bit of beer in it. We've sold about 14,000 of them."