Story by Sam Bygrave
Address: Lot Twenty, 198-206 William Street, Northbridge WA
Phone: 08 6162 1195
Website: lot20.co
It's lunch time in Northbridge, the inner city Perth suburb that is just a stone's throw from the CBD. I've arrived in Perth in mid-August, on the early flight from Sydney. I'm carting around a suitcase (packed full of booze for a tasting), I'm a little tired — I was up at 4am and there's a couple of hours onto my day thanks to the time difference — so I've just fuelled up on caffeine. I make my way past the strip bar on William Street, go by the small shops — some open, some waiting for the nightt time crowd to arrive — and get myself to the corner of James Street and William Street. I'm meeting Andy McIntyre at his new bar, Lot Twenty.
McIntyre, who co-owns the bar with Gary Beadle, is a week into the new bar, which is his first.
ADVERTISEMENT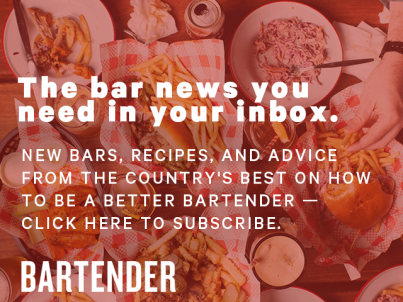 &nbsp
"We're in the sixth day of trade," he says. "The first week's been really well-received, and the whole idea behind it is that we're aiming for that true European-style hospitality, where it's a venue that can be everything: it can be a coffee shop, it can be lunch, it can be dinner."
Northbridge, McIntyre tells me, is in the middle of a small bar renaissance. He cites the team at mechanics Institute (just across the road from him), "TJ and the boys" at Ezra Pound, and Andy Freeman's newly opened Darlings Supper Club as examples of this.
"Northbridge, there's development going on and bars are opening all the time down here. It's getting to be that next little small bar sort of hub," he says "some really good operators doing some really good stuff."
It's one of three things about Northbridge that makes it the right place for Lot Twenty to have opened.
"We're right smack bang in the middle of the Cultural Centre, which is where the art gallery and the museum do a lot of stuff during the week," he says. "We get a lot families and tourists from there.  And the city is just across the way — people wandering over for lunch, and drinks after work, that sort of thing. It's really quite a cool spot in between those three things, and drags your trade through the whole day."
The striking thing about Perth's bars is just how focused they are on local suppliers. This has been a big thing for McIntyre at the group's other venue, Five Bar in Mount Lawley, with their emphasis on craft beer, and now with the food offering at Lot Twenty they've been able to concentrate on that even more.
"[We're] really focusing on local as much as possible," he says. "It's something that the beer guys really drilled in to me; keep the supply chain short so it's fresher, everything's fresher. Obviously with spirits and stuff it's not as much of an issue. Wine to a certain degree as well — you don't know how it travels. It could be in top of a container for four weeks on a boat. The community is really getting behind [local] people and what it's all about."
This is McIntyre's first bar, and it has been two years in the making from when they first got the offer for the lease. It hasn't been a worry-free process, as you'd expect; they've had to overturn licensing bans, cope with planning code obstacles, and bide their time.
"Nick Trimboli (who started Little Creatures, and owns Gordon St Garage and Bread in Common, among other restaurants) applied for this site and the one in front. He had issues with licensing and got knocked back, and then there was a ban that was applied to the site for three years before anyone could reapply."
Andy says that before they could reapply, and actually start the liquor application, they had to have that decision overturned. That took time, and so did the application for a liquor licence — 10 months in fact. Yet while the process was frustrating, McIntyre believes things are improving.
"Licensing gets painted with a fairly bad brush over here," he says, "It was a long process. But we found them to be a lot more helpful than we have [in the past]. They really helped us to get along on a few things, rather than being resistant and not wanting to approve."
They've put in a lot of work since then to get the venue to where it is now.
"Having a heritage listed building was quite cool because it gave us an interesting canvas to work from," McIntyre says. "It was originally the old police constabulary, so the front part of the building housed the police officers, and out the back here was the stables. These three doors are where all the horses went into the barn.
"When we took it on, it was quite a closed-in space. We really opened up this deck area outside, which suits 60-70 people on a summer day."
From what McIntyre says, summer is when the place will really come into its own. "All the high tables have ice wells built as inserts to allow people to chill their drinks down, and keep them cold, while you're sitting there," he says. "Rather than having an ice bucket that melts all over your table."
"We'll have a smoker going during summer, we've got Jerry Fraser, who is an oyster-shucker extraordinaire, coming back to work with us come November."
Lot Twenty is the culmination of ten years in the industry for McIntyre; picking up the licence was a day he'll remember.
"After two years, I had a bit of a tingle about it," he says.
"Mum and Dad have been a big support for me, and Dad has been a massive mentor of mine so he was the first phone call when I got it through.
"Dad was super proud, mum was equally super proud. Lil my partner, she's my counter balance — she keeps me in check and brings me back down when she needs to.
"It was pretty emotional. It's been ten years, running venues — being the young guy at Luxe when I was twenty, starting there, and being in the bartending scene for a while — this is what I was working towards. It was pretty special."
McIntyre's Advice for Aspiring Owners
Learn and listen to everyone around you. Being humble but confident at the same time is important. Humble, because you always listen to everything people have to say, it will help you form your opinion one way or the other. But also being confident so people don't run over the top of you. And don't be shy on work, work your arse off be humble.
Don't be a dick.
Love booze — fucking love booze. You have to.