Sydney bartender Jay Gray is opening a bar with Justin Best, owner of Asian whisky den, Uncle Ming's, at 70 Pitt Street in the Sydney CBD.
"What we're going to be doing is a table service-based cocktail bar and restaurant," said Gray. "As far as drinks go, there will be around 12 to 15 drinks, but each one is going to have its own page. Every drink is going to be uniquely designed to be one, desirable, and two, unique in regards to drinks going around at the moment."
There will be seats at the bar and at the kitchen, with space for around 80 people. And they'll employ some hi-tech kit in pursuit of their goal of unique drinks.
"The Rotovap is happening," said Gray, "but that's just a small drop in the ocean of what I want to do. I don't want to be a geeky bar— more of a dinner and show but with drinks. Unique serves, unique ways of getting the customer involved, unique ways of presenting the drink to customers."
ADVERTISEMENT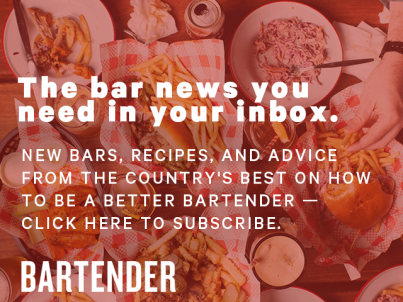 &nbsp
That also means blending brands of spirits, and not having your standard back bar.
"As far as spirits go, we're not going to have a back bar. What we have in the rail will be what I select for the rail and they'll be our house pours for if people don't want to go down the cocktail route," he said.
The aim of the game is still to keep things accessible, said Gray. "We're not going to price anyone out, it's more giving people what they haven't had before at a decent price, and really unpretentious. It's not going to be everybody's bar, but everything I'm trying to do with this is an amalgamation of everything I've learnt from everyone I've worked with over the past seven or eight years."
Gray also envisages the place as a space in which bartenders can swap ideas and try new things — and even give the rotary evaporator a spin.
"I want [the bar] to be something that bartenders can enjoy, even when we're not open. I want it to be an open platform space for bartenders," he said.
Gray has worked at Worship Street Whistling Shop, London, known for their technical drinks, but says his style of bartending has changed in his time in Australia. "Working at Bulletin Place with Tim, Rob, and Adi I've learnt heaps. Lewis Jaffrey at Baxter Inn – he kept me on my toes when I first got here." He's also had stints at The Lobo Plantation and Eau de Vie on his resume.
The bar is un-named for now, and is due to open in autumn 2015.