I got into New Orleans around 2am in the morning. It was a damn long flight from Sydney, changing planes in San Francisco, then again in Denver; when you finally arrive at Louis Armstrong Airport in New Orleans you're shattered.
But that's ok. Those other guys and girls on the plane with you — you can pick them by the ink work on their arms, the curled moustaches, their shirts buttoned all the way up to the top — they all know that what awaits you in the French Quarter will fix all that.
It's about $40 cab ride into the Quarter, where all the action for Tales of the Cocktail takes place. When I pull up at my hotel, on the corner of Bourbon and Bienville Streets, there's a party happening. It's nearly three o'clock in the morning, and the party has hours to run.
I drop my bags and change my shirt — a shower can wait until later, because despite a 30 hour trip I'm not going to be the smelliest guy around tonight — and walk out the hotel doors back into a throng of people.
ADVERTISEMENT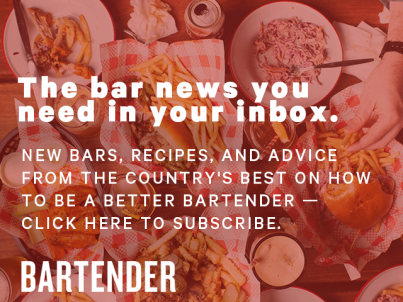 &nbsp
And that's when it begins: I bump into the owners of Mezcal Amores whom I'd met a few months back in Mexico; making my way to Old Absinthe House I bump into one Aussie, then another, then the whole crew over there with Pernod Ricard. Someone puts a drink in my hand. And just like that, we're off.
I'm off to The Alibi, just around the corner. I step inside and there's Phil Bayly holding court with the camera out, Mike Enright's talking someone's ear off at the bar — there's got to be a dozen Aussies here right now.
It's not just the hometown crew at The Alibi. Pro tip: if you want to talk the ear off an international bartending superstar, The Alibi is where you'll see everyone. But maybe just have a drink and some fun (it is, after all, past three o'clock in the morning now).
I spoke to Perth bartender Ben Tua later in the week (of course, he was at The Alibi that night too) about why people come to Tales.
"It's a global industry now," he said, "and there's this one time a year when all the Aussies and all the Kiwis and all that get together at one place and do what bartenders do. What could go wrong?"
Sydney bartender Jimmy Irvine was there too, experiencing Tales for the first time: "It's a global gathering, it's our time," he said. "It's our week for the year on a global scale. Any products you want to try, any names you want to hang with — they're all here."
"Dale DeGroff was at Kingfish slinging us drinks," said Tua, "Chris MacMillan making you a Sazerac."
And that's the thing, folks, it's not all about parties and drinking until the sun comes up. As a Tales veteran, Bacardi Lion's Sebastian Reaburn is wise to the ways of Tales.
"You learn so much. You meet everyone, everyone's here. David Wondrich will make you a Pimms at Napoleon House," he said.
"All the products are here. Anything you want to taste, someone will have a bottle."
And because the American market is so huge, it's the perfect opportunity to try things you'll likely never see being brought into Australia, as Melbourne's Michelle Dinn found out.
"Tales has been really great, every time I go somewhere and have a sip of something you get a whole bottle of something — I've got a whole liquor cabinet in my hotel right now," she said.
Sure we love the French Quarter — but there's more to New Orleans
Most of the Tales of the Cocktail action takes place in the French Quarter of New Orleans, but that doesn't mean there's not great things happening outside the Quarter. Tick off a couple of the options below and it will add to your experience of being in New Orleans.
Bellocq. It's south of the French Quarter, and they love their Cobblers here. You should go here — it's a newer, very well done cocktail bar, and is named after a photographer who embraced the women of New Orleans brothels as his subject early last century. Take a cab, though, it's a fair walk.
Bacchanal. If you're there for the last day of Tales — the Sunday — go to this wine shop north of the quarter. Again, take a cab. Out the back is the most laid-back courtyard you'll drink in: listen to some live music as the sun goes down, recap your week, and indulge in some killer eats. You order booze in the wine shop (they have heaps of beer, don't worry), they give you a bucket of ice, you smash your booze.
Willie Mae's Fried Chicken. Go here, be prepared to wait for 30 minutes for a table, and you'll eat the best fried chicken you've ever had. Kills a hangover dead.