Matt Le Rade, right, is in running the bar
Opening next week on Monday 10th is new neighbourhood bar and eatery, The Greens North Sydney. It's taking over part of the North Sydney Bowls Club, which has some spectacular views of the Sydney skyline and harbour.
Run by former exec chef at The Grounds Alexandria, Lilly Fasan and husband Nathan (who is also a chef), the focus at The Greens is very much both on food and drink. They've hired bartender Matt Le Rade (ex-Pelicano, Palmer & Co, and The Roosevelt) to run the bar — and he's put together a good-looking drinks menu.
We asked Le Rade about what he's got planned for the bar (and you can take a look at the menu at the bottom of the page — it's nicely designed).
Can you tell us a bit about where you've worked before?
ADVERTISEMENT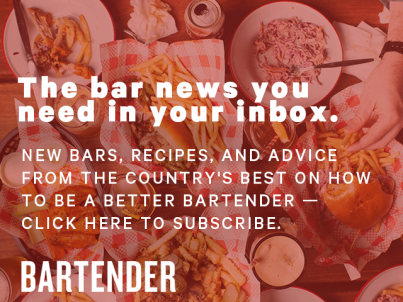 &nbsp
Pelicano in Double Bay, Palmer & Co in the CBD and The Roosevelt in Potts Point. 
Chefs Lilly and Nathan Fasan
Tell us a bit about what The Greens will be, and how it will fit into the local area?
The Greens is an eatery, bar, café, garden and bowling green overlooking Sydney Harbour. We anticipate a big lower north shore local following as there's nothing quite like The Greens in the area. We want it to be a fun, relaxed yet still professional experience for our guests. 
Could you describe the thinking behind the cocktails and wine list? 
The cocktail list is designed to be approachable. We're using fresh seasonal flavours and have a lot of long drinks as well as a number of cocktails designed to share with friends out in our beer garden.
The wine list is just as approachable as the cocktails and when we put it together we wanted to offer broad choice with something for everyone. 
The Greens North Sydney
What is the bar set up going to be like? 
The bar is open from midday, seven days a week and will trade until midnight throughout the week and until 2am on Fridays and Saturdays.
We have one long main bar inside and a smaller outdoor bar for our weekends and events and we expect our bloody marys will be popular there.
Also, over the xmas period, we have a Cloudy Bay Lounge in the garden courtyard overlooking the harbour.
Take a look at The Greens menu below, or click here for a larger view.