It's November. The Melbourne Cup is not just the race that stops a nation, it's also the time when the general population takes a collective breath and readies themselves for the festive season ahead — it's the pregame workout to the main event of summer. The frocks and sunglasses come out, champagne is popped, and just like the days, the cocktails get longer. It's the time of year when large-format punches come into fashion. And lest you think the vogue for "share" drinks is a new thing, it's worth noting one of the oldest cocktail books, printed some 145 years ago in 1869, gave great weight to these drinks.
That book was Cooling Cups and Dainty Drinks, by Britisher William Terrington. He devoted a section to "cups, and social drinks" which is perhaps a nicer terminology than "share drinks".
Terrington recounts the history of the Cup — how it goes back to the days of the Romans, who rather liked blending wines and herbs and of course, throwing a bacchanalian party or two.
Terrington's Cups didn't always require herbs, though: his Champagne Cup a la Parisienne calls for a bottle of "sparkling champagne (iced); bottle dry ditto (iced); a teaspoonful of absinthe Suisse; syrup to taste."
ADVERTISEMENT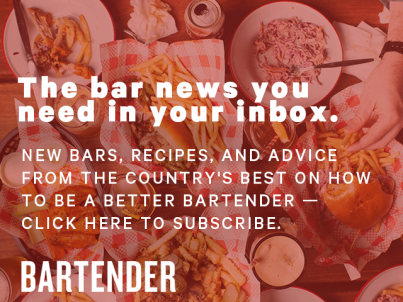 &nbsp
Terrington, publishing his book in Britain and just seven years after Jerry Thomas' first bartending book in 1862, also includes a number of "American drinks—of those Transatlantic 'notions'— many of which, owing to their racy character, are properly styled as 'Sensations' by our Yankee cousins."
And given Punch had been around for some 200 years or more prior to publishing, he also includes those recipes.
So as you gear up for the cash-money silly season, you might want to delve back a century or two for some tried and tested methods of satiating the hordes.
Sgroppino
20ml vodka
90ml Armand de Brignac champagne
1 scoop of elderflower & lemon sorbet
Add all ingredients to the base of a mixing glass. Using the flat end of a barspoon, whip the ingredients together to completely emulsify. Pour into a champagne flute and garnish with a lemon twist.
The Sgroppino doesn't make an appearance in Terrington's book per se, but the idea of mixing wine and flavoured ice sure does. His Champagne Cup No. 11 calls for 2 bottles of sparkling wine, half a pint of strawberry or lemon ice, and two bottles of soda water.
Which isn't so far from the Sgroppino recipe we've pulled from our archives above. Obviously, you can switch the ice (or sorbet) for any flavour you desire, and scale up to serve parties of more than one.
Quick-fire Garrick Punch
50ml Gin
7.5ml Luxardo Maraschino liqueur
30ml Monin Lemonade concentrate
60ml soda water
Mix all ingredients in a mixing glass with ice, shake and strain over ice into a highball glass. Garnish with lemon and cucumber.
This is an adaptation of Terrington's recipe for Gin Punch a la Garrick, which was: "Rub the ambrosial essence of 1 lemon on a 2 oz. lump of loaf-sugar, which dissolve in the juice of the same; add ½ pint of gin, wine-glass full of Maraschino, pint of shaven ice, and 2 bottles of soda-water."
Mmm, ambrosial.
We suggest giving that traditional recipe a crack, if for no other reason than giving the old oleo-saccharum a go, but if you'd like a time-saving recipe (and hey, it's November, you're busy, we get it) take a look at this one as a quick-fire starting point.
Two summertime ingredients
Monin Lemonade Concentrate: This base lets anyone innovate and create its own original way or run their imagination wild and develop a completely new variety or create numerous twists on classic cocktails. MONIN Lemonade concentrate will bring you the perfect balance between citrus sourness and sweetness for outstanding innovative lemonades. Stuart Alexander
Armand de Brignac: On the palate, the champagne has a sumptuous, racy fruit character that is perfectly integrated with the wine's subtle brioche accents. The texture is deliciously creamy, pairing rich depth with a long silky finish. South Trade
*Tasting notes provided by suppliers