The 2014 Bartender of the Year competition, sponsored by Havana Club, was one of the toughest instalments of this annual bartending challenge yet. Last week we brought you our interview this year's champion, Nathan Beasley. Today we bring you the interviews with our second place getter, Samuel Ng, who works alongside Beasley in the trenches at Melbourne's Black Pearl, and this year's number three, Joe Sinagra, from WA's Bobeche.
2nd Place: Samuel Ng
Black Pearl, Melbourne
What's it feel like to take out the number two spot this year?
ADVERTISEMENT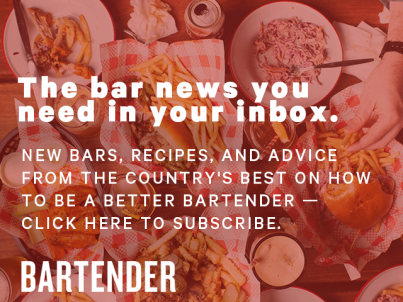 &nbsp
It feels absolutely fantastic. It's not something I really expected, even if I had hoped to make it past the first round. In all honesty, I hadn't expected to make it past the exam this year because, Black Pearl being as busy as it is, I hadn't really had too much of a chance to study — or sleep for that matter!
But the crew was great once I had found out I made it to the Top 8, anything I needed they helped me get. And to know that Nate took out the number one spot is even better. I have so much respect for all the guys in the Top 8, some of whom I definitely look up to as a young bartender, and to know I did as well as I did humbles me.
How did you prepare for getting in front of 550 people at the Awards?
First thing was to get a good night's sleep! Then I ran both my chat and drinks past my friends, especially an old friend and mentor Cristiano Beretta [who took out third place in last year's competition], who kindly loaned me a bit of bar space at The Rook to practice.
I must have looked like a bit of a weirdo, pacing about and talking to myself and then timing it again and again. And in terms of study, to my mate Lewis Halls who shared the workload in terms of study preparation back in Melbourne, and also to Fred Siggins who gave me some tips on how to make my presentation more polished. After that on stage, it was all just muscle memory and smiles.
How's it feel that your brother in arms from the Black Pearl took out the title?
One of the best feelings in the world. He's definitely a bartender I look up to, and also a good mate who I've worked with for almost three years now. He's worked very hard, is very talented and thoroughly deserves it. 1st and 2nd place in a comp as prestigious as Australian Bartender makes me very happy, both personally and professionally, and for the Pearl.
Joe Sinagra
Bobeche, Perth
What's it feel like to take out the number three spot this year? 
It's a really great sense of accomplishment. This year was a lot tougher than the last and to finish strong this year has been quite rewarding.
What's been the reaction from folks in WA? 
Everyone has been great. All through the two days of competition I had messages and calls of support from back home. Being the only WA bartender sitting this year's exam I definitely felt the pressure to represent the west.
How did you prepare for getting in front of 550 people at the Awards? 
There's not much you can do. I try to focus on what I'm going to say and make sure I'm prepared to do the drinks. Once you get up there you've just got to do your thing and hope it's enough. At the end of the day it's making a couple of drinks behind a bar. I do that five days a week. I try to take that mindset in to each comp presentation I do.
How did you feel second time around in the final round? 
Second time round I definitely felt a little more confident. A bit more like I deserved to be there. This year though was a much tougher Top 8. So many of the 8 had made Top 10 and Top 3 before. Being friends with pretty much all the competitors before the comp it was a great group to compete with.
Do you have any advice for others wanting to give the comp a go next year? 
Get involved! Read the magazines and make sure you work on your all round knowledge base. It's a great test of your all round skills but you can't show off your other skills unless you do well in the exam.