'Dr' Phil Gandevia wins the 'Discover the Legend'  Zubrowka  Cocktail Competition 2014 and a distillery trip to Poland!
Three days away in the Hunter Valley (the location kept secret to the finalists until arrival), saw 11 impressive bartender finalists from around the country, all contesting the first annual Australian national final of the 'Discover the Legend' Zubrowka Competition  hosted by Club Suntory.
Conducted in the Hunter Valley for the first time, the 11 finalists below were chosen from 139 entries nationwide and were selected to compete in The Zubrowka 'Discover the Legend' cocktail competition. In no particular order:
Rinna Kato, Blackbird Bar and Grill, QLD
Dave Harris, The End, QLD
Will Sleeman, Black Pearl, VIC
Chris Ford, Clarences, WA
Brett Arendse, Darlings Supper Club, WA
Richard  Rosendorff, Queenies, NSW
Edward Quatermass, Maker, QLD
Brendan Miles, Emporium Hotel, QLD
Dave Meadows, Udaberri Rest, SA
Philip Gandevia, EDV, NSW
Mattia Arnaboldi, Stitch Bar NSW
Each of the 11 finalists were tasked three challenges: a mystery box challenge with a twist, a flavour pairing challenge, and their presentation of their signature creations. The wealth of talent and experience in the field was evident in each individual's performance, with a range of creative takes on the use of Zubrowka.
ADVERTISEMENT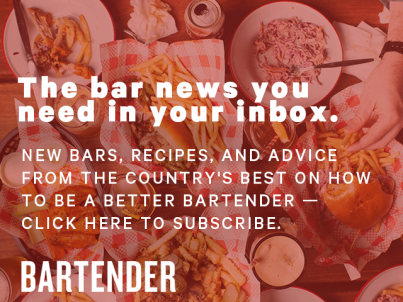 &nbsp
Following the gruelling full day of competition, the finalists and judges both withdrew before finally reconvening for a relaxed dinner at The Cellar Restaurant in the Hunter Valley.
After enjoying a few Zubrowka's, it was down to business and the awarding of the winners. Despite the closeness of the competitors and the high standard of final performances, Philip Gandevia from EDV Sydney was awarded as the best overall, taking out the honours and a trip to Poland.  In seconnd place, scoring for herself a Zubrowka gift pack was was Rinna Kato from Blackbird Bar and Grill (QLD), and third place was shared between Edward Quatermass, Maker (QLD) and David Meadows, Udaberri Rest (SA),  who also received a few bottles of Zubrowka.
Well done and congratulations from Club Suntory to all the finalists who competed!
Want to know what was in the winning concoction? Here is the winning recipe…
Ce la Vie
Dr Phil Gandevia
GLASSWARE: Highball Crystal
GARNISH: Dehydrated Fennel crisp, a touch of black pepper and a mist of Zubrowka Bitters
INGREDIENTS:
45ml Zubrowka
15ml Fino Sherry
1 egg white
20ml Sugar syrup
20ml Fresh lemon juice
60ml Celery juice
20ml Fennel juice

METHOD:
Shake and strain into an ice filled highball.