From left to right: Lee Potter Cavanagh, Ben Blair, and Reece Griffiths
Three Sydney bartenders will run a five week popup bar from February the 25th of April. It's called Whisky Jerx, and they'll be dipping into the totally amazing and excellent oeuvre of the 1992 film, Wayne's World, for some inspiration.
Ben Blair, Reece Griffiths, and Lee Potter Cavanagh are the said 'jerx' in question, and the popup is a result of them winning a comp last year.
"We won the nationwide Monkey Shoulder comp and they're giving us some stock, marketing support and some cash — which it turns out you really need when you open a popup!" said Potter Cavanagh.
They're taking over the basement of The Unicorn in Paddington, with the lower level taking on a "Wayne's basement", party atmosphere, he said.
ADVERTISEMENT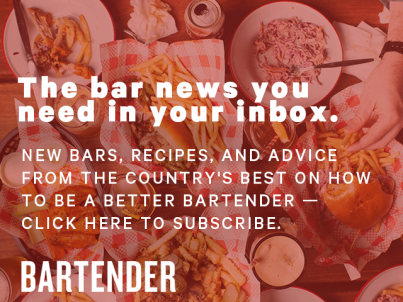 &nbsp
"We all had similar interests growing up, you know, we all liked rock and roll, we were all in bands, so we wanted to reference that as well. The music is pretty much inspired by the Wayne's World era and our youths, so rock and roll, some punk — not this country, Americana worship."
"Essentially we're taking inspiration from the soda jerks from back in the day, that's where the name comes from. It's a little bit tongue-in-cheek.
The trio worked together at The Victoria Room, and are looking forward to getting the band back together.
"Working with Ben and Reece, whenever we work together we always have a good time. We still work hard, we're not there to mess about, but we have a good time."
Which all sounds totally excellent. Zang.