Frozen Irish Coffee

30ml Jameson Select Reserve
30ml espresso
30ml sugar syrup
60ml milk
1 large scoop of ice cream
5 ice cubes

Blend all ingredients and serve in a jar with wafer crumble and wafer.

Adapted from a recipe from Hinky Dinks, Sydney
Story Sam Bygrave
Photography by Steve Brown
Presented by James Snelgrove at Hinky Dinks, Sydney
ADVERTISEMENT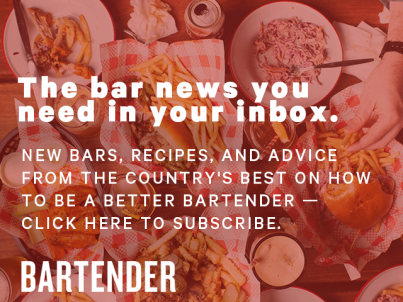 &nbsp
I've never liked the whole Irish Coffee thing. Those cylindrical, handled glasses that burn your knuckles, the weak-tasting yet piping hot watery coffee that serves only to burn your tongue, the way the heat makes the whiskey taste as though it's more suited for powering a two-stroke lawn mower — it's never been a pleasant encounter for me.
And though I suppose it's called an Irish Coffee for the origin of the whiskey it includes, I've often wondered if more problematic motives are behind the name: could it be premised upon the supposed fondness of the Irish for drinking?
Wherever the name comes from, I have found one way of drinking it that I like. I like the way they drink it in New Orleans.
This recipe ticks all the boxes of Bourbon Street drinking: it's served ice cold, offering respite from the New Orleans heat; it offers the pick me up of caffeine, a necessary adjunct to French Quarter boozing; and it'll get you soused, too — you are, after all, under orders to let the good times roll.
It's made at the Erin Rose, a small and worn Irish bar just off Bourbon Street and far enough away from the madness to offer relief (it's also close enough that it's within a good times roll or two). The lads at Hinky Dinks were so taken with the drink when they tried it that they've replicated it here in Sydney for themselves.
At the Erin Rose it's served from a slushee in machine into a plastic cup, as is custom in the enlightened city of New Orleans (you can take your boozy drinks to go, you know). Hinky Dinks is a touch more refined than that, so they'll garnish yours with wafers and blend them up to order so you know you're getting a good measure of whiskey. And it's always served as only the good folks of N'awlins would have it: ice cold.

Notes on ingredients:
• Jameson Select Reserve is made with a high proportion of single Irish pot still whiskey and a rare, small batch grain whiskey.
• The grain whiskey for this blend is made on only one day each year.
• Both the pot still whiskey and the grain whiskey is matured in flame charred ex-bourbon barrels and toasted sherry casks.
• The Jameson Select Reserve has aromas of papaya and nectarine, while on the palate offers up vanilla, toasted wood and spice, fruit sweetness and a creamy mouthfeel — that's why it works in this drink.
*notes courtesy of supplier