El Diablo

60ml Hornitos Reposado Tequila
30ml lime juice
120ml ginger beer
10ml crème de mure
Build over ice in a tall glass, drizzle crème de mure on top.
Story by Sam Bygrave
Photography by Rob Palmer
Presented by Max Greco, Vasco
In association with Hornitos
Trader Vic — better known to his mother as Victor Bergernon — brought some brilliant tiki beverages into this world. Some, like the Mai Tai, were out of this world; some, like the Fog Cutter are solid, slurpable creations that just do their job: get you liquored and taste good.
Most of his drinks, owing to their tropical ,'South Seas' vibe, are premised upon rum. But for one of Trader Vic's staple — the El Diablo — he looked south of the border instead, and picked up the tequila.
ADVERTISEMENT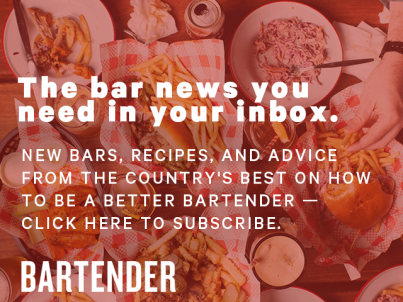 &nbsp
With its mix of tequila, lime, and ginger beer — crowned with a drizzle of crème de mure — it's not as much of a tropical fantasy as we've come to expect from his drinks. But for many Americans around the time of its listing at Trader Vic's, Mexico might as well be as distant as Micronesia and as foreign as Fiji.
The name is Spanish for 'the devil', and the drink makes its first appearance — as far as anyone can tell — in the 1946 Trader Vic's Book of Food and Drink, and was a regular in his recipes books from then on. Cocktail historians are unsure if this drink existed before Trader Vic penned his recipe, but I'm not so sure it really matters much.
It's a cracking drink. It works because the Hornitos tequila's spice complements the spiciness of the ginger beer (Max Greco makes his own for Vasco Bar — and it's a winner), the lime cuts the sweetness in the ginger beer and the crème de mure, and the crème de mure helps to round out the ginger. Served long, it's refreshing enough for a hot day in the sun — or perhaps a hotter day with the devil down below.

Notes on ingredients:
Sauza Hornitos Reposado is a 100% Blue Agave tequila that is double distilled and rested in 40,000L American oak vats for two months, delivering a pure and lively agave flavour on the palate.
Sauza was founded in 1873 and Don Cenobio was the first to export tequila north to the United States.
The name 'Hornitos' stems from the smalll ovens used to cook the agave, first introduced by Sauza.
*notes courtesy of supplier