Story by Sam Bygrave
"Make it BOOM," suggests the drinks menu at Akiba. There's early nineties hip hop blasting, there's a queue out the door, the sound of claps of a busy kitchen calling servers in and out for food and the bartenders pacing up and down the long bar in front — this new restaurant and bar is is indeed booming. It's Friday night the first week back in January, and the place is packed.
The new addition to Canberra is boisterous mishmash of electric Japanese fluoros and wood, all colour and sound and light, and it's pushing out great food and drink — fast. The 'boom' suggested on the drinks menu sells a liquor with one of the Akiba pops, the sodas crafted in house by executive bartender Lee Potter Cavanagh and his team.
"It's actually been really, really popular," he says of the Akiba pops. "I wasn't sure how popular it would be but people are loving it. So much so that it's a pain in my arse trying to keep up with it — that's a good problem to have."
Akiba is all about great food and drink — with loads of technique backing up each offering — but served fast, with a premium on the fun factor.
ADVERTISEMENT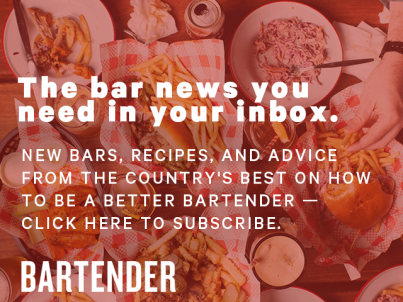 &nbsp
"It's primarily a restaurant," says Potter Cavanagh, "and tailored around that — really fast-pace, get the food in and out and the drinks were designed to be exactly the same. Creative, really fun, really interesting, but fast. We have a lot of technique for everything, for the food, for the drinks, but we're not showy about it.
'We wanted it to be a fun place to go with a good atmosphere, we wanted it to be a party place where you have a good time — you're not going to sit there to marvel at the food even though the food is amazing — we want you to go: This is awesome — we're having a great time! Let's get more drinks!"
The venue is owned by brothers Pete and Mike Harrington (Sage Restaurant), along with business partner Dino Jugovac, and they've brought on board Johnon McDonald as head chef to create the Asian-inspired dishes on offer.
Lee Potter Cavanagh (left) and chef Johnon McDonald
Keeping with the casual, fun atmosphere, the menus is printed out on a single sheet of A4 paper — food on the front, drinks on the back — with dishes running the gamut of tastes from the raw bar (with oysters on offer, along with yellowfin tuna), to a selection of snacks and street food — there's an obligatory pork belly bun, and a kimchi angasi oyster pancake packed with savory umami flavour. If you're hungrier than that they do share plates too, along with a soba noodle salad (if salad is indeed a friend of yours).
They've taken some inspiration from restaurants in the US, too, says Potter Cavanagh.
"We've been really inspired by a restaurant in the US called State Bird Provisions," he says. "They were the first ones to reinterpret that yum cha style service with the trolley."
The trolley he's talking about gets wheeled out of the kitchen during service, with different selections of food and drinks on board.
"We wanted something that didn't follow the normal rules for dinner," he says. "You order something, have some drinks, have some food — if you're hungry, keep ordering, if you're not it's all good. The trolley rolls around and has some different things on it each night — our bottled soft drinks and our Akipops go on there as well."
The key to the fast bar service, says Potter Cavanagh, is pre-batching of the cocktails — and a lot of prep before service.
"We built our own carbonation station, we're doing lots of different things from fat washing to clarified punch — there's lots of technique in there. Flavoured ice, ice blocks. We don't want that to be what we're selling the drinks on, though — that's just what we do to make them awesome," he says.
"All that gets done back of house and in prep. We have quite a lot of prep hours but then, when you're in service, and even on a night like [tonight — one of their busiest since they opened] all of our cocktails get to the table in five to ten minutes.
"It's fun, it's about having a good time, and flavour."
The guy responsible for managing the bar — and that load of prep — is Noriel Calub (ex-Baxter Inn, Mojo Record Bar).
"We were pretty lucky to get Noz on board as the bar manager, he's been awesome, he's been a real star," Potter Cavanagh says. "Mars [Marcellus Heleta] just started with us now, he's come across from QT.
"[And] we really couldn't have done it without a young cat called Phil Cook, he's from the UK. He's an absolute
star, definitely a rockstar to watch for the future."
With that core group in place behind the bar, they looked for people with the right attitude, he says. And that's
where the benefits of the prep-work come through.
"It takes the pressure off the young staff as well. They don't have to remember as much, gives them time to learn, and they can still serve a great drink to the customer with confidence, which is what it's about — make the customer feel comfortable that the drink they're getting is worth the price they're paying."
Those prices are pretty affordable too. The structure of the menu gives all comers an entry point into the drinks list.
"We've been quite aggressive with pricing," says Potter Cavanagh. "I think Australia in general is still a developing market for cocktails, and Canberra is very much so, and you need to have all kinds of options there. So we have some $21 cocktails but you need to have your $12 options, your $14 options as well."
With the customers' focus off their wallets, they can forget about the cheque and have a good time, just as Akiba intends.
"We wanted it to feel like an awesome party," says Potter Cavanagh. From what we've seen, everyone's having a blast.
On the drinks menu…
The drinks list at Akiba pushes the envelope in terms of flavours and technique — and it's written in an irreverent, brash style (the Fukushima Zombie adds the exhortation: "For when you need to blow off steam!"). We asked Lee Potter Cavanagh about how the Squid Mark Sour (rye, Gran Clasico Bitter, cherries, grapefruit and squid ink) came about.
"Just one of those stupid ideas when you're drunk," he says. "I'd done a squid ink drink before in London which had been really well-received — the colour of it, people were just loving it.
"That's something I try to do a lot of these days. Have the drinks be really appealing, so when a drink comes out it either looks so good, or there's something about the way it's served, people want it.
I think that's the appeal of the squid ink, It works well with the fresh cherry as well, so it's sweet, salty, bitter, sour, it's like a flavour bomb.
And, hang on, what's the go with the squid ink?
"It's slightly salty, slightly fishy," he says, "so we only use a small amount of it because we don't really want the fishy flavour — just the salty flavour. It's very strong, you don't need to use much.
"The first time [the drink] tasted like Bigfoot's dick — it was horrible, it was so bad. You know, some times good drinks take work, if only they all worked the first time!"
AKIBA
Address: 40 Bunda Street, Canberra
Phone: 02 6162 0602
Website: akiba.com.au