For a long time in Australia, the spirits industry was dominated by the biggest suppliers. While they've got great products, in recent years there's been an explosion of smaller players and new, smaller producers arriving on the scene. We're all for diversity here at Australian Bartender, so we've done the hard yards and compiled a little directory for you — take a look below to find some niche suppliers and purveyors of small batch boozy goodness, and raise a glass to this fine industry.
Also check out the information on this year's Indie Tasting at Bar Week — it's going to showcase some truly interesting spirits, and it's going down at Frankie's Pizza on the 22nd of September. Read on…
Casa Mezcal
Web: casamezcal.com.au
Email: info@casamezcal.com.au
Phone: 0 2 8068 4389
Product highlights: El Jolgorio Mezcal, Nuestra Soledad Mezcal, Agave de Cortes Mezcal
ADVERTISEMENT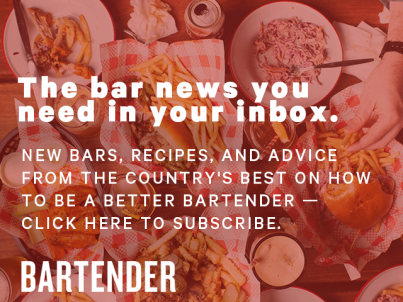 &nbsp
Casa Mezcal is owned by Bildo Saravia and Regina Buenos Ros, owners of Bondi's temple to mezcal, Mr Moustache. We asked Saravia why they got into the game and what they've got in store for 2015.
Why did you start Casa Mezcal?
It all started with a strong passion in both mine and my wife's heart, to showcase the Mexico known to us Mexicans – the day-to-day experiences, sounds, attitude, colour and flavours; and not the folklore that the world idealises Mexico with. By saying this, when we first moved to Australia we felt that there was still a lot to share, our passion for Mezcal inspired us to bring the brands that we believe represent the diversity and complexity of the spirit, the traditions behind it that represent the Zapotec people of Oaxaca and the Fair Trade with the millions of indigenous people involved in creating Mezcal. However, at that moment we felt that Australia wasn't ready for a mezcaleria – a place where you find Mezcal and Mezcal only – so we decided to first provide a platform where people would get inspired by Mexican culture and traditions, a place that could showcase what the world of Mezcal is about and most importantly a place where people could try and experience it. And so this opened the doors for an import and distribution company that we named Casa Mezcal; a company that will create a direct link to unique spirits and products from Mexico.
How did you find your products?
Well in this case we have to say that sometimes you don't find things, things find you, the law of attraction played with us and the rest is history. When we first started planning Mr. Moustache we got many offers of some of the most well known Mezcal brands in Mexico – both, to distribute and to get them in the bar. One of our friends had just launched a small brand and he put us in contact with Rolando Cortes the founder of Casa Cortes; when we met him (through Skype) it just felt that it was all meant to happen. They sent one bottle of each of their varieties and we had an amazing skype tasting that later finished in … well you know what Mezcal can do to you! So let's just say we got Mezcaled!
The Casa Cortes family understood that we were a new company with a clear vision and the will to put our passion in motion and so just like that we became part of the Cortes family becoming their distributors in this part of the world. For us, it has been a magical experience getting to know in depth the tradition they have as a 6th generation of Zapotec Mezcal producers.
What's one product that's getting bartenders excited?
The Nuestra Soledad range is the one that gets them going and inspired for cocktails; it gives the opportunity to play with high quality Mezcal at a great ABV (between 45 to 47) and an accessible price making it profitable and with tons of character to be used in cocktails.
It is around the $60 and judging by our own experience at Mr. Moustache and some of our clients, it really enhances any cocktail created with it and works amazing with any infusion. However, if not for cocktails it is just amazing neat; the whole range showcases how one variety of agave (in this case espadin) can present completely different notes to the palate and a total different experience. This is because of the different altitude, region, master distiller, soil and surroundings (e.g. coffee plantation may play a big part in the aromas if near the agave).
We just have to say that if you get excited with Mezcal, the el Jologorio Range will give you a hard on (says Bildo). It is a Wild Agave range that is so complex and unique that you can truly taste the flavours of Mexico. We are proud to represent some of the most rare varieties of Agave (Tobala, Arruqueno, Tepeztate, Madrecuixe to name a few) that are still under sustainable production.
What have you got in store for 2015 — anything new on the way?
We believe that 2015 will be a significant year for us. We are currently growing at a steady pace and are now in the process of increasing our portfolio to cover some of the needs of the Australian market. We also plan to bring in some unique spirits from Mexico different from Mezcal.
The products we have chosen to broaden the portfolio are in line with our company values: fair trade, to showcase the best of Mexico in the area and inspire innovation in the industry. We will be importing and distributing a range of Mayan Liqueurs made from Rum and infused with Honey Bee (this bee only exists in Yucatan), Coconut and Guava. This products has had a remarkable result in the UK and we are confident they will be of equal impact in Australia. They just give tons of new options for cocktail creation and even for drinking neat as a digestive.
We have also added to our portfolio an amazing Independent Beer Boca Negra (pilsner and Dunkel) from La Sierra Madre of Mexico: Monterrey.
The new baby on the way is a whole range of Agave distilled spirits; from North to South and West to East! It will be an amazing brand that will carry all Agave traditions of Mexico in a bottle. For all the Agave lovers, Agave Love will be the pre launch for this spiritual range.
Tequila Corralejo Australia
Web: tequilacorralejo.com.au
Email: john@tequilacorralejo.com.au
Phone: 0412 808 277
Product highlights: Tequila Corralejo
We spoke to John Wood, importer of Tequila Corralejo, about why he was driven to import this agave stuff.
How did you find your Corralejo, and why did you want to import it?
Corralejo is a brand that I have known for the last 20 years.  I grew up in San Diego, California and spent a lot of time in Mexico.  The tall blue bottle was very familiar to me.  At the time, I didn't have a deep appreciation for tequila and drank anything that was within reach.  Years later, I developed a taste for good spirits and became very fond of tequila.   A year and a half ago, I spent a couple of weeks in Puerto Vallarta for my 40th and brought back a lot of tequila.  Well more than Australian Customs would have allowed.  Anyways, as I am putting in my bar cabinet the idea strikes me that I should import tequila.  I knocked around a few brands over the next couple of months and came across Corralejo.  I contacted them and found out that they were happy for me to import to Australia.  It took a while to get things organised, but I started selling Corralejo in June 2014, almost a year to the day of my trip to Mexico.
How have bartenders received the product so far?
Bartenders have reacted really well to the products so far.  Reposado and Coffee have been to two standouts.  Many are seeing it for the first time, but every once in a while I meet someone who has travelled abroad and knows the brand by the appearance of the bottle.  It is distinct.  Our focus has been to concentrate on the small on-premise market in Sydney and work our way up to larger venues and other states.  With just a bit over ½ year of trading, we are making the brand more and more known.
One product that stands out is the Triple Distilled Reposado.  Many love the light taste and it tends to be a perfect introduction for the "tequila-phobic".  I have found a group that have had bad experiences with tequila in the past and now want to avoid it at all costs.  This product is easy to drink and a good example that not all spirits taste like jet fuel.  Unfortunately, the paddle shape of the bottle makes it a space-pig and it hasn't landed on too many bar shelves because of that.  We are working on making some room, but it is definitely well received by most who try it.
What have you got in store for 2015 — anything new on the way?
2015 is all about growth.  We are going well in NSW but would like to get into Melbourne and Perth, followed by the other capital cities.  We plan to participate in the Agave Love function coming up in March, as well as the Small Importers/Distributors in September, in part with Bar Week.  Distribution in every state would be the major goal of this year, but may be too soon.  We are a small player in a big field and have a long way to go still.
See the best 

of these at the Bar Week 

Indie Tasting!

The inaugural Indie Tasting is dedicated to shining a light on the amazing array of small, artisan and craft spirits now available or coming soon to Australia.

It's happening at Frankie's Pizza on Tuesday the 22nd of September — with a panel of bartenders helping us to decide which spirits we'll show, we're going to have a curated selection of some very cool booze — get updates at barweek.com.au.
Check out some more great suppliers of cool and interesting hooch below — complete with contact details and a few highlights of their portfolios.
Quittin' Time
Web: quittintime.com.au
Email: curtis.york@quittintime.com.au
Phone: (02) 9525-8668
Product highlights: El Dorado rums, Pierde Almas Mezcals, Chateau du Tariquet
Vanguard Luxury Brands
Web: vanguardluxurybrands.com.au
Email: james@vanguardluxurybrands.com.au
Phone: 1300 DRINKS
Product highlights: Del Maguey Mezcals, 86 Co Spirits, Tequila Fortaleza
Iconic Spirits
Web: iconicspirits.com
Email: info@iconicspirits.com
Phone: 03 9534 2229
Product highlights: Giffard Liqueurs, Bob's Bitters, Cariel Vanilla Vodka
Luxe Wine + Spirits
Web: luxewinespirits.com.au
Email: drink@luxewinespirits.com.au
Phone: 0413 007 970
Product highlights: Albion Spiced Malt, Dulce Vida Tequilas, Elephant Gin
High Spirits Beverages
Web: highspiritsbeverages.com.au
Email: info@highspiritsbeverages.com.au
Product highlights: Brooklyn Gin, Bar Keep Aromatic Bitters, Delirio Mezcals
Combined Wines & Spirits
Web: combinedwines.com.au
Email: info@combinedwines.com.au
Phone: (02) 9533 7955
Product highlights: Zucca Rhubarbaro, London No. 1 Gin, Strega Liqueur
Artisan Handcrafted Spirits
Web: artisanhandcrafted.com.au
Email: georgina@artisanhandcrafted.com.au
Product highlights: James E. Pepper Whiskey, Centinela Tequila
HMH Beverages
Web: hmhbeverages.com
Email: andy@hmhbeverages.com
Phone: 0412610473
Product highlights: Broken Heart Gin, G'Vine, Excellia Tequila
Mextrade
Web: mextrade.com.au
Email: info@mextrade.com.au
Phone: 1300 135 359
Product highlights: Mezcal Amores, Tequila Arette, Siete Leguas Tequila
Berry Bros. & Rudd Spirits
Web: samsmith.com
Email: dhread@bbrspirits.com.au
Phone: 0407 702 667
Product highlights: No. 3 Gin, Berry's Own
Neat Spirits
Web: neatspirits.com.au
Email: dan@neatspirits.com.au
Phone: 0410 231 534
Highlights: 666 Vodka, West Winds Gin, Tromba Tequila, Cargo Cult Spiced Rum
Nip of Courage
Web: nipofcourage.com
Email: kathleen@nipofcourage.com
Phone: 0437 527 629
Product highlights: McHenry Dry Gin, Belgrove Whisky
Baranows
Web: baranowsemporium.com
Email: ben@baranowsemporium.com
Phone: 0407 245 243
Product highlights: Ron Diplomatico
Vok Beverages
Web: vok.com.au
Email: comments@vok.com.au
Phone: 1800 896 080
Product highlights: Inner Circle Rum, Beenleigh Rum
Noble Spirits
Web: noblespirits.com.au
Email: info@noblespirits.com.au
Product highlights: Fair Spirits range
St Agnes Brandy — Angove
Web: stagnesbrandy.com.au
Email: distillery@stagnesbrandy.com.au
Phone: 1300 769 266
Product highlights: St. Agnes Brandy
Melbourne Gin Company
Web: melbournegincompany.com
Email: info@melbournegincompany.com
Product highlights: Melbourne Gin
McLaren Vale Distilling Co.
Email: maximuswines@bigpond.com
Phone: (08) 83238777
Product highlights: Settlers Artisan Rare Dry Gin
Island2Island
Web: island2island.com.au
Email: info@island2island.com.au
Phone: 02 9672 6440
Product highlights: Angostura Rum, Writers Tears Whiskey, Hine Cognac