Story by Sam Bygrave
The idea behind Melbourne bar, Bad Frankie, is a simple one: drink local.
"I was in Nashville, and travelling around the world, and when you're in Nashville you want to drink locally — you wanted to drink local beers and bourbon," said owner Sebastian Costello.
"Then we went down to Tequila, and it's the same thing. You get the biggest Mexican cowboy and I want to drink tequila with him and local beers, eating tacos — that was awesome, because it's quintessentially what you want to do when you're there. I had the same feeling in Cognac when I was there. Whenever you're in these places, everything feels easy because you're there."
ADVERTISEMENT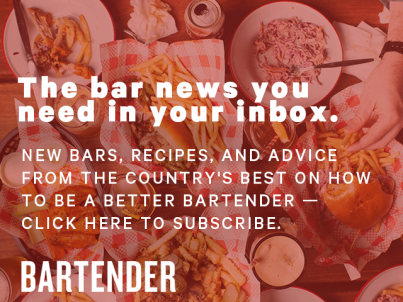 &nbsp
Bad Frankie delivers on that idea with a back bar full of Australian spirits, local beers in the fridge, and a food menu dedicated to that favourite carbohydrate-plus-filling combination of our childhood years, the jaffle.
In fact it's the jaffles that you smell on the way up the street to Bad Frankie in Fitzroy that set you up for your visit.
"We tried to develop the menu around our childhood because what you want in a bar, I believe, is you want warmth and you want comfort," said Costello.
"When I was in America, I wanted to eat the quintessential [American] thing, the burger. When I was in Mexico, I wanted to eat tacos. All amazing food. We were sitting here going, what's the Australian thing? Everything is from somewhere else. We came across the jaffle, and we think that's the Australian thing."
While Costello loves the history that the drinking cultures of Cognac and America offer, he feels that the present boom in Australian craft spirits offers up a chance to be in the vanguard of a history yet to be written.
"I thought to myself, I love history, I love the history of spirits, but I really like being history. The distillers are all first generation — since 1992 is when 100 per cent of these small Australian distillers popped up. And it's really lovely to talk to these people and instead of getting secondhand information, or information passed down through generations, it's so much fun to be able to give this to the world," he said.
And the industry right now is turning out spirits with a distinct character.
"They're all their own personality in a spirit, which is my favourite thing [about it]," he said.
Bad Frankie opened its doors last year in June, but the project was years in the making.
"It was really fun work to start this," said Costello. "I probably had the idea for about three or four years, but I really started working on it when I left Suntory and had ten months to find all the Australian spirits.
"Twenty hours a week research for ten months, and it was good fun. We got to go down to the distilleries to have a look at them, see what they're all about, as well as trying to find all these beautiful spirits — taste them, and find out what makes them tick."
The site on which Bad Frankie sits has a long history as a local boozer, too. Known as Café Nero, it traded from 1954 to 1996 and would see men playing illicit card games and drinking coffee in the mornings; at night, it was more cards, and beer. Bad Frankie is getting great support from the local Fitzroy area, said Costello, and has its fair share of hospitality staff popping their heads in, too.
"We get a fair bit of hospo," he said, "the hospo crowd has been absolutely wonderful for us. They always drink more exciting stuff than anyone else. We get a lot of locals, and people from interstate and around the world who just want to taste local stuff."
And the fledgling Aussie distilling community are fans of the bar, too.
"They were all excited," said Costello. "What's really nice is that most of the Australian spirits have got a really beautiful connection. they're very happy knowng they're going to be maybe five percent of the Australian market, enough to keep them going. Most of them are pretty small operations who just want to make a passionate flavour and they're not too worried about making a whole heap of money, they're more worried about making a really good product and that's what's really good about them."
What's to eat?

Described as an Australian jaffles and spirits house by Costello, he told us a few things we didn't know about the humble jaffle.

"The electronic jaffles were made in 1974 by the Breville company," said Costello, "they were invented and then in 1975 ten percent of households in Australia had jaffle irons. That's when they became quintessentially Australian. In South Africa they
became snackwidges, then in New Zealand they're toastie pies, then in England they're just toasties because they're boring."