Alissa Gabriel at the national Bacardi Legacy final in March
How many Aussie bartenders does it take to make one drink?
When it comes to this video for Alissa Gabriel's Bacardi Legacy drink, The Bouteiller, there's no limit to the number of bartenders willing to lend a helping hand.
Have a look at the official video below and you'll see Stitch Bar, Mojo Record Bar, Statler & Waldorf, The Lobo Plantation, The Barber Shop, Cobbler, and Papa Jack's hosting a whole bunch of great bartenders (we stopped counting after 15) as they help Gabriel make The Bouteiller.
ADVERTISEMENT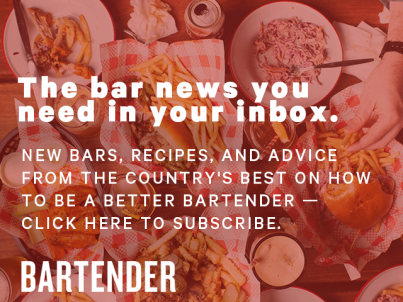 &nbsp

Gabriel is representing Australia at the Bacardi Legacy Global Final being held in Sydney in just over two weeks' time. The final will see the world coming to Sydney to compete in this grand slam of cocktail competitions. Gabriel is up against competitors from over 30 other countries, so it's good to see Aussie bartenders pitching in with The Bouteiller and giving her a helping hand into the final.