Vernon Chalker's Gin Palace has been open since the late 90's
Melbourne bar, Gin Palace, can rightly be considered an institution in that city's bar scene. It's been open, slinging gin across the bar, for 17 years now — no small achievement.
When it opened with its focus on gin, there was nothing like it — it seems that the times have come to fit Gin Palace. We spoke with Gin Palace owner Vernon Chalker (pictured left) about what he did and how the bar as achieved such incredible longevity in an industry renowned for faddish flash in the pan openings.
What is the key to Gin Palace's longevity?
We started out with the intention of being around a long time, not just providing a flashy product that was
of the moment. We had a very stable vision.
We kind of opened up before the whole bartender movement evolved, and we headed in that direction when the smoking laws came in. When we opened, cigar bars were a happening thing and cigars were part of our repertoire.
ADVERTISEMENT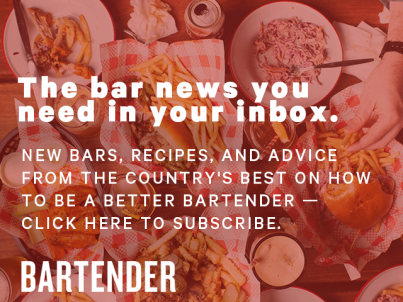 &nbsp
It was a bit of a struggle after that, particularly with the GFC around the same time and we got through that — we had a tough couple of years, I had Madame Brussells, so I was kind of busy anyway, but I was always intending to stay there, we had a twelve year lease to start with. I then bought my partners out and then signed another 20 year lease on Gin Palace knowing I wanted to stick around.
So my vision was really more to be like Pellegrini's, or a Mario's, or a Francoise — there to stay. Stick to what we do, and keep at it.
How do you keep the bar fresh?
We started stale — it's a grandmother gin palace, it just stays as it is. We're open til three in the morning, we are what we are. We don't need to be fresh and lively, but we've added things here and there.
Interestingly our spirits sales have increased as a portion of our overall sales. We used to sell a lot of champagne, we used to sell a lot of cognac, but cognac's gone and is slowly coming back, champagne's disappeared off the market — people don't drink champagne like they used to.
Our beer sales and our wine sales dropped completely, so spirits are now over 90 percent of our sales which is remarkable.
And when we first started, gin as a category — there was about 15 gins available on the market that we could get. Now we stock over 200 gins, and we've had to limit for the shelf space as the category's exploded. We were ahead of our time on that.
Playing with the gin thing, it's staying fresh for our customer's interest, well-trained staff that's key, a focus on friendliness and service — I've always been focused on service.
So perhaps being relevant more than fresh?
Well people will always want to go out and meet other people, and [Gin Palace] is a meeting place — we're actually competing with things like Tinder. People still have to have somewhere to have their first meetings.
We're upmarket, we're not trying to compete with five star hotels, but we want to stay above those places where you don't get table service. We compare our prices with premium restaurants rather than other bars.
Have you renovated over the years?
Every time we renovate we try to keep it the same. Make it more comfortable, increase our seating space perhaps. Once we opened up Ampere next door we had to create an exit that leads into that venue, so a little reconfiguration, but the spirit and the atmosphere should remain the same.
I think we've succeeded in that. We didn't start off to be the new kind of thing, we started off to make it look like it's already been there for a long time that was part of our image. We weren't following any design trends or anything like that.
You've got to keep an interest in it. Even though I've started other businesses in the meantime, and each one of those had its own target demographic.
As an owner, you've got create a place you want to go yourself, and I still feel that Gin Palace is the one I want to go to — it's still my favourite. I've had input into every aspect of it, and sometimes my managers get a bit disgruntled because I don't want to make changes that they think could bring it out of the dark ages, but they might just need to move on because Gin Palace is just how it is, you know? That's how I want it to be.
Vernon's 3 tips for success
1. Honesty – employ honest people.
2. Integrity is absolutely crucial.
3. Administration is absolutely crucial.