You may have noticed that the Bacardi Legacy Global Cocktail Competition has landed on our shores, with Sydney playing host to the global finals. There's competitors, judges and Bacardi folks coming in from 34 countries, and there's Bacardi Legacy flags flying high along George Street Sydney.
It's kind of a big deal.
And there are a number of high-profile industry folk in town — the kind of people you might like to recognise should they walk into your bar. No one wants to be the guy dicking around on their phone while an Audrey Saunders or a Steve Schneider waits at their bar to be served.
Don't know who they are? Have a look at some of them on our cheat sheet below:

Jacob Briars
Jacob Briars is familiar to many an Aussie bartender thanks to his time working on 42Below in the early 'aughts. The New Zealander is now based in New York City in his role as the Global Trade Advocacy Director for Bacardi.
ADVERTISEMENT
&nbsp

Steve Schneider
Hey bartender, did you see that movie about bars and bartenders called Hey Bartender? Then you'll recognise Mr Schneider here (though the latest intel has him sporting more hair than in this photo). Schneider is a principle bartender at New York's Employees Only, the host of his own podcast, The Steve Schneider Show (it's worth a listen), and is probably quicker on the pour than you.

David Cordoba
See that guy dressed better than everyone in the bar? That's probably David Cordoba. Cordoba spent years as the Bacardi global brand ambassador before stepping down last year to take up a post at Proof & Company in Singapore (they're the guys behind the award-winning bar 28 Hong Kong Street). He's in town as a special guest for Bacardi Legacy.

Bacardi Legacy winners 2009, 2012, 2013, 2014
There's a lot of people out here for the global final, and these folks know the pressure of taking out a big competition like this better than most.
Ago Perrone won the the first Legacy competition in 2009 and has lead the Connaught Bar to the title of World's best Cocktail Bar in 2012 — and he's also been named the world's best bartender, back in 2010.
Shingo Gokan won Bacardi Legacy in 2012 with his drink, Speak Low. That's also the name of his bar in Shanghai, which took out the title of the best cocktail bar in China last year.
Elizaveta Evdokimova won Bacardi Legacy in 2013 with her cocktail, Knight Cup, and has since traveled the world with Bacardi to serve her drink in some of the world's best bars. Not only was she the first Russian to win the competition, she's the first and only woman to have taken it out. Unless Australia's Alissa Gabriel can go all the way?
Tom Walker is last year's winner thanks to his drink, Maid in Cuba. He was on the bar at The Savoy's American Bar when he won and has since taken up a spot bartending at New York's Attaboy.
A previous version of this story said that Audrey Saunders would be in town for Legacy, but we've got recent word she now won't be.
ADVERTISEMENT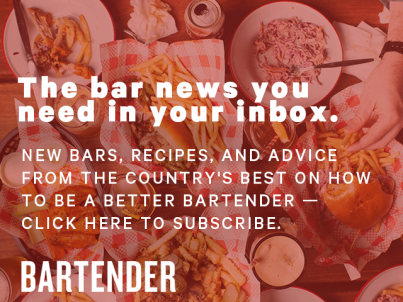 &nbsp