We've spoken to many successful bar operators and managers over the years, asking them about what makes a good bar great, and they've given us their tips for success.
What follows are some highlights from the best operators in the business — there's invaluable advice here that you'll only get after many years at the coalface.
Jason Scott & Anton Forte
Shady Pines Saloon, The Baxter Inn, Frankie's Pizza | Sydney
ADVERTISEMENT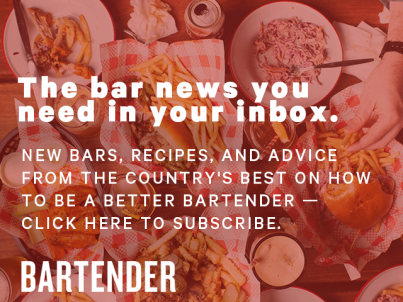 &nbsp
What advice would you give young bartenders who want to open their own bar one day?
Jason: Work as many opens of other people's bars as you can. Don't over think the market. The punters are way more open minded than they get credit for. Open what you would like to drink in. It will ring true then. Unless you have a 800 pax nightclub, ignore social media and all marketing efforts people suggest, it makes you look desperate.
Anton: Have a good time, work for lots of good people, drink lots of booze.
What's the best thing about owning your own bar?
Jason: Being able to enact great ideas immediately after they occur.
Anton: Making decisions.
And the worst?
Jason: Being able to enact stupid ideas immediately after they occur.
Anton: Making bad decisions.
Jason's tips for success
1. Music. Lighting. Check. Repeat. Repeat. Keep doing it.
2. Employ friendly staff.
3. Never close early because it's quiet.
4. Take all the energy and money people tell you to invest into PR/ Marketing and use it to make your bar better.
5. Be generous to your staff and customers.
Anton's tips for success
1. Sobriety is bad for business.
2. Respect the mint.
3. No crumb in the no-crumb zone.
4. When the bar feels boring, give people shots.
5. Don't fart on your customers.
Tash Conte
Black Pearl | Melbourne
How important are staff in operating a successful business?
"Staff are the most important thing, and it's all about relationships. I want to be able to work with someone for 12 hours and get along with them. There's nothing here (Black Pearl) that's made just by me. I'd be ignorant as a business owner if I said 'I know what everybody wants'. The boys must have a physical input in the business where they claim ownership. Without that ownership I just have someone who comes in here and clocks on and off.
You've also got to try to maintain [consistency and innovation] even for the staff. Not getting rotations is important. I always get asked, 'why is it that nobody leaves Black Pearl?'. Being a family owned business is the root of it all – that's the consistency.
What advice would you give young bartenders who want to open their own bar one day?
"Be open to other people's thoughts. Some bartenders can be quite, 'this is what I want to do', but you're serving a customer and not you. You always must keep you eyes and ears open and maintain a physical presence in the business."
Sven Almenning
Eau de Vie, The Roosevelt, Boilermaker House | Sydney & Melbourne
Should you build the bar before you've had the licence and DA approved?
Do not build it until you get the licence. If you're super confident, by all means but it's very scary to think you've spent all that money and you still don't have the legal paperwork to open the venue.
On dealing with landlords
When you do make that deal with the landlord, have a heads of agreement there that states the desired outcome that you need before you take this venue. So if all you say is, "I'm going to get a DA and a licence and I'm going to take this space," you're in trouble. If it says that I'm going to get a 1am licence and a DA and then I'll take the space, it allows you to have the option of looking at your business model when you're getting that 11pm kick in the nuts and you go, "you know what? I'm going to walk away from this because I'm not going to make money if I'm closing before midnight."
Greg Sanderson
Eau de Vie Melbourne, Boilermaker House | Melbourne
What advice would you give to bartenders wanting to open their own bar?
Well the big one is certainly putting the money away but I would say don't be afraid – there should be more bartenders opening venues and less people without a clue. Go into a partnership with someone you have worked with before so you know how they are in a working relationship not just a friendship or at least someone you would trust with everything.
Greg's Top 5 Tips for Success
1. Listen to your staff.
2. Watch the figures very closely, not very much room for error.
3. Attention to detail.
4. Work your ass off.
5. Learn to delegate (my weakness).