Frank Didieu, and his winning drink, Le Latin
Last night, France's Frank Didieu was named the Bacardi Legacy Global Cocktail Competition winner with his drink Le Latin.
So just what kind of cocktail goes on to win a global competition? Well, former Bacardi Legacy winner and one of the judges of this year's final, Ago Perrone, had this to say about Didieu's drink: "Le Latin is a drink that is fresh and has a good structure – it combines elements of the traditional and classic cocktails, but also brings innovation and a modern touch. It is easy to replicate and can be made worldwide, the essential elements of a true 'Legacy' cocktail," he said.
"For me, the drink offers a balanced taste and good freshness in which the notes of BACARDÍ rum come through. The saltiness of the olive brine provides a different texture to the palette and I love the olive in the glass."
Have a look at the specs — and the drink — below.

ADVERTISEMENT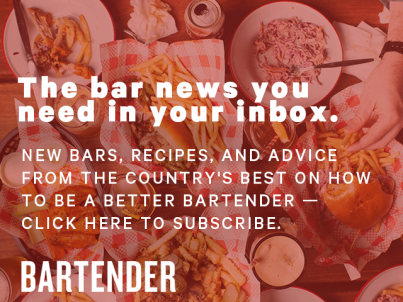 &nbsp
Le Latin
by Frank Dedieu, FRANCE
45ml BACARDÍ Carta Blanca
20ml white wine (Viognier preferred)
20ml lemon juice
2 bar-spoons olive brine
2 bar-spoons caster sugar
Shake and strain, garnish with an olive.