Six of the country's best operators on how to run a bar: what to do, what to avoid, and how to succeed.
For our business of bars feature in the April issue, we rounded up the best advice and the top tips that some of Australia's award-winning operators have dished out to us over the years. the first part of this story was published online last week — click here to read it now — and below, the second instalment.
Ben Carroll and Hamish Watts
SoCal, Bondi Hardware, The Botanist, The Butler | Sydney
ADVERTISEMENT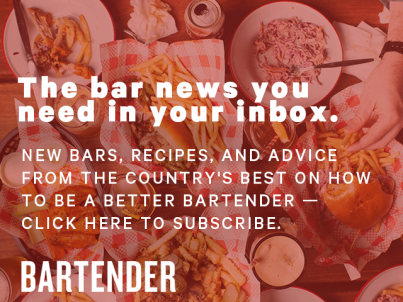 &nbsp
What advice would you give young bartenders who want to open their own bar?
Ben Carroll: Do your research, understand your target market and ensure the pitch is right. A great start is being a cracking bartender but develop your skills in all areas.
Hamish Watts: It's important to learn as much as you can about the back end of running a business; It's not all glitz and glamour and you need to be prepared to make some difficult decisions in the best interest of the business. A more than rudimentary understanding of your financials and a good accountant will ensure you are all over managing your expenses. I love the front of house; this is number one but don't neglect the back.
Ben Carroll's tips for success
Surround yourself with amazing staff that inspire and challenge you.
Understand the market and make sure you hit it.
Do your numbers and take calculated risks.
Work out three scenarios:
Making a profit.
Break even.
Making a loss.
Your business model may need to change accordingly.
Bonnie Shearston and Tom Sanceau
Public, Red Hook, Coppa | Brisbane
What advice would you give bartenders who want to open their own bar?
Bonnie & Tom: Do it. It's challenging but very rewarding. When opening your first venue there are three key things that I think are the most important.
1. Location: make sure you do your market research to ensure you are opening in an area where there is a demand for your type of business and not too much competition. A little competition is good too, as agglomeration can only mean more people in the area.
2. Start out simple: you will be new onto the scene and will have a lot to learn, it's very important not to go in over your head on your first venture.
3. Be hands on: this is probably the most important piece of advice we can offer. No one will ever look after your business like you will. Get to know your customers and what the demands are. Make sure the business is successful and stable before stepping away and moving on to new things.
Bonnie's 3 tips for success
1. Definitely nurture staff – its important to help them grow
2. Be hands on – no one is going to run your venue like you are
3. Be hospitable – if you can't be hospitable you work in the wrong industry.
Jaime Wirth & Michael Delany
Drink n Dine | Sydney
Jaime's top 5 tips for running a successful bar business
Don't drink too much.
Trust instincts.
Nurture staff.
Spend money where you need to.
Dance like people are watching.
What are some things you should absolutely avoid when taking on a new venue?
Michael Delany: I think we would all know examples of that venue in our city that seems cursed. It has probably changed hands many times, been renovated at great cost several times, and next time you walk past it, it is closed. I would stay well away from this venue because no matter what you do it will be a disaster.
Apart from a curse, nothing is insurmountable I don't think – except possibly a bad location and if your budget doesn't match what you are going to need to spend to pull off what you want to.
Michael's top five tips for staying creative while working in the bar industry
Back yourself. It's your idea so follow it through.
Cultivate a life outside the industry so you can look at what you are doing objectively away from the backslappers.
Enlarge you scope and experience through travel, education – whatever works.
Make clear to your work partners that consensus is the enemy of creativity, and be clear that they agree to follow the creative vision.
Support your 'creativity' with concrete, real world documents.