Brooklyn Standard
Eagle Lane, Brisbane City
brooklynstandard.com.au
There's a bar in the Brisbane CBD, where if you go down a side street, then down a laneway, you'll find a small, underground bastion of live music and good drinking.
It's name is Brooklyn Standard, and they've got live music happening every night, when bands ascend their stage in front of the brick basement wall, playing on 'til the early hours of the morning; all the while the good drinks keep going.
That's a combination you don't always see too often.
ADVERTISEMENT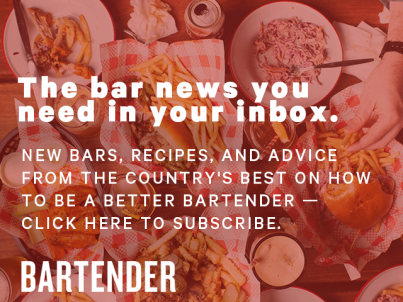 &nbsp
More often you get one without the other. You can have good drinking, or you can get great live music, but the two together seems to be a rare thing.
"Adam [Barton, one of the bar's owners] grew up around live music and has always loved live music venues," said the bar's
general manager, Justinn De Beer. "So once we'd decided to do this New york inspired venue the next thing to do was to go with the live music."
To get inspiration for the venue, Barton and De Beer took advantage of a break in construction to get a taste of Brooklyn up close.
"We were putting a door into [the basement] off this two storey building and had an extra two weeks up our sleeves," said De Beer. "I said to Adam — we've got a couple of weeks spare, we're pretty much ready to roll, let's go to New York.
"Lucky for me Adam had already been there twice and we knew where we wanted to be. Our neck of the woods ended up being Brooklyn anyway."
As you might expect from a city that never sleeps, the inspiration-gathering process involved a few hangovers, too.
"[It] pretty much took us three days to find the handbrake," said De Beer. "We partied continously, and every single day we'd wake up and go from one thrift shop to the next thrift shop just looking for a bunch of knick nacks which we've used throughout the bar."
They hope that Brooklyn Standard can capitalise on the renewed interest in seeing a band live.
"There seems to be a massive resurgence towards live music," said De Beer. "There's a couple of other venues that have opened at a similar time to us.
"There wasn't really anywhere in the city anymore that was playing and doing live music on the scale that we were going to be: one, be a really small, cosy kind of venue and two, having really good bands in here," he said.
But it was important that the bar not just be about the music — the drinks had to be good, too. That means they're betting big
on the tried and true recipes that have been handed down over decades.
"For me the cocktail list has a very strong focus on classic cocktails," said De Beer. "I'm not one of those bars that wants to have pages and pages of cocktails that myself and my bartenders have made to make ourselves look good. For me there's enough classic drinks that have been created by the Dale DeGroff's and the big cheeses in the industry — there's enough content out there and for us it's about bringing the classic cocktail back.
"I've got about 18 classic cocktails on my list, we've avoided things like the Mojito and the Espresso Martini. We've got things like the Pina Colada, I've got a Zombie on there; a little bit more left of centre, I've got a Ramos Gin Fizz and a Coffee Cocktail on there. There's so many good cocktails out there I don't think in this day and age you actually need to make up your own, you know?"
But with the volume of trade that comes with a live music venue, they did need drinks they could punch out quickly, so took the modern approach of putting cocktails on tap.
"The other side of the drinks is I've got four cocktails on tap — these are more like our signature cocktails," said De Beer.
"Being a high volume live music venue, we spent a lot of time creating our cocktails on tap, and they seem to be pretty good sellers.
"The thing with the cocktails on tap, it's how you finish the cocktails on tap that makes them look good. I don't want people to feel cheated that I'm just walking over to the tap and pouring it out. So for example I've got a tequila, jalapeno and mint drink on there and it gets garnished with two pieces of lemon, a cornichon and a sprig of mint. It's how you finish them as a completed product that makes the difference."
When it comes to the service side of things, the emphasis — much like the ethos of the bar — is squarely on having fun.
"I didn't want them to take themselves too seriously — we have a lot of fun behind the bar," said De Beer.
But the bar would not be what it is, said De Beer, without that trip of hangovers and inspiration.
"Our trip to NYC was priceless in the fact that no amount of surfing the net and looking at photos and hearing other people's tales can ever let you experience what goes on in the bar and cocktail scene over there."