Did you catch Mike Tomasic on the cover of this month's issue? He offers up some tips about how to compete in cocktail competitions this month, and you'll want to make sure you study his tips, because the Angostura Global Cocktail Challenge is back.
It's one of the most lucrative comps out there — the national winner will take home a novelty-sized cheque for $10,000 and a 12 month contract as the Australian Angostura brand ambassador. If you then go on to win at the global final held in Trinidad in February 2016 you'll have a two year deal to be the global brand ambassador for Angostura — and another $10,000 USD in your pocket.
Sounds like a pretty sweet deal, right?
Entries open May 15th and close at 11:59pm on June 15th. You'll need to create one original cocktail with a minimum of 30ml of any Angostura rum and five dashes of Angostura Aromatic Bitters. Get a photo of the cocktail and your bio together, and enter your drink at Facebook.com/i2ibeverages.
ADVERTISEMENT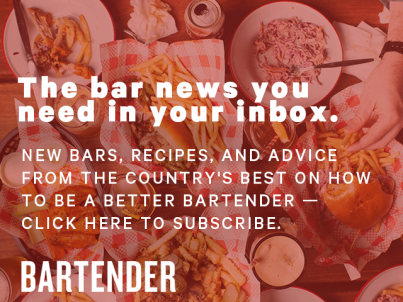 &nbsp
Here's some more information:
Entries will be collected through the island2island Facebook page.  Entrants will be required to fill in a form with their personal details along with the specifics of their entry cocktail. The cocktail they create must have:
At least 30ml of any Angostura Rum
At least 5 dashes of Angostura Aromatic Bitters
No more than 6 ingredients
No homemade ingredients
In addition to the standard entry information, entrants will be required to:
Upload an image of their creation. This can be done through the entry tab on the Facebook page
Answer a series of resume style questions
And don't forget — you've got until June 15th to get your entries in.