It's the land of great incongruities: a bastion of high civic ideals — of freedom, even — but also of great divides and ignorance. It's the country that sold capitalism to the world in all its forms, gave us burgers, the cola wars, and super large serve of everything. There's good and bad to come from America — it's a pretty mixed bag. So God bless America that they make damn fine whiskey.
Before the 18th Amendment — that is, the change to the US constitution that ushered in Prohibition — the country was awash in distilleries. But Prohibition cut a swathe through the producers operating in the US.
According to the US Distilled Spirits Council there were 17 distilleries in Kentucky at the dawn of Prohibition. Only seven of those would reappear at Prohibition's end.
But it's not as though Prohibition quelled America's thirst for booze. Prior to Prohibition (according to a 1933 Forbes article) Americans were drinking 140 million gallons of hooch a year (that's some 530 million litres). During Prohibition that only increased to 200 million gallons a year.
ADVERTISEMENT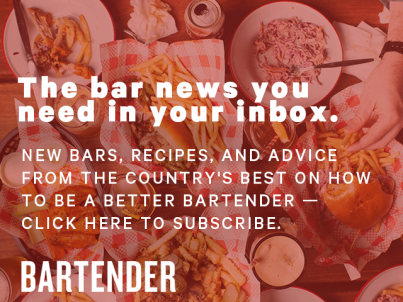 &nbsp
The same Forbes article suggested there was some 64 million gallons of liquor left over in official warehouses when Prohibition kicked in. At Prohibition's close, there was just 4 million of that left.
It seems the allure of illegal boozing only increased thirsts.
But how did any of these producers survive Prohibition? Noted American whiskey writer Chuck Cowdery writes on his blog that there were six firms that applied for a medicinal whiskey licence.
That's right, back in the day, some more liberal doctors — not just bartenders — thought that whiskey could cure some of what ails you, too.
Among the distillers who received the medicinal whiskey licence were Brown-Forman (makers today of Old Forrester and Woodford), American Medicinal Spirits (who had bought Pennsylvania's Old Overholt, and who is now owned by Beam), and A. Ph. Stitzel (which was at the time run by Pappy Van Winkle).
And from 1929, writes Cowdery, the producers who held these licences were able to distill whiskey for medicinal purposes. The fact that they never really sold all the stocks they were allowed to make meant they had a great head start when Prohibition came to a halt.
Here's five top American whiskeys


Wild Turkey Rye
Wild Turkey Rye is one of those emblematic ryes that bartenders in Australia have had access to for some time.
Campari
Cyrus Noble Bourbon
This is a bourbon with a high corn content in the mashbill — there's 75 percent in there — with 17 percent rye and 8 percent malted barley, and it is aged for five years in new American white oak casks.
It's a rich, velvety bourbon on the palate, with aromas of caramel, toasted hazelnut, and buttery toffee. It's an ideal bourbon for classic cocktails, like the Manhattan.
Cerbaco
Knob Creek Bourbon
Knob Creek Bourbon has had some recent success in the 2015 San Francisco World Spirits Competition. They picked up double gold last year, and this year was named the best bourbon of the show.
CCA
Hudson Baby Bourbon
Hudson Baby Bourbon is the first bourbon to be distilled in New York. The single grain bourbon is made from 100% New York corn, aged in small American oak barrels. It is a mildly sweet, smooth spirit with hints of vanilla and caramel.
William Grant & Sons
Michter's US*1 Rye Whiskey
The folks at Michter's take a very craft approach to their new whiskies. "We take pride in our cost be damned approach to production," said distiller Pamela Heilman. "Rather than skimp on expenses, we do everything we possibly can to make the best whiskey we know how."
You could also describe their whiskey as small batch, because they make sure that every whiskey is a single barrel whiskey.
"Across our entire range, every single type of Michter's Straight Rye, from our US*1 to our 10 Year to our 25 Year, is a single barrel product.
Vanguard Luxury Brands