Steve Schneider, Tom Walker, and Shingo Gokan tell us what makes a good bartender great
What makes a good bartender great?
Back at the start of the month we sat down with three fine bartenders on the sidelines of Bacardi Legacy: Tom Walker, the 2014 Bacardi Legacy winner, formerly of the American Bar at The Savoy and now at NYC's Attaboy; Shingo Gokan, former Bacardi Legacy winner and owner of New York bar Angel's Share and recently opened Shanghai bar, Speak Low; and Steve Schneider, bar manager of the world-renowned Employees Only, also in New York City whom you may recognise from the movie Hey Bartender or from his podcast, The Steve Schneider Show.
We asked them what they thought were the crucial things to learn to become a better bartender. More specifically — what makes a good bartender great?
ADVERTISEMENT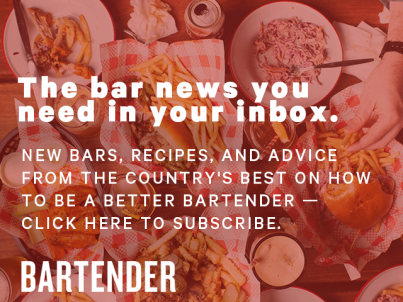 &nbsp
Tom Walker, Attaboy
Hands down, it's a hospitality thing.
People may remember or be fond of the drinks that they've had, but it can be superfluous if the banter is rubbish. If you don't interact with the guests in the right way, if you don't read or recognise the needs of what it is a particular guest wants — it's all pointless if you can't reach the service expectations of what people expect when they go into a specific venue.
If you want to transport that to a competition setting, when you've got someone presenting on stage, whether it be in front of a couple of judges or whether it be in front of six judges and an audience, they're essentially still getting hosted. The audience wants something they can relate to so that they can like you. The judges want to be able to buy into what it is that you stand for and what it is that you do. If you don't incorporate the hospitality aspect, if you don't [do] things like look at people in the eye, if you don't relate to people, then it doesn't really matter.
You can make all the great drinks that you want, it's going to be null and void if you can't get up, go to work and do a 12 hour shift behind the bar because you can't serve people. It's a moot point.
It's something that I've definitely become more in tune with the older that I've got. The best experiences I've had, is where I've been into a bar and been made to feel like I've been in the person's front room. Like it's almost felt awkward for me to leave, because they've been so nice, even though I've got other plans.
That's definitely one of the finest and most important elements of a bartender being great.
Steve Schneider, Employees Only
Working your way up from the bottom, you get the respect amongst everybody, because now the guys who were training me, I get to work with them. The guys that recruited me, I don't just get a chance to work alongside them, I'm also their bar manager now. There's all this stuff that's coming back and forth, and it was once that talented kid had a leadership and direction, saying ok this is the last place I'm going to work before I open my own place, and I need to learn from these guys, I need to respect these guys, and I need to pass on this knowledge to the apprentices when I become the top guy — because that's how you get people to want to work with you, that's how you get the trust of everybody, and then tending bar becomes so simple, man.
If you tend bar for other people, the job is so fucking easy. The discipline, of me shutting up and listening to what the drill instructors had to say in the Marine Corps — just do what you're told — it's the same thing in the bar. You do what you're told — either by the guest or by the boss, until you're the boss. In the military when you become the boss, you tell people what to do. If you have the pedigree, if you have that relationship with people that they believe in you and they trust you, then they're going to follow you.
Shingo Gokan, Speak Low
That's a tough question. The bartender has different faces: as an artist, to create something; not a professor, but you need to have a lot of knowledge; the hospitality side: you have to care for the customers, and also as a performer. We are on the stage, behind the bar. And also as a presenter, when you talk as a presenter at seminars. We have different directions, different faces, if you cover all of the parts — that's what I think is a great bartender.
The chef is pretty much always in the kitchen, but the bartender is always on a stage, or a different stage, nowadays as a guest bartender. When I was first a bartender, there was nothing like guest bartending. There were some seminars, but not so much, once a year or something.
Now you have so many great opportunities to do something, so if you cover all of the parts — that would be a great bartender.