Project Botanicals, the successful limited-run popup from Bombay Sapphire, is back again this year.
Bombay Sapphire brand ambassador Andy Wren asked five of Melbourne's best bar teams to each create a cocktail highlighting one of Bombay Sapphire's ten botanicals, and chef Gary Mehigan — he of Masterchef fame — has created food dishes to complement each drink. There's also an additional five drink and food matches that return from last year's menu.
The contributions from Melbourne bars Black Pearl, 1806, Union Electric, Eau de Vie and Gin Palace are all top notch, and Mehigan's food matches — he's matching the food to the drink, not the other way around — complemented each drink well.
ADVERTISEMENT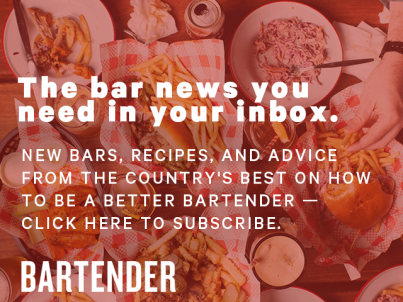 &nbsp
That's not all that's happening at the Project Botanicals popup. Guests at Project Botanicals will be among the first in the country to have the opportunity to taste the newest addition to the Bombay Sapphire family, Star of Bombay.
It's like Bombay Sapphire but with the botanicals dialled all the way up to 11 — or more accurately, 12, with two new botanicals (ambrette and bergamot orange peel) being added to the 10 found in Bombay Sapphire. They're using a slower vapour infusion process, which gives the final spirit a greater concentration of flavour. That's reinforced by the higher proof of the spirit, which weighs in at 47% ABV. Not that you'd know it though — it's a smooth finishing spirit that holds its high proof well.
Project Botanicals will run for three weeks from June 24 to July 11 this year at 64 Sutton Street North Melbourne. Tickets are $45 per person and include two cocktails with two matched dishes. For more information and to book tickets, visit projectbotanicals.com.au.