The 2015 Disaronno Mixing Star, Ben Greenham
On Tuesday night in Melbourne, Ben Greenham from Perth bar, Enrique's School For To Bullfighting, was crowned the national 2015 Disaronno Mixing Star.
Greenham won with his drink, La Renaissance Providore, which impressed the judges (Club Suntory manager Hayley Morison, Disaronno brand ambassador Matteo Fabbris, and Australian Bartender editor Sam Bygrave) during the technical round held earlier in the day. Greenham won despite some top notch drinks and performances from the other finalists: Kari Nicol (Eau de Vie, Melbourne), Daniel Blake (Ms Collins, Melbourne), Jonathan Minihan (The Toff in Town, Melbourne), Adam Vogler (Mrs Sippy, Sydney), Jon Carr (Archie Rose, Sydney), Dale Schoon (Earl's Juke Joint, Sydney), and Brett Arendse (Choo Choo's, Perth).
The finalists await the announcement of this year's winner
Each of the finalists had to present their drinks before the panel of judges and in front of the camera during this round. They each had seven minutes to create four serves of their recipes and were judged on taste, balance, technique and presentation.
ADVERTISEMENT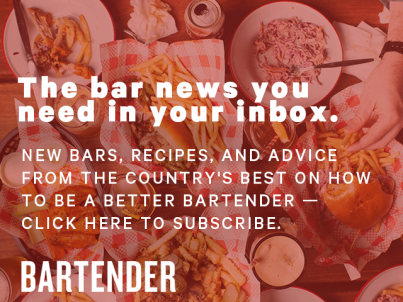 &nbsp
The second round of the competition involved a popular vote, with each of the competitors serving up their drinks to 100 trade guests at the Long Room in Melbourne's CBD. Each of the guests were given tokens with which to cast votes for their favourite drinks on the night, with these votes going towards the competitors' final tally.
In the end, Greenham was announced the winner.
When Australian Bartender spoke to him the next day, Greenham was still getting used to the idea of being this year's Disaronno Mixing Star.
"It's still settling in," Greenham said. "I've just been hearing from people back home, touching base with my mum — you know it, but you don't feel it yet."
It's the first national competition win for Greenham. For his stellar efforts he'll be jetting off to join Disaronno Mixing Star winners from around the world in New Orleans this July, for Tales of the Cocktail.
Have a look at Greenham's winning drink below.
La Renaissance Providore
45ml Disaronno
20ml La Goya Manzanilla Sherry
10ml lemon juice
1 sprig dill
2 Bar spoons Providore Margaret River Lemon Curd
2 drops Salt Water Tincture
Dash of orange blossom water
Shake and strain into a tankard filled with crushed ice. Garnish with a dehydrated lemon wheel and a sprig of dill.
Recipe by Ben Greenham, Enrique's School For To Bullfighting, Perth