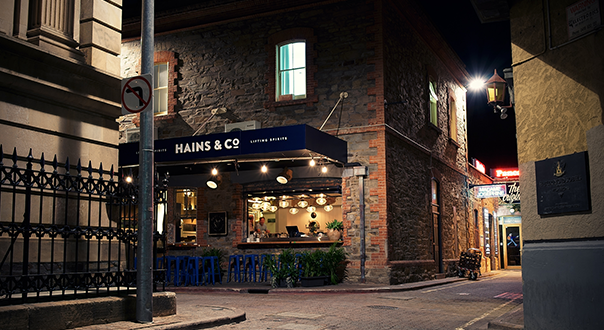 Hains & Co
Address: 23 Gilbert Place, Adelaide
Facebook: facebook.com/hainsco
Website: hainsco.com.au
Story by Sam Bygrave
Adelaide is in the midst of a small bar boon: changes to licensing laws a couple of years back has made it easier for savvy operators to open up small bars without the prohibitive cost and need for the scale of the past.
It's not all good news for drinking in Adelaide: operators on Hindley Street, Adelaide's traditional party district, have seen trade decline since the introduction of lockout laws; one of the city's big pubs, The Stag in the East End, went into receivership in April due in part, they said, to popup bars capturing much of the trade during Adelaide's Fringe Festival; and there is some disquiet among operators about the sheer numbers of bars opening of late being too much for Adelaide's small population, a population which isn't known for going out to drink in the city in the early week.
ADVERTISEMENT
&nbsp
It's a brave operator who opens up in that climate, because if you want to succeed, you need to know what you're doing.
With a number of bars under his belt already — think Melbourne bars Ffour and latterly, Chuckle Park — Marcus Motteram, owner of Adelaide newcomer Hains & Co, is better positioned than most to succeed.
The devil, as always, is in the details. And Motteram believes that the details are in the design.
"Design is such an important aspect in achieving your goal as a small bar. You want to create a space that will have people leave the comfort of their own home to enjoy," said Motteram.
Motteram wanted the design of the bar to get people talking. "[We were] trying to create a look and feel that is interesting yet comfortable and welcoming. We wanted to create talking points that they may bring up in conversation to inspire their friends to also visit," he said.
The design — and some of the most important aspects — is thanks to Kyle Bush, Motteram said.
"I was very lucky to have Kyle Bush at my beck and call to design the space, which he has done in a fashion that is fun and stylish together," he said.
"Kyle was also the genius who positioned the bar in front of the vertical bi-folding window — this is always opened up no matter the weather outside. It means there is no barrier to entry, you walk past on the footpath and you are already in. It also allows us to chat with those passing by, cheekily suggest they need to sidle up and have a drink with us."
Hains & Co is the kind of place you'd walk into if you're just looking for a good time. In fact, they've adopted the motto of "Lifting Spirits" for that very reason. But if you're looking for the details, you'll find those too.
The back room is tiled in racing green and reminiscent of the art deco work in London tube stations in the pre-war era; the arched ceiling above is timbered, each slender beam shaped to resemble the bow of a ship and put painstakingly in place by Motteram and his head bartender, Jack Wilkes.
Custom-made posters evoke the advertisements from the golden era of cruise ship seafaring, and the bar itself is constructed from a large slab of the old Larg's Bay jetty and simply sealed on top.
The whole idea of the bar is rooted in Motteram's favourite spirits, and some before unknown nuggets from his family's history.
"My love of gin and rum is what made me choose a nautical feel for the design," said Motteram, "and in going down that path I learnt that there was a lot of family history that also tied back to it. Hains is my mother's maiden name, and my grandfather owned a furniture store around the corner on Hindley St. He sold the store on his retirement to a gentleman that was taking on all his staff, and he took solace in the fact that they would maintain their jobs after years of loyalty to him. In the end the business was cut up an sold off much to my grandfather's dismay — so to that end I am bringing back the name Hains to the area."
And remember that slab of Largs Bay Jetty that graces the bar top? There's a family story in that, too.
"[My grandfather's] forefathers came out on boats and settled in Port Adelaide," said Motteram. "His great grandfather could oft be found playing on the Largs Bay Jetty that makes up the bar top at Hains & Co. And as a tilt of my hat to my grandfather I have called the physical bar the good ship Gretel, as he was very fond of his two sausage dogs, Hansel and Gretel."
Befitting that seafaring vibe, the spirits on offer take a distinctly naval bent: it's all about the gin and rum here, and that flows into the cocktail list. So you'll get a great example of a Hemingway Daiquiri, and a cracking Southside. They're the kind of drinks designed to support the bar's ethos of 'lifting spirits'.
"The role all my staff play is to Lift Spirits and it is the modus operandi of the venue," said Motteram. "It comes from the reason I do hospitality, let's face it there are many other jobs we could do in hospitality that pay more for the work we put in and are less risk. To have a patrons truly enjoy their time and our hospitality at Hains & Co. is what feeds my soul. To me it is more important than making great drinks or having a great looking venue, although we try to do a good job of all aspects."