Story by Sam Bygrave
I've got a soft spot for Adelaide, having spent a couple of years there as a kid. There's a lot that doesn't change — so many things feel like they did 20-odd years ago. Like those wide boulevards that take forever to cross: they would pose a challenge for even the most experienced of jaywalkers if not for the lack of cars on the streets. People are still friendly there, and they're always most polite — perhaps that's why they frown on jaywalking there, too.
But the drinking landscape has changed dramatically in the last three years: the city's laneways have sprouted all sorts of small bars thanks to a change in legislation; the big event that is the Adelaide Fringe Festival has seen huge popup bars gain in popularity at the expense of more established pubs in the East End.
And now there's a range of new bars that have opened up, offering Adelaideans more choice and better drinking. Here's just six of them — but there's plenty more. Adelaide is a cracking destination for a drinker these days.
ADVERTISEMENT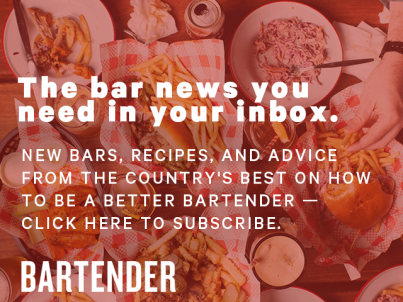 &nbsp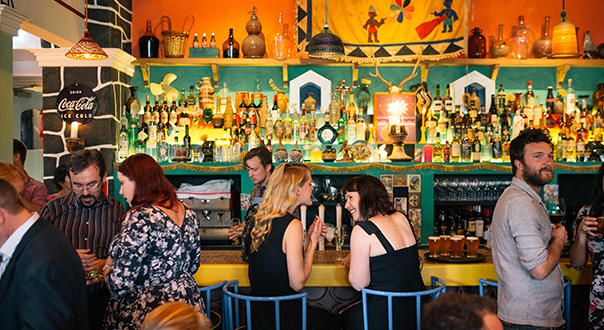 Africola
4 East Terrace, Adelaide
africola.com.au
While Africola is more restaurant than bar, it's worth a visit based on the drinks list alone. Run by bartender Andrew Cameron (who you'll see featured in this month's Blind Tasting), the drinks take a unique approach, employing unfamiliar ingredients like porcini cola.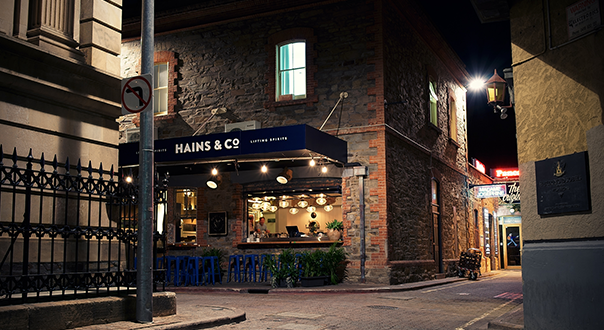 Hains & Co
23 Gilbert Place, Adelaide
hainsco.com.au
Have a read of our profile on Hains & Co from this issue, and you'll see the effort that goes into the details at this new laneway bar in the CBD. They've got a focus on rum and gin as befits a bar with a great big anchor as one if its features — the design is done well — but they haven't skimped on the bartending talent behind the bar either: Jack Wilkes has been plying his trade well for some time now, and Italian import Davide Stecca has made an impressive start at this bar.

Bar Torino
158 Hutt Street, Adelaide
bartorino.com.au
If, like us, you enjoy your meats cured and your drinks sherried, then you'll like this bar, too. Their take on a Bamboo (with iThink Manzanilla, and sweet and dry vermouths from Australian brand Maidenii) is a perfect afternoon cleanser and well-suited to the properly priced (that is, mostly below ten bucks) tapas. It's a bit of a journey to get to Hutt Street from where the rest of the good drinking action is, but it's worth the trip.

Maybe Mae
15 Peel Street, Adelaide
You'll want to get here early, as it's only a small place and fills up fast — particularly on the weekends. With bartenders like Ollie Margan (who's made more than a few final rounds of national bartending comps of late), and a subterranean, speakeasy vibe, it's a place you'll want to see for cocktails.

La Buvette Drinkery
27 Gresham Street, Adelaide
labuvettedrinkery.com.au
How many bars in Australia have you been to lately where you've drunk pastis? Probably not many. But you can do that here — in fact, pastis is the first drink listed on the menu — and they'll prepare it properly with a little chilled water to the side. While you sip on that you can stand at the bar and scoff down some garlicky-as-all -get-out snails, too. The food is done well (they've got some great cheese served at just the right temperature too), and the service at the bar professional — you might recognise head bartender Pierre Massin from a stint at Sydney's The Barber Shop.
Throw in a casual, upbeat atmosphere (forget about that old idea of French haughtiness), and this is one of the most interesting bars we've seen.

2KW
2 King William Street, Adelaide
2kwbar.com.au
With a vista that stretches to the western coast of Adelaide and around to the Adelaide Hills, there surely is no better site to be had in the CBD — particularly with a well-made beverage in hand. The drinks have been put together by Adelaide veteran Shaun Pattinson, so you can get a well made cocktail here, but there's also a big list of craft beers. sourced both locally and from afar.