On Monday night Club Suntory brought the first inaugural Wodka Wars to town, held at the scenic Solotel venue, King's Cross Hotel Rooftop. It was a brave battlefield for five of Sydney's hot spot venues in which to compete using Suntory's vodkas, Zubrowka and Russian Standard.
In competition order, Henrietta, Stitch, Goros, Miss Peaches and The Assembly Bar teams went to war in 15 minute rounds each to knock the socks off our judges. The fearless vodka-loving judges were NSW Club Suntory Ambassador Luke Hanzlicek, Brand Manager Tim Lau and 2015 Zubrowka National Finalist Dr Phil Gandevia.
As the clock ticked down each team had to produce four cocktails in each category with their own signature spin. The categories included: a Mule, a Martini, an Apple Zu and their own team signature vodka cocktail.
ADVERTISEMENT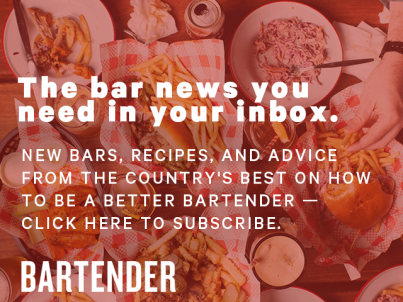 &nbsp
Points were encouraged for innovative flavour combinations, out of this world shaking, mixing and serving techniques, and banter, with bonus points awarded for each team who really transformed into character with their outfits. Some rocked the chiselled abs with Joe Dirt hair, others served using a super soaker… and then there were even a bunch of wizards in capes and balaclavas.
'Polite and modest' teasing echoed throughout the night by the one and only extroverted MC Joe Worthington. Unfortunately he was no match for the costume flair, dad jokes and dance routines the bar teams added to the cocktail competition.

As the rain fell over the Kings Cross precinct, the mood was far from damp as the crowd were eager to see who would take home the title and $1000 spending money. Joe pirouetted around the announcement for as long as anyone could talk under water until he finally announced that the happy trio in matching fur hats, flannelette shirts and bodies Rocky Balboa would be jealous of that Stitch Bar were the 2015 Wodka War winners of the evening.
Congratulations to all the bars that competed, and thank you for all those Club Suntory members that came to support and cheer on your comrades.
Keep an eye on your inbox for our next cocktail competition!