On the back of the big success that was the 2015 Bacardi Legacy Global Cocktail Competition held back in May in Sydney, it's time to register your interest in the next instalment of Bacardi Legacy.
If you think you can create the next Legacy cocktail, and that your drink will join the pantheon of great Bacardi cocktails, email australia@bacardilegacy.com to register your interest, and you could be on your way to the global final in San Francisco, 2016.
To get you thinking you about the drink that you'll create, below is the winning drink from this year's global champion, Franck Dedieu of France.
Take a look at its component parts: they're found in most bars throughout the world, and there's just five ingredients, which keeps things simple — and perhaps more importantly, replicable.
ADVERTISEMENT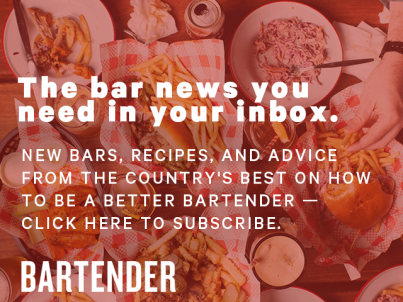 &nbsp
There's no centrifuge or rotovap required here.
Le Latin
by Franck Dedieu, FRANCE
45ml BACARDÍ Carta Blanca
20ml white wine (Viognier preferred)
20ml lemon juice
2 barspoons olive brine
2 barspoons caster sugar
Shake and strain, garnish with an olive.