So we're two months out from this year's Bartender Magazine Australian Bar Awards — and the industry has never been better.
And that's been reflected in your votes this year. We've been working to tally the votes since the end of May, and now it's finally done and the results are presented below.
From what we can see they are the best and brightest of the Australian bar industry, drawn from a seriously talented pool who work tirelessly to keep their cities and towns at the forefront of fun – because let's face it, that's what we're all about.
We would like to take the opportunity to thank everyone who is involved in the Australian bar industry, nominated or not, because without your hard work and dedication the professional bar scene would not be in the sensational shape it is.
We've expanded the finalists in most categories to 10 this year, and that's a reflection of just how impressive the standard of drinkmaking (and good-times-having) has been this year,
ADVERTISEMENT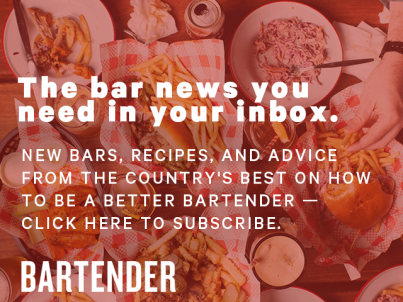 &nbsp
We've also added a new award this year, for the Best Live Music Bar. Because there's nothing quite like a bar that does good drinks and service putting on a band — so congratulations and thanks!
The awards night on Tuesday September 22, at Doltone House in Sydney, promises to be the biggest and best yet. We've also got the entertainment from the Top 8 round of the Bartender of the Year sponsored by 42Below and De Kuyper — it's going to be a big night!
Head to barweek.com.au to book your tickets now. Please note that Bar Awards tickets are only available to bar professionals and sponsors.
And the finalists are…
Bartender of the Year
sponsored by 42Below & De Kuyper

To check out all the competitors for this year's Bartender of the Year sponsored by 42Below and De Kuyper, click through here.
Rookie of the Year
proudly sponsored by Club Suntory

James Pennefather, Bobeche
Thalita Alves, The Gresham
Will Sleeman, Black Pearl
Dale Schoon, Earl's Juke Joint
Brendan Grey, Mechanics Institute
Mattia Arnaboldi, Stitch
Emma Lancaster, Less Than Zero
Shay Chamberlain, Bulletin Place
Pub of the Year
The Catfish, Melbourne
Newtown Hotel, Sydney
Coogee Pavillion, Sydney
The Rochester Hotel, Melbourne
The Henson, Sydney
The Oxford Tavern, Sydney
The Brisbane Hotel, Perth
Statler & Waldorf, Brisbane
Marlborough Hotel, Sydney
Watsons Bay Hotel, Sydney
Pub of the Year – State Awards
ACT: Civic Bar, Wig & Pen, BentSpoke, Zierholz
NSW: Newtown Hotel, Coogee Pavillion, The Henson, Oxford Tavern, Marlborough Hotel, Watsons Bay Hotel
NT: The Deck Bar, The Cavenagh
QLD: Statler & Waldorf, The Flying Cock, Story Bridge Hotel, The Heritage, Up on Constance
SA: The Wheatsheaf, The Exeter, The Walkers Arms
TAS: The New Sydney Hotel, The Winston
VIC: Baden Powell, The Catfish, The Last Jar, The Newmarket, The Rochester
WA: The Brisbane Hotel, The Flying Scotsman, Lallah Rook
New Bar of the Year
proudly sponsored by Fever Tree

Archie Rose, Sydney
Bad Frankie, Melbourne
Boilermaker House, Melbourne
Brooklyn Standard, Brisbane
Hains & Co, Adelaide
Heya, Brisbane
La Buvette, Adelaide
This Must Be The Place, Sydney
Union Electric, Melbourne
The Dominion League, Perth
Best Specialty Beer Venue
proudly sponsored by Yenda

Archive, Brisbane
BentSpoke Brewing Co, Canberra
Bitter Phew, Sydney
Cookie, Melbourne
Five Bar, Perth
Frankie's Pizza by the Slice, Sydney
Keg & Brew, Sydney
The Local Taphouse Darlinghurst, Sydney
The Scratch, Brisbane
Superwhatnot, Brisbane
Nightclub of the Year
Laruche, Brisbane
The Emerson, Melbourne
Family, Brisbane
Spice Cellar ERSKNVL, Sydney
Ms Collins, Melbourne
Kit & Kaboodle, Sydney
Eve, Melbourne
Ivy Pacha, Sydney
New Pub of the Year
The Rochester, Melbourne
The Marquis of Lorne, Melbourne
The Collaroy Hotel, Sydney
Keg & Brew, Sydney
Harpoon Harrys, Sydney
Coogee Pavillion, Sydney
Goros, Sydney
Opera Bar, Sydney
The Flying Cock, Brisbane
The Fox on Montague, Melbourne
Small Bar of the Year
Bar Americano, Melbourne
Bad Frankie, Melbourne
Bulletin Place, Sydney
Cobbler, Brisbane
The Hazy Rose, Sydney
Mechanics Institute, Perth
Romeo Lane, Melbourne
This Must Be The Place, Sydney
Varnish on King, Perth
Vasco, Sydney
Bar Manager of the Year
Andres Walters, The Lobo Plantation
Cristiano Beretta, The Rook
Dimitri Rtshiladze, Mechanics Institute
Lewis Jaffrey, The Baxter Inn
Mark Patterson, The Brisbane Hotel
Petr Dvoracek, The Barber Shop
Ryan O'Keefe, Stitch
Ryan Lane, The Gresham
Shaun Pattinson, 2KW
James Connolly, Angel's Cut
Bar of the Year
The Baxter Inn, Sydney
The Barber Shop, Sydney
The Gresham, Brisbane
Earl's Juke Joint, Sydney
The Rook, Sydney
Mechanics Institute, Perth
The Bowery, Brisbane
Gin Palace, Melbourne
Varnish on King, Perth
Ramblin' Rascal Tavern, Sydney
Bar of the Year — State Awards
ACT: Akiba, Hippo Co, Knightsbridge Penthouse, Molly, Polit Bar
NSW: The Baxter Inn, The Barber Shop, Earl's Juke Joint, The Rook, Ramblin' Rascal Tavern
NT: CHOW, The Deck, The Pearl
QLD: The Bowery, Brooklyn Standard, Cobbler, The Gresham, Lefty's
SA: 2KW, Botanic Bar, Hains & Co, La Buvette, Udaberri,
TAS: Ash & Besters, BarCelona
VIC: Bad Frankie, The Beaufort, Gin Palace, Kodiak Club, Rum Diary Bar
WA: Choo Choo's, El Publico, Enrique's, Mechanics Institute, Varnish on King
Regional Bar of the Year
Black Coffee Lyrics, Gold Coast, QLD
Cavalier Bar & Supper, Gold Coast, QLD
Goldfish Hunter Valley, Hunter Valley, NSW
The Heritage, Townsville, QLD
Howlin' Wolf, Wollongong, NSW
Miss Moneypenny's, Noosa, QLD
Pocket Bar Terrigal, Terrigal, NSW
Settler's Tavern, Margaret River, WA
Bar Operator of the Year
Andrew Baturo, QLD
Andy Freeman, WA
Pocket Group, NSW
Barrelhouse Group, NSW
Hamish Fleming & Siobhan Bluman, WA
Swillhouse, NSW
Speakeasy Group, NSW/VIC
Matt Bax, VIC
Alex Dowd & Jeremy Blackmore, NSW
IDLE Group, NSW
Pub Operator of the Year
Merivale
Riversdale Group
Geoff Hayward
Jay Lambert & Steve McDermott
The Keystone Group
Katarzyna
Drink N Dine
Solotel
Fraser Short
Balmain Pub Group
Best Bartenders' Bar
proudly sponsored by Disaronno

Mojo Record Bar, Sydney
Henrietta Supper Club, Sydney
The Baxter Inn, Sydney
Cobbler, Brisbane
Lefty's Old Tim Music Hall, Brisbane
Brooklyn Standard, Brisbane
Ramblin' Rascal Tavern, Sydney
Hello Sailor, Sydney
Black Pearl, Melbourne
Frankie's Pizza by the Slice, Sydney
Bar Team of the Year
proudly sponsored by The Exchange

Black Pearl, Melbourne
Mechanics Institute, Perth
Cobbler, Brisbane
The Gresham, Brisbane
The Baxter Inn, Sydney
Eau de Vie Melbourne, Melbourne
Ramblin' Rascal Tavern, Sydney
Bulletin Place, Sydney
The Lobo Plantation, Sydney
This Must Be The Place, Sydney
Cocktail Bar of the Year
proudly sponsored by Pernod Ricard

Bar Exuberante, Melbourne
Black Pearl, Melbourne
Bulletin Place, Sydney
The Bowery, Brisbane
Eau de Vie Melbourne, Melbourne
Eau de Vie Sydney, Sydney
The Everleigh, Melbourne
The Lobo Plantation, Sydney
The Baxter Inn, Sydney
Palmer & Co, Sydney
Cocktail Bar of the Year – State Awards
ACT: Akiba, Molly, Polit Bar
NSW: Bulletin Pl, Eau de Vie, Lobo Plantation, Baxter Inn, Palmer&Co
NT: CHOW, The Deck Bar, Viva La Vida
QLD: The Bowery, The Gresham, Press Club, Cobbler, Papa Jack's
SA: Africola, Clever Little Tailor, Maybe Mae
TAS: Amor Bar, Ash & Besters, IXL Long Bar
VIC: Bar Exuberante, Black Pearl, Eau de Vie, The Everleigh, Fall from Grace
WA: Bobeche, The Classroom, Dominion League, Mechanics Institute, Varnish on King
Cocktail List of the Year
proudly sponsored by Australian Bitters Company

The Barber Shop, Sydney
Coppa Spuntino, Brisbane
The Lobo Plantation, Sydney
The Dominion League, Perth
This Must Be The Place, Sydney
Jahh Tiger, Brisbane
Bar Exuberante, Melbourne
Eau de Vie Melbourne, Melbourne
Romeo Lane, Melbourne
Black Pearl, Melbourne
Best Live Music Bar
Brooklyn Standard, Brisbane
Cherry Bar, Melbourne
Donny's Bar, Sydney
Ellington Jazz Club, Perth
Frankie's Pizza by the Slice, Sydney
Howlin Wolf, Wollongong
Lefty's Old Time Music Hall, Brisbane
Spring Street Social, Sydney
Wine Bar of the Year
proudly sponsored by Treasury Wine Estates

121BC, Sydney
Coppa Spuntino, Brisbane
Cru Bar + Cellar, Brisbane
Gazebo, Sydney
Love Tilly Devine, Sydney
Monopole, Sydney
Mrs Brown Bar, Fremantle
The Winery, Sydney
Best Bar Food
The Dominion League, Perth
Jahh Tiger, Brisbane
Vasco, Sydney
Mary's, Sydney
Statler & Waldorf, Brisbane
Red Hook, Brisbane
Thomas Olive, Melbourne
Le Bon Ton, Melbourne
Varnish on King, Perth
Akiba, Canberra
Training Program of the Year
Club Suntory
Bacardi Lion
The Exchange
Diageo Bar Academy
Maison, Pernod Ricard
Brand Ambassador of the Year
Dan Woolley, The Exchange
Ben Davidson, Pernod Ricard
Justin Strzadala, Club Suntory
Mitch Bushell, Monkey Shoulder
Sean Forsyth, Bacardi
Garth Foster, Moet Hennessy
Michael Nouri, The Exchange
Loy Catada, Bacardi
Will Oxenham, Diageo
Tomas Vikario, Monin
Gee David, South Trade
Outstanding Contribution
proudly sponsored by Australian Bartender Magazine

Andy Freeman, Perth