With great new sponsors on board and additions to the format, the Bartender Magazine Bartender of the Year Competition sponsored by 42Below and De Kuyper is pouring the pressure on again in 2015.
Not only will you need to sit the rigorous written exam, mix your way through the mystery round and identify spirits blind, but should you make it to the Top 8 you'll have to perform in front of 600 of the country's most influential bartenders, bar managers and bar owners at the Bartender Magazine Australian Bar Awards.
All those brave bartenders who have thrown their caps into the ring for this year's competition will soon receive an email outlining the rules and the format for this year, and we'll need you RSVP by the end of August. Our advice? Get started on study now! You can pick up back issues of Australian Bartender in the iPad app.
If you think you should see your name in the list below and it isn't there, email sam@spantonmedia.com — and you can still register by clicking here.
Here's the list…
ADVERTISEMENT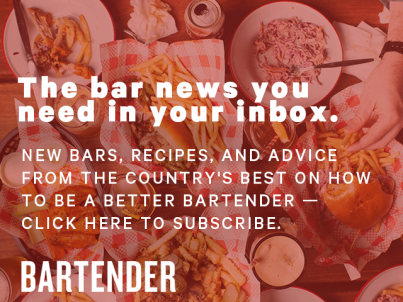 &nbsp
Manuel Alvarez – The Hazy Rose NSW
Thalita Alves – The Gresham QLD
Anai Araya – Clovelly Hotel NSW
Alex Archibald – Papa Jack's QLD
Andrea Bagnera – Zeta Bar NSW
Sam Barnett – Hinky Dinks NSW
Ben Blair – Porch NSW
Josie Blanchard – The Milestone Group NT
Thom Brock – Squires Fortune WA
Evan Brown – The Wild Rover NSW
Georgie Burchill – Viva la Vida NT
Dominique Cacioli – Bickle VIC
Noriel Calub – AKIBA ACT
Andrew Cameron – Africola SA
Bobby Carey – Earls Juke Joint NSW
Sam Carlini – Molly ACT
Anthony Cashman – The Manhattan Line QLD
Charles Chang – Tang Hui NSW
Michael Chiem – PS 40 NSW
Andy Chu – The Everleigh VIC
James Connolly – Angel's Cut WA
William Cowley – Brooklyn Standard QLD
Jay Cozma – Howlin Wolf NSW
Omar Curatolo – Blanche Bar WA
Nick Dennis – Loop Roof VIC
Sam Dixon – Hotel VIC
Gem Doonan – Word Bar VIC
Eden Dunbar-Borchers – Cloud9 Bar and Lounge VIC
Thomas Egerton Eau de Vie Sydney NSW
Geoff Fewell – Nant 1821 VIC
Glynn Firth – The Whisky Room NSW
Jamie Fleming – NSW
Alissa Gabriel – The Manhattan Line QLD
Paolo Gabrielloni Edgewater Dining QLD
Anthony Gardik – Spice Temple Melbourne VIC
Alex Gilmour – Black Penny NSW
Anneliese Grazioli – Hot Tamale NT
David Green – Zeta Bar NSW
Jordan Gross – The Dock / Bar Consultant NSW
Max Gurtler – Rockpool 1989 NSW
Lewis Halls – Black Pearl VIC
Zac Hay – Emporium Hotel QLD
Nick Heaney – Lux VIC
Alec Hearfield-Brown – Le Bon Ton VIC
Jenna Hemsworth – The Lui Bar VIC
Misty Hoeta – The George Public Bar VIC
James Hol – Gondola Gondola SA
Ali Holden – Sean's Kitchen SA
Peter Hollands – The Gresham QLD
Tony Huang – Bacchus/Soleil QLD
Steven Hubbard – Press Club, Katarzyna QLD
Holly Ingram – Electra House SA
Jimmy Irvine – Shady Pines/The Baxter Inn NSW
Brad Josephs – The Anchorage NSW
Rinna Kato – Blackbird Bar and Grill QLD
Priscilla Leong – Bar Americano VIC
Mary-Jane Liddicoat – Polit Bar ACT
Thomas Loosli – Miss Peaches NSW
Dan Lutze – The Smoking Panda NSW
William Mahe – Vintaged Bar n Grill QLD
Rick Marson – Le Bon Ton VIC
Trysham Martin – Red Square SA
Orlando Marzo – Eau de Vie Melbourne VIC
Liam McDonald – Elsewhere Bar QLD
Sean McGuire – Nieuw Amsterdam VIC
Brodie Meah – The Beaufort VIC
Adam Meredith – Byblos QLD
Kal Moore – The Gresham QLD
Jamie Muscat – The Crow Bar NSW
Charlette Needham – Nant Whisky Cellar & Bar QLD
Peter Nguyen – Palmer & Co NSW
Daniel Noble – Mojo Record Bar NSW
Matthew O'Sullivan – Press Club QLD
Yoshi Onishi – Tokyo Bird NSW
Istvan Orosz – Avila NSW
Brendon Osmers – The Gresham QLD
Jasmine Pardo – Hains & Co SA
Thomas Pearson – Press Club QLD
James Pennefather – Bobeche WA
Alan Penrose – Goldfish Hunter Valley NSW
Lee Potter Cavanagh – Whisky Jerx/Cocktail Cowboys NSW
James Powers – The Collins Bar SA
Brady Retschlag – Blackbird Bar and Grill QLD
Karel Reyes – The Barber Shop NSW
Mark Richardson – Green Park Dining VIC
David Rofe – Chiswick /Morsul NSW
Guido Sardi – ClubHouse NSW
Quinton Seeto – Barber Shop NSW
Joe Sinagra – Bobeche WA
Matthew Stirling – Black Pearl VIC
Evan Stroeve – Shady Pines Saloon NSW
Kobrit Surumphai – Spice I Am NSW
Millie Tang – Press Club QLD
Yoann Tarditi – Fall from Grace VIC
Flavio Tripepi – The Commons NSW
David Van Iersel – Captain Baxter VIC
Katherine Whitcroft – Africola SA
Joseph Winika – Frankie's Pizza NSW
Emma Zelcer – Brooklyn Standard QLD