Just how many different ways can you mix with coffee? That was the challenge to find out when we brought a mystery box of ingredients to Sydney's Mojo Record Bar.
On hand to help us mix up some different takes were Mojo's Daniel Noble, The Rook's Cristiano Beretta, The Barber Shop's Karel Reyes, and QT Hotel Sydney's Aasha Sinha.
The Espresso Martini was off the table. Not that there's anything wrong with the drink — it's one of the country's best selling cocktails for a reason — but because we'd already has the Spiced Espresso Martini made with Stolen Spiced Rum (presented here) all sorted.
But how much further can you take coffee? Does it work with banana? Apricot brandy? Read on below to find out.
ADVERTISEMENT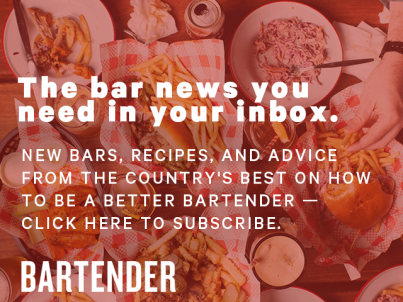 &nbsp
Spiced Espresso Martini

45ml Stolen Spiced Rum
30ml espresso
10ml coconut syrup
10ml agave nectar
Pinch of salt
Shake all ingredients with ice, double strain, serve in a coupe.
Garnish with coffee bean.
Why is that this drink works? Well the ingredients are all brought together through the trio of the Stolen Spiced Rum, fresh espresso, and coconut syrup. Coconut is a natural pair to the nutty character and roasted flavours of the espresso — the Stolen Spiced Rum's Arabica coffee and Madagascan vanilla tie those flavours together, whilst its smokiness plays well with the agave syrup.
From left to right, drinks 1—3.
#1 Coffee with Black Cherry and Apricot

40ml Bacardi Carta Blanca
15ml apricot brandy
15ml Mr Black Cold Drip Coffee Liqueur
1 barspoon of black cherry jam
20ml espresso
Grated nutmeg to garnish
Shake all ingredients, strain into a chilled coupe.

Recipe by Karel 'Papi' Reyes, The Barber Shop
Reyes has pulled together the coffee notes with fruitiness — a common aspect found in coffee — and to do so with apricot and black cherry. "I tried to come up with a drink using the base of Bacardi Carta Blanca, which is a rum made from sugarcane molasses and gives a very soft flavour to my coffee cocktail," he said. "I've used Mr Black which is a nice, sweet — but not oversweet — coffee liqueur. I've tried to combine this Mr Black with apricot brandy to add some fruity notes, and combined it with one barspoon of black cherries and tried to get all these dried and sweet cherry notes."
#2 Coffee with Pomegranate & Coconut

15ml 666 St Ali Coffee Vodka
40ml mezcal
30ml coconut water
15ml Giffard Agave Sec
30ml pomegranate juice
Shake all ingredients and strain over block ice.

Recipe by Cristiano Beretta, The Rook
Beretta has used the 666 St Ali Coffee Vodka sparingly, so as to provide an accent of coffee flavour to his drink. "Obviously mezcal and coconut water works really well together," he said, "and the Agave Sec and agave spirits is a no-brainer. I've used coffee and mezcal together before and know they work really well together. The smokiness that comes from the mezcal and the tannin of the coffee, I think that works well. And pomegranate — that's just for fruit."
#3 Coffee with cognac & blackcurrant

50ml XO cognac
10ml Giffard Agave Sec
10ml blackcurrant syrup
10ml Monin Coffee Syrup
2 dashes of Bittermens Xocolatl Mole Bitters
Orange twist to garnish
Stir down all ingredients and serve up.

Recipe by Aasha Sinha, QT Sydney
Sinha's cocktail was based on the idea on the European idea of taking coffee with a digestif. "I was going for that sweet, digestive style of drink," she said.
From left to right, drinks 4—6.
#4 Coffee with Dark Lager

15ml Little Drippa
20ml 666 St Ali Coffee Vodka
40ml Havana Club Anejo Especial
30ml Matso Smokey Bishop Dark Lager
Whole egg
Shake all ingredients except the beer. Strain into a flute glass, top with beer.

Recipe by Daniel Noble, Mojo Record Bar
"You can call it I guess a Royal Fizz," said Noble. "Coffee, chocolate — the Matso Smokey Bishop has chocolate and coffee elements to it, rum's got caramels and those softer notes that do go well with a darker style of lengthening and bittering agents.
"With the whole egg, the coffee, and the spirits, you've got the bittering agent, you've got the lengthening agent, and you've got the body. Topping up with the dark lager, again brings together the flavour profile."
#5 Coffee with Peated Whiskey

50ml Connemara Irish Whiskey
10ml XO cognac
15ml Tia Maria
2 dashes of bitters
Orange peel to garnish
Stir down all ingredients and serve up.

Recipe by Daniel Noble, Mojo Record Bar
Here the smoky, peated whiskey plays partner to coffee. "Connemara can be quite light," said Noble, "but it also is quite peaty and needed something that was going to be a bit sweeter — the XO has quite a bit of viscosity and sweetness to it."
#6 Coffee with Banana

20ml Routin 1883 Coffee Syrup
45ml reposado tequila
15ml apricot brandy
½ banana
Ice
Put ingredients into blender with ice, serve in a parfait glass and an elaborate banana garnish.

Recipe by Cristiano Beretta, The Rook
Given there were a couple of bananas in the mystery box, and a blender on the Mojo back bar — and given that we told Beretta that if he wanted to eat one of the bananas (the man is always hungry) he had to make us a drink — it seemed a shame not to get a frozen drink whipped up.
The combination of banana and coffee works; the reposado tequila with its hint of vanilla from ageing fits with the coffee; the apricot brandy giving a little juicy fruitiness to the blend.
Notes on Ingredients


Monin Coffee Syrup
A dark brown with gold glints. Intense bitter filter coffee nose. Taste of brewed coffee with some after notes of typical Colombian coffee.
Stuart Alexander
666 St Ali Coffee Vodka
The result of a collaboration between 666 Pure Tasmanian Vodka and Melbourne's St Ali Coffee Roasters. "A rich, chocolaty, fruity and lingering coffee flavour that sits happily alongside 666's vodka without interfering or overpowering," they tell us.
Pure Distillery Company
Routin 1883 Coffee Syrup
The range of quality French syrups from Maison Routin feature all natural flavours — this one has a strong coffee aromas, plenty of coffee on the palate and a slightly sweet finish.
PosiPour
Tia Maria
Tia Maria has been on the scene for some time now, and it's because of its blend of fine Jamaican coffee and Caribbean spices that offers up aromas of roasted coffee, vanilla, and chocolate. 
Suntory
Stolen Spiced Rum
The world's first smoke rum. A two year-aged rum blended with smoke of American hardwood (created when the wood has been burned, and the smoke run through water to create a water extract) and extracted Moroccan fenugreek. It's then infused with tinctures and oils of cold filtered Madagascan vanilla and Arabica Colombia coffee, giving a sweet, smokey aroma and taste with a coffee and toffee finish. 
CCA
Little Drippa Cocktail Coffee
Little Drippa is designed to remedy issues of consistency and preparation that bartenders face when using coffee in drinks. It has a shelf life of 13 weeks from the date of bottling, and offers a smooth and consistent taste, every time. 
Neat Spirits
Mr Black Cold Drip Coffee Liqueur
Using the cold-drip method Philip Moore and Tom Baker from MR BLACK have created a rich, intense coffee liqueur that actually tastes like coffee; not like caramels, tequila or other added flavours.
Vanguard Luxury Brands