Story by David Spanton
Publisher, Australian Bartender
As most of you know, Sydney recently played host to the Bacardi Legacy Global Cocktail Competition final. For our city, it was a pretty big deal to be showcased on the world stage in what was a massive event.
And with registrations now open for Bacardi Legacy 2016, I thought I'd share some tips on what the best competitors did in this year's global final (click here to find out more about how to enter).
I was invited to participate in the event undertaking two days of judging the marketing and sales presentations. I quickly realised how high the level of professionalism was and I was staggered at the sheer amount of material needed to get to the final of such an event.
Having judged and hosted possibly hundreds of bartender competitions since launching Australian Bartender magazine back in 1999, I can say without hesitation that sponsors are searching for a great drink (of course) but it seems that what is equally important these days is a savvy bartender who has been able to raise awareness of their creation. This involves garnering publicity and exposure for their drinks and their brands. It's a truly holistic approach to the business of making cocktails – it's not a simple equation where only the best drink wins. Like it or not, today you've got to "sell, sell, sell" and give the sponsors as much quantitative information on how this drink has been a success during the competition period — and why it's going to continue to have sales success into the future.
ADVERTISEMENT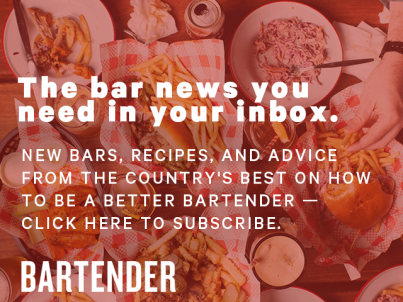 &nbsp
Now before you say "that's not for me," or that "I'm a bartender and not a salesperson," it's worth keeping in mind that while the rules have changed and entrants need to do a hell of a lot more work, it's also true that the best global competitions are now investing millions into cocktail events that offer the best in prizes, travel and brand support. All this investment comes at a price and sponsors want to see maximum brand exposure from all involved. This is business after all.
I tip my hat to all the hundreds of people at Bacardi and their partners who had a hand in creating the competition, as in my humble opinion (and maybe I'm biased as the final was in my home town of Sydney), they pulled off the greatest global cocktail competition ever staged and one that made everyone participating feel part of the Bacardi family for a few days.
Left: David Spanton with Bacardi's Jacob Briars, Caroline Hipperson, and Enrique Comas, during the judging of the marketing presentations; right: New Zealand's Barney Toy
I was lucky enough to see all the presentations from bartenders from all the key markets for Bacardi, and some countries I had never heard of. What I noticed was that the scoring of these bartenders fell into three main categories:
1. Those who were extremely well organised and hit all the right marks;
2. Middle of the road presentations that a year ago might have won;
3. Bartenders who still thought their drink would be enough and their marketing presentations seemed light, with little data to show compared to the top two categories.
So why am I writing this? I made sure I took as many notes as possible from the event and I wanted to make sure that anyone who wants to seriously win such an event in the future to consider my points below, as this is what the best bartenders presented to us, and this is how they got the best marks.
Remember we didn't taste the drink, as that was left to another group of international judges, so my responsibility was purely to look at the marketing and sales data from each competitor.
Tips: What the best did to impress the Bacardi Legacy Global Final Judges

Learn the judges' names and address them when you start your presentation.

Dress well. Make sure all your material is ready and will work on the presentational equipment provided.

No bad language at any time, as you don't know who you could offend.

Create your own events to promote your drink.

Do guest bartending shifts at as many bars as possible both locally, interstate and overseas.

Do guerilla marketing events e.g. sampling at and on public transport.

Host training classes for bartenders that showcase your drink and how to make it.

Create interesting POS material (coasters, flyers, business cards) to help promote drinks and links back to
social media and discounted pricing on the drink in their bar.

Hassle Bacardi for as much help as possible and access to brand managers to help build a better understanding of marketing methods that could help your campaign.

Get involved with the big chain hotels and get your cocktail on their menu, plus offer training to their bartenders.

Have at least 10 venues that permanently listed your cocktail and at least 15 with temporary listing of your drink. I suggest you double that for 2016.

Don't stay focused on the state/town you come from. You have to travel and get your drink nationwide, and international exposure is needed.

Help out at as many exhibitions or shows as possible both for Bacardi or other brands that allow you to include your drink in the line-up in return for your time at the event making the drink etc.

Create a well-made, slick video of you making your drink, but remember this is just a video — it won't do anything without it being marketed.

You must be immersed in all major platforms of social media, creating stand-alone pages and sites for your drink. Remember social media can be very measurable based on "likes", "views", "friends" etc, and this information and the success of your social media campaign will be vital.

Traditional media is very important from print, TV and radio — exposure via all channels is essential, so make sure you personally contact editors, and give them a good reason to promote your drink. Think outside the box! One contestant asked a few important magazine editors if they could be their own personal bartender for an afternoon at work and to take them out on a bar crawl, getting them into the best bars all while they drank his cocktail at each of the bars. He also showcased the bar crawl and his drink on their own social media sites all night.

Most importantly make sure everything is measurable. Everything. You need charts to show your social media success, examples of all media support, receipts for drinks sold. The more data you can showcase the better chance you have. Too many bartenders simply didn't haven enough material to back up their claims and this put them behind everyone and even the ones that did less but had all the information to prove it. Tedious work it may be (and something I wouldn't have thought was essential before I judged this event), but when you have others supplying all this information and really impressing the judges you simply have no choice but to keep up or get left behind.

Finally, be proactive and leave the excuses behind, as there are bartenders out there from smaller markets with little or no support from sponsors (or from countries that have draconian liquor advertising laws), yet they produced mind-blowing presentations with phenomenal, measurable presentations. It comes down to how much you really want to win.