Sangria

30ml Licor 43
150ml young dry red wine (tempranillo)
Fruits for garnish and flavour
Muddle some orange, add Licor 43, shake and strain into a wine glass. Add ice, add wine, then top with a dash of soda or lemonade.
Story by Sam Bygrave
Photography by Christopher Pearce
In association with Licor 43
How far back does Sangria go? Well, this quaffable, easy-going drink has plenty in common with mulled wine and drinks like glogg: there's wine at its base, a bit of stronger booze to stiffen it up, and a mix of other ingredients — sometimes fruits, sometimes herbs and spice — a category of drinks that are broadly similar but differ depending on where you're drinking it. So like those drinks, it goes back a ways. It's the climate that is the chief determinant of whether your drink will be served hot or cold, and what it will be served with.
So while the English and the Danes might be warming up their particular wine-plus-other beverages over a flame to ward off the cold, the inhabitants of the more temperate Spain are chilling their booze down.
ADVERTISEMENT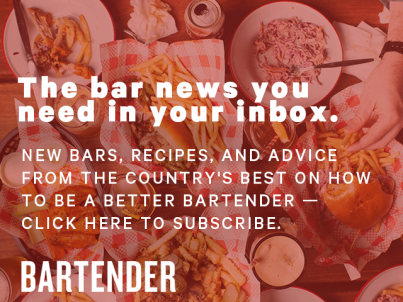 &nbsp
And there are great wines that come from Spain, and none perhaps more famous than those from Rioja. The red wines of Rioja are predominantly made from the tempranillo grape, with a bit of garnacha (known as grenache in Australia) often thrown in as well. And for a long time, the use of American oak — which, as bartenders well-schooled in spirits, you'll know imparts plenty of vanilla into what ever liquid it stores — was one of the signatures of the region, though the trend these days is to make drier, less oak-influenced wines.
For this Sangria, the dry style of tempranillo is best (though other reds will work), because you want the savoury character of tempranillo (think fresh tobacco leaves and leather) to shine through.
And, instead of adding spoonful after spoonful of sugar to the drink, we've opted for a good slug of Licor 43 — a liqueur also of Spanish extraction, combining herbs and spices, that can trace its roots back to Roman times.
It's in Roman times that a drink not unlike Sangria would have been drunk, as everybody then was flavouring wine with sweeteners like honey, and herbs and spices. Yet sadly for those Romans, they wouldn't have been able to pour their concoctions over some top-quality ice cubes.

Banter Box
Licor 43
With 43 different ingredients going into each and every bottle, Licor 43 — known as Cuarenta y Tres in the Spanish-speaking world — is golden in colour with citrus and orange blossom aromas on the nose, and a good lick of vanilla.Suntory
•Licor 43 is made in the Cartagena region of Spain from all natural ingredients including cane sugar and fruits and herbs from the Mediterranean.
•There is a hint of citrus along with vanilla and herbs, which is the hallmark character of Licor 43.
•Licor 43 is a family owned brand, having been established in 1924, but with roots that go back to Roman times.