The 2014 Bacardi Legacy winner illuminates the process behind creating a world-beating drink, and the difference between New York and London bartending styles.
Tom Walker was in Sydney recently for the final of the Bacardi Legacy Global Cocktail Competition, and we caught up with him on the sidelines to talk about what it's like to be the winner of such a global competition, and what he's learned from his time at some of the world's best bars.
I currently work at Attaboy, in the Lower East Side of Manhattan. I've been in New York about five months; previous to that, I was at The American Bar at the Savoy for about two and a half years, I also worked at Bramble in Edinburgh for just under two years. I spent a little bit time in Newcastle in the UK and Brisbane, Australia.
When Bacardi Legacy was presented to me as something I should look at, I was in the frame of mind that I wanted to move away form competitions and focus on my career. When I found out what Bacardi Legacy entailed, I'm a huge fan of classic drinks and that philosophy was something that the American Bar really pioneered at the start of the 20th Century and something that Milk & Honey and Attaboy have been famous for since they opened in the 2000s. I decided to give it a bash.
ADVERTISEMENT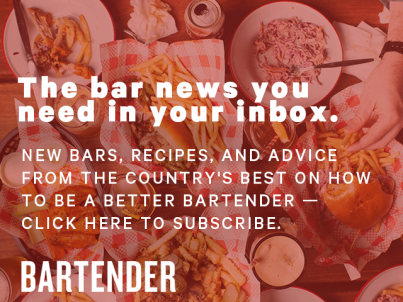 &nbsp
I was going to need to put my heart and soul into it, and to do something that's unique. And this Maid category, a sub-category of Sours, which is spirit of choice, lime, sugar, and cucumber, and it kind of fit into the realms of what I was looking for if I was going to take something forward into a competition.
The Maid category came about about 10 years ago on the Lower East Side. It's a Sam Ross invention, and the original one was an Old Maid or a London Maid which is with gin, and the spirits got changed out and the name got changed in conjunction with the spirit: no one had done a white rum Maid or a Cuban Maid — I think there's a Dominican Maid with aged rum — but no one had gone down that route.
Instead of just taking the formula and copying it or ripping it off, I wanted to do something a little bit different so with a nod towards the Daiquiri and the Mojito as well — inevitably the two most famous white rum drinks we can put our finger on. There was a splash of soda added to the drink, I decided to serve it up, and I added a little bit of absinthe as well [which] goes really well with cucumber, it gives it a nice green evanescence. I switched the name, so instead of Cuban Maid it was Maid in Cuba.
On the face of it, Bramble and Attaboy are quite similar: they're both quite divey bars, they're both quite atmospheric, music plays a big role in them, the service is next to none. The fact that I've got these two metaphorical bread buns, if you like, I've got this meat in the middle which is this five star hotel and the most iconic bar that the planet has seen in the last 125, 150 years. The opportunity for the American Bar presented itself to me in March 2012. I was super happy at Bramble, everything was cool, but I hadn't really moved on or progressed in any way other than the skill set I got, nothing was going to come up management wise any time soon. Edinburgh was great, it wasn't like I'd had my fill and the staff at Bramble were great, but when this opportunity came about — you know, this is a once in a lifetime opportunity.
As you can imagine, [The American Bar] is probably about as removed [from most bars] as you can get. First of all we do day shifts. Getting up in the morning was something I hadn't been used to in a while. It's an all day operation, but the American Bar is so much more. Being open from 11:30am until 12, it's got a lot of history and a lot of magic for a lot of people. When you look at it from a business perspective, it's a brand within a brand at The Savoy. And then you think about the Savoy Cocktail Book as well: it's easily one of the top two or three publications, of cocktail books.
It's not so much the recipes inside. Yeah there are a few gems in there, but it's more what Harry Craddock encapsulated when Prohibition kicked in and what the book stood for. It was this very simple, dynamic style of drink-making, where you've got five ingredient drinks where you had your spirits, which was the backbone, you had your modifiers, sometimes a citrus element, a sugar element, sometimes a liqueur element, or you had something like vermouth, or your old fashioned style.
The Bacardi Legacy global final judges, with this year's winner,in Sydney earlier this year
This is something that, while Sasha [Petraske, Milk & Honey] has done something very different today, it still has that element of what the Savoy and the American Bar pioneered. A structure, something with a little bit of discipline and a formula that you can recreate to the point where if you've got five or six drink families from which we work from, you can get about four or five hundred drinks altogether.
One of the greatest things about working at the American Bar was not only the service that was instilled in me but the kind of diplomacy with which you have to interact with people, the ability with which you need to read your guests. You need to give tailormade service to each and every one of them but without comprising what you do as a bartender.
The ability people to read people, and getting better at reading people is probably the biggest thing I've taken away from that. I think that reading people is a skill that's acquired over time, but it's probably something that's overlooked a little too often.
When I look back at when I was a young whippersnapper, I probably made a lot of mistakes in regards to how I interacted with people or what it was I thought they wanted or that I thought I should give to them. People tend to remember their favourite bars and their favourite places not because of the drinks, but because of the service that they've had. And it's usually because the person behind the bar has made something specific and tailormade for them and that's something that the Savoy has taught me and that I use on a day to day basis working at Attaboy.
In London, it's so much more creative in terms of the drinks that they put together, the final product. The perfect example of that is if you look at what Nightjar are doing, and the Artesian at the Langham, and the bars that are under the umbrella of Jason Atherton and Gareth Evans, they are very much symptomatic of a 21st Century British style of drinkmaking. Then you throw into the mix that there's a lot of Europeans who work there — Spanish for example, Italian, you've also got an Eastern European influence, so you've got numerous cultures involving themselves within the drink and service side of hospitality; it's very much part of the London identity.
If you're going to talk about a comparison with New York, when you look at [NYC] bars like Death & Company or Little Branch, those bars that came after Sasha Petraske era, they're all classic in terms of how the drinks look, they're very spirit forward. Even though there might be a culinary aspect, it's still very much a traditional Manhattan, Martini, Daiquiri, Negroni style of drinking systems. The drinks in London, while they acknowledge those style of drinks, it's something that goes beyond that kind of realm.