Nacional Cocktail
40ml Bacardi Carta Blanca
20ml De Kuyper Apricot Brandy
20ml pineapple juice
Shake all ingredients with ice and strain into a chilled coupe.
Adapted from Bar La Florida Cocktails, 1934
Story by Sam Bygrave
Photography by Christopher Pearce
Presented by James Fury, Earl's Juke Joint
In association with Bacardi
ADVERTISEMENT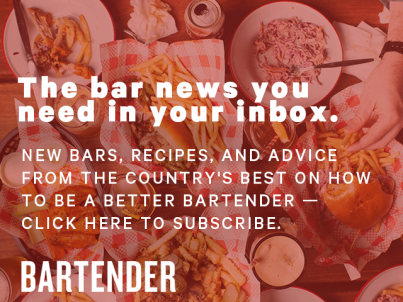 &nbsp
We've often referred to the great cocktail books of American bartending tradition in the past, and on occasion to books coming out of England, France, and Germany. Well, we're looking at a few recipes for this How To that come not from the Continent, nor the USA, but from down Cuba way.
Bar La Florida Cocktails, first published in 1934, is a collection of recipes that come from the bar of the same name in Havana. The bar is still around today, and often referred to as El Floridita.
The bar was owned by legendary Cuban cantinero, Constantin Ribalguita Vert, known to his regulars as Constante. Constante picked up ownership after the previous owner retired.
He's famous for putting his spin on the Daiquiri (Hemingway famously frequented the bar so much that he picked up his own version of the Daiquiri), and, as the book points out, earned the bar a reputation as the "Cathedral of the Cocktail where Constante officiates" and where one could "drink in ecstasy the essence of a cocktail — sweet symbol of a high and elaborate civilisation."
The book is more than just a collection of recipes: it offers up a window into the past: a time when the US is heading out of the dark days of Prohibition; a time when the classic Cuban cocktails have become codified standards that will endure through to our own time; and an era when Bacardi is synonymous with Cuban rum and Cuban cocktails, the heady pre-Castro years.
You can get an idea of what life was like then just by flipping through the book. There's the typographical errors and spelling mistakes that would be familiar to many a cringing bar manager who has seen their menus go to print with errors intact, the advertisements for the products of the island, from Cuban cigars, to Bacardi and Hatuey beer ("Youl'll [sic] like it!" it promises, "brewed by BACARDI" it states). There's advertisements for Cristal Beer, and imports like Hennessy and Gonzalez-Byass, all illustrated and often with simple taglines: "Ask for Gonzalez-Byass — None Better!"
It staggering to think, in our own age of social media marketing tsunamis, just how simple and declarative marketing was in those times.

Notes on ingredients
The 1934 edition of Bar La Florida Cocktails is overflowing with Bacardi rum, whether it be the Bacardi listed for the Nacional (the cocktail is listed as a National Cocktail in the book, but we'll go for the widely accepted spelling of Nacional) or Bacardi Oro (Gold), as seen in the Presidente Cocktail.