"Tough gig — not." There's many a bartender who has said this about the life of an ambassador, and from the outside looking in, it can seem that these brand champions have the sweetest gig going around (and they'll tell you that, too).
It looks like one big party, with plenty of travel interstate and overseas, hotels, drinking in different bars every night — not to mention the trait that is every bartender's favourite: the brand ambassador expense account.
But if they look calm on the surface, just like a duck they're furiously kicking beneath the surface. There's a lot to organise, phone calls, emails, liaising, strategy — and all of this after backing up after a big night with you lot.
We asked a few brand ambassadors to give us an idea of just what goes into their everyday routine.
ADVERTISEMENT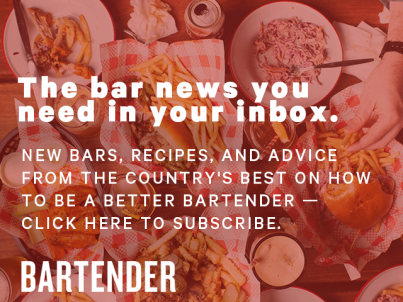 &nbsp
Michael Nouri — The Exchange
Australian Bartender asked Michael Nouri, of The Exchange, to give us a rundown of what a day in his life is like. This is what we got back.
By Michael Nouri
Not long ago I received this email from an editor friend. I have kept his identity private to protect his reputation, but for the sake of this article he shall be known as, Xavier.
"Hi mate,
Just touching base about the ambassador "day in the life" piece. What we're looking for is something chronological, along with Instagram-like photos of you calling in or conducting trainings etc. It should be around 450 words or less.
By the way, I have a deadline to meet.
Cheers, X."
Now, to the untrained eye this would appear to be a legitimate and reasonable request, perhaps you might even think that I should feel honoured to be given the opportunity. But, my dear reader, there are a few things about the task that had me befuddled and had me questioning Xavier's mental integrity. It even had me wondering whether we've really been friends at all.
You see, he knows that I won't settle for crap and that I generally don't take myself too seriously. He also knows that I'm barely managing my OCD tendencies, get next to no sleep most nights and have filled my schedule with "whisky trainings" and "trade visits" to keep myself from adjusting my rug. Quite frankly, it's just cruel. But let me explain.
"…day in the life"
He must be taking the piss. Xavier is all too well acquainted with us brand ambassador types to know that there isn't a single day that might be remotely representative of any other day that fills our booze soaked lives.
"What we're looking for"
Sure, the premise of any request. But if we're being honest, me and authority don't get along so well. So let's just say that what they're looking for is very much open to my interpretation. A questionable career move on his part.
"…Instagram-like photos"
Come on man. I work for desirable booze brands. If I put all my Instagram photos into a collage, you'd think that I suffer from the photographic equivalent of Tourette Syndrome. Or maybe that I owned a mobile whisky van…
"…450 words or less."
You've got to be kidding me! You see? Cruel! He knows I can't do it. Hell, everyone knows I talk too much!
Anyway, here's kinda what it looks like when I'm not travelling.
6:30am. Email count: Ten unattended from the last two days.
I like waking up to the sound of rock and roll, and no one does it better than RATM smashing out 'Sleep Now In The Fire'! Plus I'm half deaf, so that soft, jingle bells shit that you call an alarm just won't cut it. Frankly, I like to think that I'd leap out of bed and grab the day by the balls, but the reality is that I've likely only had three hours sleep and will usually be crawling on all fours begging for mercy. This is also probably the only time I'll have to get some washing done for the week. The three S's happen now.
7:30am. Email count: 10
Emails at home, phone calls in the car. Because if I'm at the computer for too long, I'll start forgetting that I have feet. I'll triple check my schedule for the day and the coming weeks, follow up with upcoming events, arrange stock and check my kit for the day's sessions (I'll almost always prepare them the night before). If I'm lucky I'll get to eat breakfast and grab a coffee.
9am. Email count: 25-30
Team meeting at the office furthest away from my house. Also known as a WIP. This is where we discuss brand strategies and plot our world domination, and where I also get to ask stupid questions like "What does ROI mean?" I'll have a double shot latte thanks.
11am. Email count: 40
Single Malt Masterclass. My friends think that I make a living drinking killer whisky all day. Um… yep. That's pretty much it.
1:30pm. Email count: 57
I've got 30 minutes before my next meeting to find a park, grab a bite to eat and kill some emails. Bartenders are only just waking up now, so one of my sales buddies and I will head out to visit some venues, lock in some events, share some crackin' booze with customers and work on some new ideas.
4pm. Email count: back to 20
Internal Training Session. I get to do this for a living. How's that cubicle working out for you?
7pm. Email count: 10
Someone important is in town, so it's boozing and schmoozing for a bit, taking them around town to a few killer haunts.
10pm. Email count: 2
Expense reports are irrefutable evidence that God does not exist. I'll also prepare some dinner and probably watch a movie. No.
2am. Email count: 0
You may have noticed that there isn't a single selfie, or photo of food or coffee. That's because these things need to be enjoyed now, not when they get old. Good night.
Andy Wren — Bacardi Lion
Morning: on any given day, what time are you rising? How are you feeling?
The beauty of my role with Bacardi is that no two days are the same. Generally speaking I'm up and about and in the office to start my day at 9am. First on the agenda, always, is to grab a coffee from across the road. This is a great way for me to catch up with members of the team based out of the Vic office. A quick chat, banter and insight can often help to shape the day. It's a really fast paced industry so speaking to as many people in my day is the best way to keep ahead. As you would expect a lot of what I do in the evenings is seeing first hand the creativity of Victoria's finest bartenders, chatting, imbibing and getting a feel for what keeps them engaged with our brands.  
After 15 years of bartending I have learned to shake off the mild morning tremors. Some of my finest work is done after a night out and about. I am currently working full time at Project Botanicals, a three week pop up offering a cocktail and food matched menu based on the recipe for Bombay Sapphire gin.
10am: how many emails have you answered, phone calls, etc — are you often on the road?
 
By 10am I am making great progress in clearing my inbox. Always lots of emails to answer. I am directly communicating with Bartenders, Bar managers, sales force, brand managers, sales directors, media agencies, production teams for up and coming projects. One email usually leads to two in response! I am extremely fortunate to be working with some incredibly popular and seriously premium brands.
I am on the road a lot. My core responsibilities are to train bartenders all over the country on the intrinsic details of our products. I am also out in meetings with our sales force. They all have fantastic relationships with their customers, I can offer assistance whether it be cocktail ideas, event recommendations, staff training or even just bringing exciting news of up and coming products or completions. We have just opened the entries for this year's Bacardi Legacy. After seeing the global final in Sydney this year, I am super excited and I can't wait to take the Australian Champion to San Francisco to compete. The phone is constantly buzzing throughout the day. I think I need to invest in a self-charging iPhone!
 
Lunch: bartenders are probably awake by now — what's a typical lunch for you? Meetings, in the car, at the desk?
 
Lunchtime tends to be the time I am putting the final preparation in for training sessions or the start of the daily meetings with the sales teams. 10-12 is a great planning window where we work out what we want to achieve from the day. I tend to grab a bite on the run. I can't remember really ever sitting down for an hour to enjoy a sandwich. I've got my lunch in the car. Raw vegetables and roast chicken is the go to. We host a lot of working lunches as well. It's amazing what can be achieved when you sit down with 6-7 people for a meeting which involves lunch. Never say no to a free lunch! Early afternoons are the time to pick the brains of industry figures. People like Greg Sanderson, Kevin Griffin and Alan Mulvihill will always pick up the phone and let you know what is going on or how our brands are perceived. 
 
Afternoon: what do you find yourself doing most afternoons?
As we speak I'm batching cocktails and slicing 300 oranges for dehydration. We're on track to dispense 14000 cocktails in 3 weeks. When I'm not here, I'm out in meetings. Our head office is in Sydney so 2-3 times per week I am involved in conference calls working on how the Brand Ambassadors can assist the brand team in bringing great concepts to life. Within the company there are many layers of digital creatives, insight managers, a marketing and activation wing and a solid sales force means that each activation has so many points of view to be considered. When we all come together the output is super exciting. I am learning a hell of a lot, very quickly. The job takes you out of your comfort zone often. Last week I was standing in for Prue Andrews, our Senior Brand Manager for Grey Goose and Bombay Sapphire, communicating to our key partners on the fantastic health of our brands and where they are heading this year. Prue coached me through it, great experience.
 
Evening: could you describe just some of the work that goes into the events that you're at during the night? What time do you call it a night when you're on the road?
I try to stay as active as possible in the evenings. I pester Matthew Clarebrough, our CBD sales guru, for time in the evenings. We've got a formula down for seeing as many bars as we can in a night. He's a gun and I learn a lot when I'm out with him. As we are both family men, by the time 10:30 comes round we have done the lion's share of our work. "Maybe one more for the road" is used too often! Night time events are common. Cocktail competitions and hosting hospitality experiences (dinners, degustations, bar tours) are the biggest challenges. The work for these types of events begins up to 6 weeks before the event with invite list, RSVP management, communication to the group, last minute challenges (there are always last minute curve balls) fingers crossed that everyone turns up… then it's go time. This is the easy part. We have an experiential & activations manager, Penny who plans these things to the minute. Nothing is left to chance. Touch wood I've not had any event disasters yet. This comes down to working with awesome people. Working in an industry full of great people with serious integrity, having brands who support the trade and people (bartenders, managers and consumers) who LOVE our brands. We never sit still. There is always something for me to talk about. Next in line is the Bacardi new pack launch. It's so slick. I think the new Bacardi 8 bottle is one of the greats!