Sasha Petraske, the man behind seminal New York cocktail bar, Milk & Honey, died on Friday at the age of 42. Petraske has influenced countless bartenders since Milk & Honey opened, and below, Tim Philips shares his memories of him.
by Tim Philips
Tim is co-owner of Sydney's Bulletin Place, and a multiple award-winning bartender.
I didn't know Sasha Petraske as well as a lot of other people that had worked for him over the years. My relationship with him was always at a distance, professional and concise. He was the sort of guy that whenever I spoke to him, I felt the need to try say something profound. Something to impress him, or make him think I was different from the rest of the braces-and-brogues-wearing bartending brethren. I usually didn't.
Sasha would never let a conversation linger with people he didn't know well, always sensing the awkward silence twenty seconds before it would arrive. Sasha was based in New York, but would come over to the London branch of Milk & Honey, where I was working, to train our senior staff. Well, "train" might not be the best word. He would watch us work. He would question, and make us question everything we did in the bar. That was his life. To make us all "get it" when it came to classic cocktails.
ADVERTISEMENT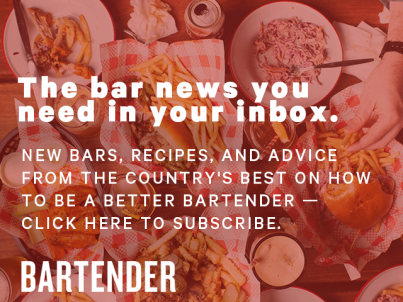 &nbsp
The Blood & Sand first appeared in the Savoy Cocktail Book. Equal parts scotch, Cherry Heering, Italian vermouth and orange juice. An 'equal part' cocktail. I remember then, in 2008 talking to Sasha at the ground floor bar at Milk & Honey London, just before we were about to open. The conversation was about the 'best' equal part cocktails. I named my favourites: The Adonis, Negroni, Whisky Mac. None of them had citrus. I disregarded the Corpse Reviver #2 (but included #1), the Last Word, and 20th Century, all declaring that modern palates require the drink's make-up be tweaked. That's when Sasha said, "What about the Blood & Sand?" I hadn't thought of the Blood & Sand. To be honest, I never liked the drink. I always thought orange juice in cocktails be saved for brunch mimosas, and generally reminded me of my vodka and orange juice drinking days of 1999. We decided to whip one up. Out came the whisky, both agreeing a Speyside driven blend would be ideal. 20ml Compass Box Asyla. Then we added the same amount of Cherry Heering, and Sweet Vermouth in the form of the rich, complex Antica Formula. To finish the drink off I picked up our orange juice. Milk & Honey London prided itself on having a 'fresh is best' mantra. I knew our orange juice was less than two hours old. This is when Sasha grabbed my wrist and in the most animated I had ever seen him asked: "What the hell are you doing? You can't put that in there. It's not fresh!" I pleaded my case and explained to him the hours of prep' that gets put in to ensure our juice is pressed daily. Sasha was having none of it, and went into a detailed explanation of what happens to citrus, especially orange juice, when it is cut, then juiced, and oxidizes. "This cocktail was never meant to be made with two-hour-old orange juice."
There was a mini stand-off as I just wouldn't believe two hours could make a difference. So I agreed to make two Blood & Sands. One with the 'old' juice, one with a just pressed orange. I shook them up for the identical amount of time, and poured them out. You wouldn't believe it? They tasted worlds apart! One was vibrant, bright, and zippy. The other, flat, two dimensional and noticeably sweeter!? He was right.
But Sasha generally was right about everything when it came to cocktails. He questioned their make-up, and the theory, and more importantly the lazy ways we had slipped in to making them over the years. Making these drinks not how they should be made. I'd later move to New York for the Summer of 2010, and work for Sasha at White Star and the original Milk & Honey. We would speak more often, and I would learn that Sasha was a genuinely kind, caring, gentle man, that always looked after his employees. I also learnt from him every time we spoke.
For the record I still don't like the Blood & Sand. I still don't like orange juice in cocktails. However I do think fondly of the drink and that lesson, whenever it is ordered. In that ten minute interaction with a man that had changed cocktail culture, firstly in the East Coast of America, then to the West, then to Europe, then to every corner of the world, I had learnt so much about my craft. Sasha spoke, breathed, and lived cocktail culture. He would rarely, if ever be seen in casual dress. Always with vintage tailored long trousers, collared shirts, even in the middle of the stifling New York summer. He would live the culture to the n'th degree.
Always drinking cocktails in cocktail bars. Always. Even when it meant ordering a Blueberry Rickey from his staff when the bar was at its busiest. That was just Sasha. He didn't do it to be annoying. He didn't do it because he wanted to test you. He did it because he was in a cocktail bar, and he should order a cocktail.
Waking up and hearing of his passing automatically made me ask, why? Why someone so young, just married, someone who should be spending his 'middle' years basking in the culture he helped regenerate, be taken away from us? Sasha Petraske is the reason for so many of the things we do in our cocktail bars each day. In modern cocktail circles the speakeasy is now post-modern, almost passé, but he popularised that. The speakeasy, the drinks associated with the pre-prohibition era, the dress sense bartenders adhere to in these bars, are now all gaining popularity in emerging cocktail cities in Shanghai to Kiev. Fifteen years after opening Milk & Honey on Eldridge Street, New York. All because of him. That as well as a million of the other details we see in the better bars around the world. He has bred and mentored countless legends and future legends of our industry. None more special than Michael McIlroy, Sam Ross, and Michael Madrusan. All worked for him for many years, and knew him closely. Their pain must be immeasurable, and one like losing a father-figure.
I didn't know Sasha as well as a lot of other people around the world. I just know from where he started in the industry to where he has sadly left it, there's an air of 'Job done'. Our industry, and its cocktail culture has never been healthier. His students have opened their own bars, all with a thousand stories similar to mine of the Blood & Sand, and all having those lessons branded in their craft.
May you rest in peace, Sasha. Your legacy is far too strong to not live on forever.