France has a long, storied history of drinking, and in our August issue, we took a look at some of the brands that have endured (and some that have recently sprung up), and looked at five cocktails that employ this good French stuff in the glass.
Take a look at them below, and check back tomorrow for our look at the new school of Parisian bars.

Lillet Winery, Bordeaux
Lillet is an iconic French brand, thanks to its classic advertising and its role in classic cocktails. Raymond and Paul Lillet founded the brand in 1872, creating Bordeaux's first aperitif, Kina Lillet. In the 1970's the brand became known simply as Lillet, but continues its popularity with bartenders who love classic drinks like the Corpse Reviver #2, and the Vesper. Lillet Blanc and Rose is made with semillon wine from Bordeaux, and Lillet Rouge is made from the region's merlot. The mix of botanicals and alcohol is aged in oak vats for several months, and blended before bottling for a fruity, rich flavour, balanced with a hint of nervosity.

G'Vine Gin, Charente
G'Vine Gin isn't like other gins in one key aspect: while most gins are made from a neutral grain base spirit, the spirit for both G'Vine Gin expressions is grape spirit. And lest you think that's a crazy new age idea, keep in mind that the oldest recipe on record for recreational gin also employed grape spirit. G'Vine Gin is 100% made in the Charente region of Cognac, France — the whole process from harvesting to distillation takes place there. Overseeing all this is master distiller Jean-Sébastien Robicquet, and he's produced two expressions of G'Vine: the G'Vine Floraison, with an emphasis on floral notes (in part due to the use of vine flowers, available for just a few days during the grape growing season), and the bold and spicy G'Vine Nouaison.
ADVERTISEMENT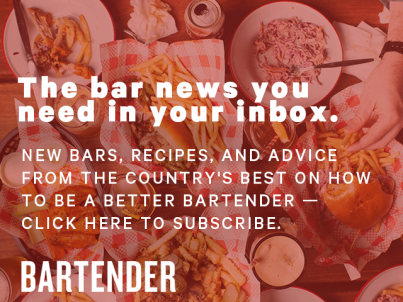 &nbsp

Giffard Liqueurs, Pays de la Loire
It was in 1885 that a French chemist in Angers, Emile Giffard, was researching the digestive benefits of mint, and wound up creating a clear, white mint liqueur. It was so popular he changed his pharmacy into a distillery to sell what would become his company's flagship liqueur, Menthe-Pastille.
Four generations on, the Giffard family still produces the Menthe-Pastille, along with a range of other liqueurs and syrups (like the excellent Giffard Abricot du Roussillon Premium Liqueur).
They take big strides to secure fruit from their surrounding region, Pays de la Loire, and the fruits are macerated in alcohol from between two days to three months depending on the liqueur being produced.
La Zaragozana

10ml Giffard Crème de Cacao Brown
10ml Giffard Apricot liqueur
10ml Benedictine
10ml Giffard Triple Sec
10ml Chartreuse
10ml VSOP Cognac

Layer in this order in a Pousse Café glass.
The Chrysanthemum, and Absinthe Frappe
Chrysanthemum

40ml Noilly Prat dry vermouth
20ml Dom Benedictine
3 dashes of absinthe

Stir down over ice then strain into a chilled cocktail glass.
Garnish with a lemon twist.

Adapted from a recipe in the Savoy Cocktail Book, 1930
Absinthe Frappe

50ml Pernod Absinthe
5ml 1883 Pure Cane Sugar Syrup
5ml Ricard Pastis
30ml water

Shake all ingredients with ice. Fill a tall glass with crushed ice, and strain mixture into glass. Garnish with a sprig of mint.

Adapted from a recipe in The Mixicologist, 1895
The Sidecar, and the French 75
Sidecar

40ml Courvoisier VSOP Cognac
20ml triple sec
30ml lemon juice
5ml Monin Pure Cane Sugar Syrup

Shake and strain into a chilled coupe. Sugar rim optional.
French 75

60ml G'Vine Nouaison Gin
20ml Lemon juice
10ml Teaspoons castor sugar
Champagne to top

Add lemon juice, sugar and gin into a shaker. Shake briskly with ice and strain into a highball filled with freshly cracked ice. Top with Champagne and gently stir. Garnish with a lemon twist and a cherry.
Fantastic French Spirits


G'Vine Nouaison Gin
This gin, distilled from grapes, is a bold and spicy gin, with subtle floral notes. Its bold style is well-suited to classic cocktails, and ideal for a Gin & Tonic.
HMH Beverages
Pernod Absinthe Recette Traditionelle
Pernod has distilled absinthe for 200 years. The plants are harvested locally in Pontarlier, and distilled in wine alcohol in the village of Thuir, in a manner faithful to its 19th century roots.
Pernod Ricard
Noilly Prat Dry Vermouth
Using picpoul and clairette grapes grown in the vineyards outside of Marseillan in the south of France, Noilly Prat is based on a recipe created in 1813.
Bacardi Lion
Giffard Abricot du Roussillon Premium Liqueur
Slowly macerated Rouge du Roussillon apricots offer up ripe apricot aromas, and a hint of caramel; there's a hint of almond on the palate with a crisp, tart finish.
Iconic Spirits
Courvoisier VSOP Cognac
Notes of jasmine, almond and peach are presented by this award-winning VSOP Fine Cognac. It's a rich and generous cognac, well-suited to classics like the Sidecar.
CCA
La Quintinye Vermouth Royal Rouge
Created by the same folks who make G'Vine, this vermouth is a blend of 28 herbs and spices (including vine flower), and made with Pineau des Charentes Rouge and white wine.
HMH Beverages