Story by Sam Bygrave
We all know the healing powers of a kebab after a late night out on the drink; the sight of kebab shop can be like a beacon in the dark drunken night, one stop on the way safely home. And there's one bar in Melbourne that owes its late licence to a kebab shop: Boilermaker House.
"The site was previously a kebab shop in the Greek precinct on Lonsdale Street," said Boilermaker House's co-owner, Greg Sanderson.
"Who would have thought a kebab shop would have been licensed for 200 guests till 3am seven days a week?"
ADVERTISEMENT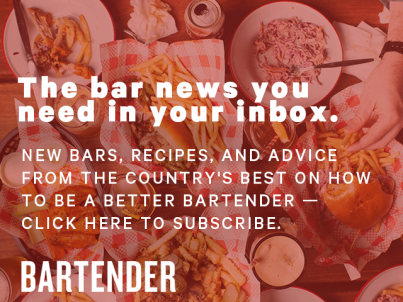 &nbsp
Boilermaker House opened its doors in late May of this year (and just in time to snag a nomination for New Bar of the Year at this year's Bartender Magazine Australian Bar Awards), but has been a project which Sanderson and fellow owner, Sven Almenning, have had on the cards for some time.
"Myself and Sven have been discussing the concept for the past few years and seriously began looking for a site in mid 2014. It took us 6 months to find a suitable location and signed the lease on December 16th 2014," Sanderson said.
"We wanted to create a fun yet sophisticated temple to whisky, craft beer, world class cocktails, meat and cheese," he said.
Given the pair are behind Eau de Vie Melbourne, and that venue itself has a big focus on whisky, Boilermaker House had a lot to live up to. Unlike its sister bar, Boilermaker House is a bit more casual without forgoing the attention to service you'll find at Eau de Vie.
Whisky is front and centre here, with a list— at the time when we spoke to Sanderson — that runs to 670 different bottlings. And as the bar's name suggests, pairing whisky with beer is a big part of what they do.
"The Boilermaker is a drinking ritual stemming from the industrial revolution," said Sanderson, "where the drinker will consume a beer with a whisky on the side.
"Our signature Boilermakers match the flavour profiles to create a drinking experience that is greater than the sum of its parts. Each of the signature Boilermakers also come with a small element of food (garnish size) to enhance this experience."
The beer offering here sees 12 tap beers focused on craft beer, along with up to 30 different beers from all over the world in the fridges.
"It is not all about whisky and beer though," said Sanderson. "We have a well-put together cocktail list of 20 drinks for all palates and taste preferences."
Faced with the staggering array of choice, however, how does a punter decide what they want to drink?
Sanderson said that they've addressed this potential problem by distilling things down to a type of shortlist, which every guest receives when they arrive.
"The short list has our top 40 whisky suggestions, 6 signature Boilermakers, the cocktail list, our beers, wine list and the food that is available until 3am," he said.
But if you want to appreciate the sheer magnitude of stock available to you — or you just want to geek the hell out — ask them for The Anvil.
It's their pride and joy, Sanderson said, and each of the 670-odd whiskys they stock are categorised and ordered — but it's not by region, as you might expect.
"There is one very unique element in how all of our menus are set out," said Sanderson. "All 670-odd whiskys a sectioned off by flavour, not region or country. In the menu you will find Japanese whiskies next to Scottish whiskies if they are of the same flavour profile. Each and every last whisky also has tasting notes, abv and cask information. Truly an epic whisky menu."
We happen to agree.
Yet such a comprehensive menu is nothing without the staff to serve it. To that end they've got Jack Sotti in as general manager, who has experience in the UK, New Zealand, and a recent stint at Eau de Vie Melbourne on his resume, along with a win in this year's World Class competition. Max Hart (Eau de Vie Melbourne, Vue de Monde) is in as the assistant venue manager and was "the driving force behind our opening cocktail list and wine list," according to Sanderson; Joshua Crawford is on board as head bartender.
"He is one of the most creative bartenders I have had the pleasure of working with," he said.
With a number of bars nearby closing at midnight, the late 3am licence of Boilermaker House has seen it become popular with local bartenders. Combine that with the service, the sheer weight of good drinking available, and some 25 different cured meats and 25 different cheeses, and we really see no need for a kebab shop to close out the night. After all, isn't a beer and a shot the thing every bartender wants once they've closed up?