James Irvine, center, with second place Alex Boon (left), and 3rd place Joe Sinagra (right)
James Irvine from The Baxter Inn to represent Australia at the Angostura Global Cocktail Challenge in Trinidad
Last night saw five of the best bartenders from around the country keenly compete in the national final of the Angostura Global Cocktail Challenge. The competition was stiff, but it was James Irvine from The Baxter Inn who eventually fought off the others to win the AU$10,000 cash and take the title of Australian Angostura Brand Ambassador.
Known as one of the toughest bartending competitions on the circuit, the Angostura Global Cocktail Challenge attracts the hottest talent the scene has to offer, so it's no surprise it was a closely contested affair.
Of the win, Irvine said, "I am honestly blown away. The competition was stiff and everyone that took part was a serious contender. Being an ambassador for Angostura is an amazing opportunity and is a career aspiration of mine. It will be an honour to represent such an iconic brand.
ADVERTISEMENT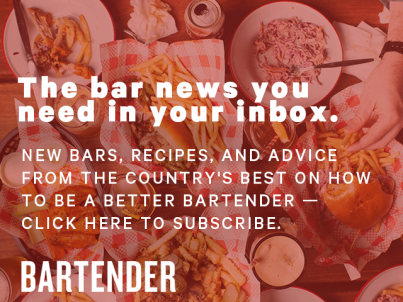 &nbsp
"I'm really appreciative that competitions like the Angostura Cocktail Challenge exist, as they allow us, as bartenders, to be creative, show off our skills and extend our craft.
Irvine, and one of his winning drinks
"I'm looking forward to getting to Trinidad to compete in the global final. It would be incredible to see Australia take out back-to-back global finals."
Irvine will now go on to represent Australia in the global final held during Carnival in Trinidad early next year. Here he will be competing for a further US$10,000 and the chance to become the Angostura Global Brand Ambassador.
The competition was judged by industry experts Sam Bygrave, editor of Australian Bartender Magazine; Luca Capecchi from The Commons; current Angostura world champion, Mike Tomasic and Brittany Page from island2island, Angostura's distributor in Australia. In choosing a winner, the judges looked for drinks that were balanced and tasted delicious but also showed a good understanding of how flavours and aromas mix. Performance, presentation and storytelling were also important factors.
Page says the contestants displayed the exceptional passion and dedication we have come to expect of Australian bartenders.
She commented, "This year was all about finding the best of the best to compete. Australia is current global champion. We are the country to beat so it was vital we found a bartender worthy of representing our country in the global finals in Trinidad next year.
"Although all five competitors were extremely talented and performed admirably last night, James stood out by the quality of his drinks and a very polished presentation. He will certainly give the other contestants a run for their money at the global finals."