Story by Sam Bygrave
I spent three nights in Hong Kong. If I hadn't left when I did, I don't believe I ever would have.
It's a town where there is so much money, and so many people, that three nights is barely enough to scratch the surface  — even with the help of a local as your guide.
If you're going to be here for a brief layover, you'll want to stay in the Central district.
ADVERTISEMENT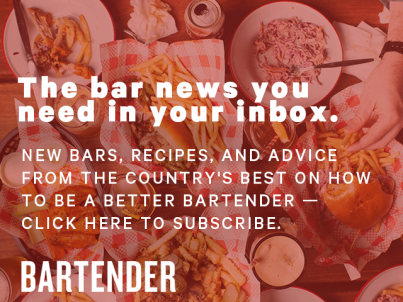 &nbsp
Conveniently (and as the name implies), it's pretty central to all the booze and eats you'll need — enough to get you into trouble, at least.
The Pontiac
13 Old Bailey Street
Imagine a bar with the heavy metal feel of Frankie's Pizza in Sydney, throw in blue drinks, and back it all up with knowledgeable and fun-loving bartenders, and you've got a bar quite unlike anything else we saw in Hong Kong.
Headed up by Beckaly Franks — who counts Clyde Common in Portland on her resume — this bar has been making waves since opening earlier this year.
The drinks are good, the atmosphere electric, but it's the midnight special — where a couple of the lady bartenders jump on the bar and pour laybacks of Becherovka into the waiting gullets of a packed house — that you'll hear about most.
Chachawan
206 Hollywood Road, Sheung Wan, Hong Kong
chachawan.hk
Did you catch our interview with Tunny Grattidge in this issue? He's the guy we met who runs Chachawan, a northern Thai restaurant and bar in the Sheung Wan end of Hollywood Road.
It's part of the JIA Group, which owns bars like Ham & Sherry (which, sadly, we didn't end up getting to) and works with the acclaimed chef Jason Atherton.
The food here is the big drawcard, and if you're hungover (you will be), then head here for a lunch (you'll thank me). They do a two-course menu for lunch, which we're told is pretty common, and the spice will clear away what's left of last night's excess. It's a cleansing by fire kind of approach.
But don't overlook the drinks here, either. Get a Thai-style iced coffee, order an icy cold beer (the beer here is actually cold, which in our experience was a rarity in HK) and down those post-haste.
Feeling better? Smash a couple of their Tommy's Margarita variations — they add a delicate hint of spice to the mix.
The Woods
7-19 Hollywood Road, Central, Hong Kong
I'll admit to a little scepticism at first. The Woods describes itself as a concept bar, and well to be fair it is. And it's actually really good. Our bartender was Frederic and he was one of the most genial and hospitable bartenders we encountered in during the short trip, and best of all, he made us drinks that were faultless.
The menu changes seasonally, so the Blackberry on Rye may not be available if you go, but it just goes to show how damn well blackberry and rye whiskey work together — try it. You will not be disappointed.
The drinks here were balanced, fresh and fruit driven without doing away with the spirit — the approach reminded me of Sydney's Bulletin Place, which is good as you get.
There's two bars here: one, the long bar, is where they serve cocktail degustations — check their Instagram to get an idea of how elaborate these can be.
I sat at the smaller bar inside — there's six or so seats, great cocktails, attentive service, and good chats to be had.
Honi Honi Tiki Cocktail Lounge
52 Wellington St, Central, Hong Kong
It's humid in Hong Kong. Like, 60-70 per cent humidity kind of humid, and it's 34 degrees Celsius. I know what I think of in that kind of weather: Daiquiri?
So one of my first stops was Honi Honi Tiki Cocktail Lounge. They've got an outdoor patio space from where you can look up at the sprawling mass of Hong Kong's humanity as it extends skywards in skyscrapers; you can delve into tiki drinks, both classic and contemporary takes, and the very comfortable bar. They also have all the rum, should you be so inclined.
Ozone Sky Bar
118th Floor, Ritz Carlton, Kowloon
Ascend the two elevators — or was it three? — to this bar on Kowloon island to look back on Hong Kong island and the Central district. It's billed as the highest bar in the world (though I feel I've been to some pretty high bars much closer to the ground.
You could order beer here, as you take up a perch at the outside bar, or you could splurge for a splash of Ruinart Blanc de Blancs, but do make sure you get here just before sunset.
Turn your back to it and look out the window, as the bar likely won't be your scene. But you will be 118 floors closer to the stars — that ought to count for something.
Stockton
32 Wyndham Street, Central, Hong Kong
stockton.com.hk
I used to think you could do whatever you want in Mexico. If you have the money, you can satisfy whatever inclinations you may or may not have.
Sometime around three in the morning one night in this bar, Stockton, smashing a well-executed Negroni, I realised that this holds true for Hong Kong, too.
There's a well-oiled bar team smashing out classic drinks, it's got that whole speakeasy vibe, but more importantly? It's open until 4am.
There also seemed to be a number of Becherovka shots going around.
Lobster Bar & Grill
Shangri-La, Supreme Court Road, Central, Hong Kong
Ah, the hotel bar. As a genre — yet with notable exceptions — the hotel bar is the one place you do not want to be drinking when on a tour-de-booze.
But the Lobster Bar will make you think about trading up your hotel room to one at the Shangri-La.
It doesn't have the best view of Hong Kong — though there's buildings and bright lights and harbour glimpses — but what it does have is one of the most professional bartenders we've seen on the trip.
Agung Probowo is his name, and he runs a busy bar brilliantly. The guy is all hospitality: an attention-to-detail, guest-greeting hospitality machine. He makes a great drink — even a simple Whisky Highball gets process and love and attention, as will you.